Read on for my 7 steps to 100k subscribers on Youtube. I'm so excited to announce I've hit 100K subscribers on YouTube! Over the last year, I've put my efforts into growing my channel and it feels so good to hit this milestone before the year's end. To celebrate I've teamed up with two of my favourite companies WeCrochet and Furls for a celebration GIVEAWAY! Furls prize worldwide and WeCrochet Open to US, Canada, UK and Australia.
a Rafflecopter giveaway
WeCrochet has generously offered a Winding Station to 1 lucky winner. It includes a yarn swift, ball winder and yarn bowl. The winner will also get to pick any 10 MJs or Sentry Box patterns. Check them all out in our Etsy Shop
Furls has generously offered a $100 gift card to 1 lucky winner. Use the gift card on Furls site to purchase gorgeous hooks and tools. The winner will also get to pick any 10 MJs or Sentry Box patterns. Check them all out in our Etsy Shop
I wanted to share with you how I've grown my channel and offer you some tips to grow your own with my 7 steps to 100k subscribers on Youtube
The Why's
First off, let's talk about the why's and why I feel YouTube is an integral part of my business and WHY you should be on it too. YouTube has 2 + billion monthly visitors. That's an audience that I'm excited about reaching! An overwhelming 87% of my YouTube traffic comes within YouTube. Only 13% of my traffic is external. The majority of external search comes from my website, google search, Facebook and Pinterest. That means that a substantial percentage of people viewing my content would not see it if I wasn't on YouTube.
Over the last 2 years, my YouTube channel has seen more growth than any other social channel. It saw exceptional growth even when I was not putting out regular content. So I was excited to see where I could take it with more consistent content and effort. The results have been phenomenal. In the last year, my subscribers have doubled, going up by 52K and my views almost at 3M
Stats
I strongly believe in the power of visual learning but here are some stats to back it up. find these and more facts HERE
Approximately 65 percent of the population are visual learners. – Mind Tools, 1998
The brain processes visual information 60,000 faster than text. – 3M Corporation, 2001
90 percent of the information that comes to the brain is visual. – Hyerle, 2000
Visual aids in the classroom improve learning by up to 400 percent. – 3M Corporation, 2001
Ideas presented graphically are easier to comprehend and remember than those presented as words. – Kliegl, R., Smith, J., Heckhausen, J. & Baltes, P.B. (1987)
information from http://visualteachingalliance.com/
My Journey
When I started to learn crochet, reading a pattern was extremely intimidating, and the language was completely foreign to me. I purchased a CD ROM so I could learn the stitches through visual aid. Then I headed straight to YouTube. I don't think I could have learned without those videos, or I would have needed one on one crochet lessons.
How I started
My love affair with crochet happened rather quickly. Working with my hands is a natural gift, and I spent every spare moment perfecting my skill. I tried following a few patterns online, but most of them failed miserably. I still had a lot to learn about the craft and had little to no understanding of gauge. Instead of following patterns, I created my own and enjoyed making items for myself, family, friends and sold my creations on the side.
YouTube and Pattern Writing
I began receiving more and more requests for my patterns and me to teach others. It was the push I needed to start perfecting my writing ability and to publish my work. Due to limited time, I decided YouTube would be the best way to teach and share what I had learned. One of the exciting things about crochet is I'm always learning a new stitch, a new technique and creating a new pattern. I don't know it all, but what I do know I love to share. That excitement is what drives me.
I know how it feels to be new at crochet, to know nothing about reading a pattern and how intimidating that can be. I want to show my followers step by step how they, too, can create beautiful home decor, fun and whimsical blankets and even create stunning wearable garments.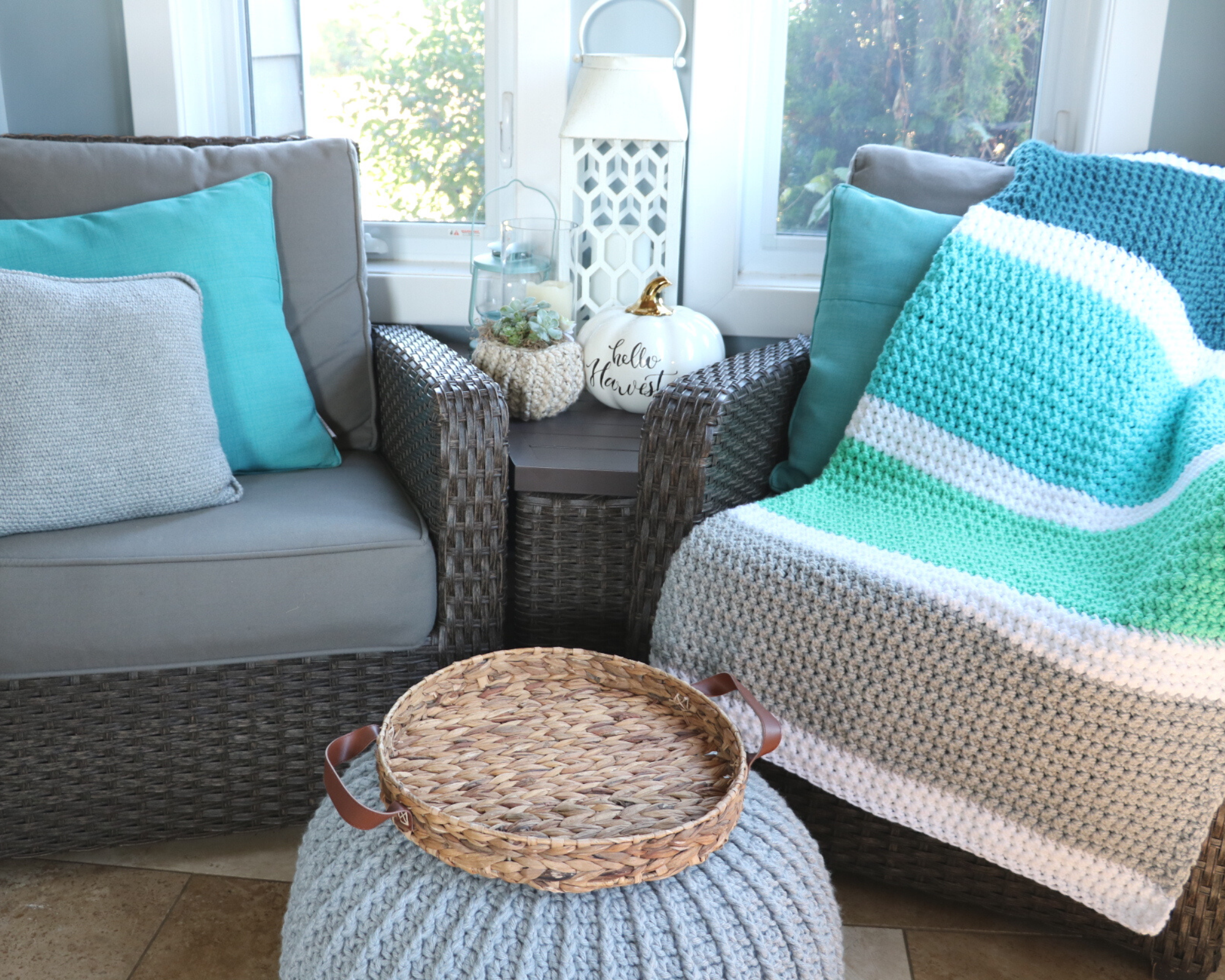 Your why's will fuel your channel. I'm assuming if you're reading this, you're into crafts and crochet. But regardless of your niche, it's your passion for what you do that will help make you successful. Combine that with hard work, consistency and dedication; it's a recipe for success.
Get Started – 7 steps to 100k subscribers on Youtube
I had a passion for crochet long before I was making any money. I'd rather be crocheting than anything else. I don't think I could stop if I wanted to. My continued desire to make a living off my craft drives me because I never want to stop designing.
I've had several viral patterns contributing to my success, but these patterns came from my creativity, hard work and determination to succeed. I not only spend hours every day crocheting but endless hours in the office responding to comments and emails, marketing, designing, filming, video editing, strategizing and collaborating.
So I've broken it down into 7 steps to 100k subscribers on Youtube
#1 Start
The first thing you need to do is start! You won't know everything initially, and believe me, I look back at some of my beginner videos and cringe. But you have to start somewhere. Do some research on correctly setting up your YouTube channel. I won't go into that here but make sure you do it right the first time!
#2 Get the Equipment
You don't have to buy expensive equipment to get started. You can always invest and upgrade as you go. I use my cell phone with a tripod and a simple microphone that plugs into my phone. I like to keep things simple. Make sure you get a phone attachment for your tripod.
#3 Learn How to Edit Videos
There are lots of video editing tools out there. I use iMovie but find one you like and research how to use it. You don't have to be a pro. I watched several YouTube videos to learn how to use iMovie, and I'm very comfortable with it now. You can always hire out help to create a branding intro. Look for free music you can use that doesn't violate any copyrights. I found my music through Soundcloud. Be sure to check what the artist requires of you. I can use the artist's music as long as I give credit in the description box.
#4 Have a Designated Workspace
I have a sit/stand white desk that I love but is not necessary. The important thing is to have a large, clean and bright workspace for DIY videos. I film in my attic studio that has great natural light. When my skylights are covered with snow in the winter, I use a fold-up table that I cover with a wood-look drop cloth and set it up in my sunroom. If at all possible, use natural light. For personal intros, use your office, craft room, bedroom, family room. Any place that has good natural light with a clean background.
#5 Plan and Prepare Engaging Content
I spend hours filming content for my YouTube channel. I'm always designing and creating new patterns, so I seem to have an endless supply of content. I film all my patterns as I go. I tend to do them in steps, so I show a step, then I might spend the night crocheting to get to the next step of the piece. I'm usually working on several patterns at once to accommodate the filming schedule. I suggest sticking to your niche for your content. Do what you love on your channel and find trending topics. Find your area of expertise and share that content. You can also poll your audience as you grow to see what specifics they'd like to see concerning your niche. Use a keyword search engine to find keywords like Ubersuggest.
#6 Consistency
Consistency is key. Be consistent. Put out high-quality, consistent content regularly and watch your channel grow. The thing I love about YouTube is the content is evergreen. Videos I posted 3 or 4 years ago are still getting numerous views today. Some videos become popular after being posted for a year. You never know when a video could go viral, bringing thousand to your channel. Put your best effort into each video and post as often as you can. Some YouTubers commit to a weekly video. I aim for 3-4 tutorials per month.
#7 Marketing
Last but certainly not least is Marketing! Have a marketing strategy in place for your business. Utilize other social platforms to direct traffic. Condense videos into short, attention-grabbing videos for FB, IG, Pinterest and TikTok. I try to funnel everything to my webpage. It's the hub for all my social media accounts, and I direct all traffic I can there.
For example, I post a new tutorial on my blog. That blog post will contain all relevant info, including the pattern, supplies needed with affiliate links, and the YouTube video is embedded into that post. For every blog post, a newsletter goes out (I use Flodesk), FB post, IG post, twitter, several pins are posted and scheduled through Tailwind. Stories are shared on FB, IG and YouTube. All these posts are directed back to the blog. Once on the blog, they can choose to purchase the PDF pattern, watch the YouTube video and buy supplies.
Make sure your blog post contains a call to action. One of my blog posts contain several revenue streams. I earn revenue from ads on the blog, ads on my YouTube channel, affiliate links and pattern sales.
Thanks so much for being part of my journey. Now get started with my 7 steps to 100k subscribers on Youtube!
Check out some of our new free crochet patterns. The Fall For You Blanket Scarf