Wow I feel completely relieved that these patterns are complete!  I've been working away since the summer on this collection and it still continues to grow behind the scenes.  The hoodies are completely addictive, my mind is racing with all the fun possibilities!  What I've tried to do with these initial designs is give you a great starting point.  I love all the different stitches I used for the poncho's.  You can now take one of your favourites and turn it into any of your favourite animals.

The Unicorn Poncho is designed in a pretty textured stitch.  This is the same stitch I used for the Bulky & Quick Unicorn Blanket.  For those of you that aren't into the fringe I designed the Fox Poncho without it and added a border instead, this also makes the pattern more suitable for boys.  The unicorn and fox ponchos also include full video tutorials!  Check your pattern for coupon codes to view for free on my webpage.

Fox poncho features the woven stitch.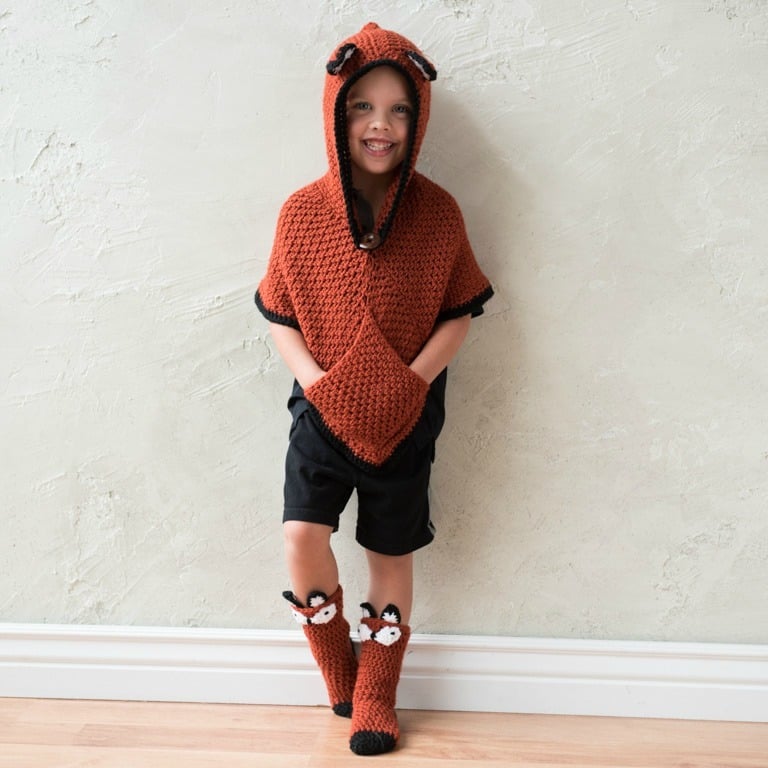 The owl features the shells and V stitch with an extra large hood to feature the face of the owl.
For the hoodies I wanted a zipper and button up style.  The Shark features a zipper which works really well with its white belly and the Dino buttons up.  I know so many of you love to get creative with my patterns and I can't wait to see what versions of these hoodies you come up with!  I'd love to hear what you'd like to see next so send me an email with your ideas.

The socks just add some extra cuteness factor to these designs!  The pattern is quick and easy and your kiddos will love them!  Each Poncho/Hoodie Pattern includes the matching socks.
I put together a Sock Collection for those of you only wanting to make socks.  I hope you enjoy making all these new designs!  They'll make perfect gifts with Christmas just around the corner.
All of these designs were made in Sprightly Acrylic Worsted Weight yarn exclusive to Craftsy.  This yarn is so soft and is offered at a great price point with amazing shipping rates even to Canada.
Sprightly Acrylic Worsted Yarn – $2.96
Retail Price: $3.95
You Save: $0.99
from: Craftsy
You can purchase patterns through my RAVELRY, ETSY SHOP, CRAFTSY or LOVEKNITTING
Happy Hooking! MJ
*This post contains affiliate links at no cost to you!  I make a small commission of sales through links.  I only recommend products and companies I love