Perfect for chilly winter days, the Cranberry Biscotti Crochet Sweater will become your favourite cozy sweater. The turtleneck adds warmth and protection when venturing out in the snow. The pullover is worked from the top down with a classic fit. Small bobbles add detail and visual interest to the pullover replicating festive cranberries. Crochet this fun bobble stitch sweater. Includes a video tutorial for medium size crochet sweater on YouTube. Just one of seven gorgeous crochet garments included in the Winter Issue of Crochet Foundry Magazine.
Use code MJS15 to save 15% off the eMagazine and Hooks from Furls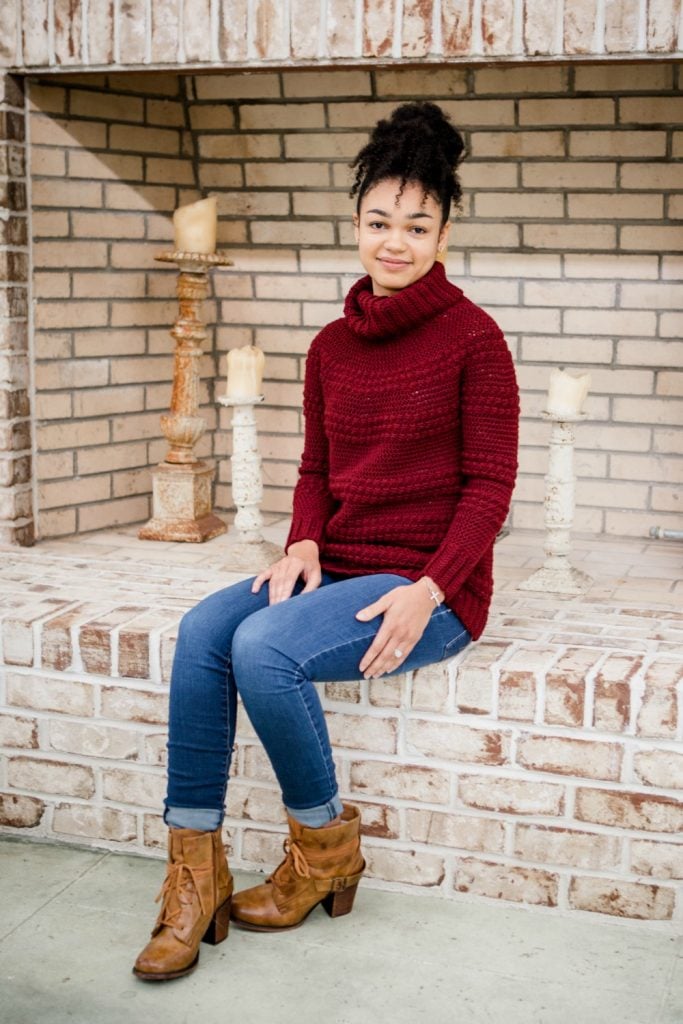 Crochet Sweater Details
The Cranberry Biscotti crochet sweater pattern begins at the turtleneck and is worked from the top-down in a circular yoke. I love this crochet sweater style because you keep working rounds until the sweater is large enough.
You can try it on a crochet top-down sweater as you go. The sleeves are separated from the body and then worked separately. Keep working rounds until the sweater and sleeves are long enough.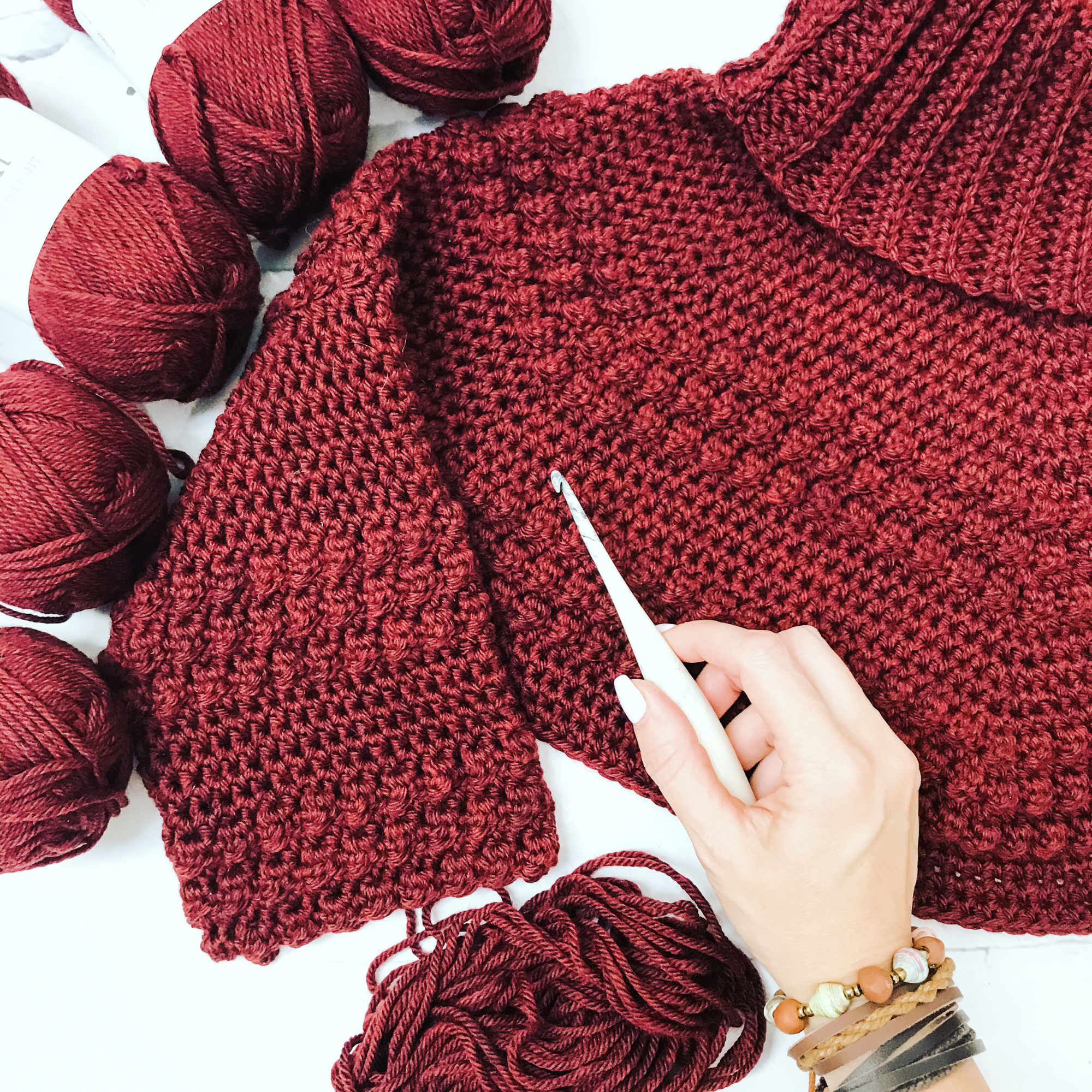 I absolutely love the yarn I used for this design. It's so soft and cozy you won't want to take this crochet sweater off! I made 2 sweaters in Swish worsted from WeCrochet; the small in Garnet Heather and the medium in Rainforest Heather. They have so many gorgeous colours to choose from.
WeCrochet Swish (Worsted Weight, 100% Superwash Merino Wool, 110 yards/ 50g): Garnet Heather 25149, 11 (13, 15, 16, 17) (19, 20, 21, 22) balls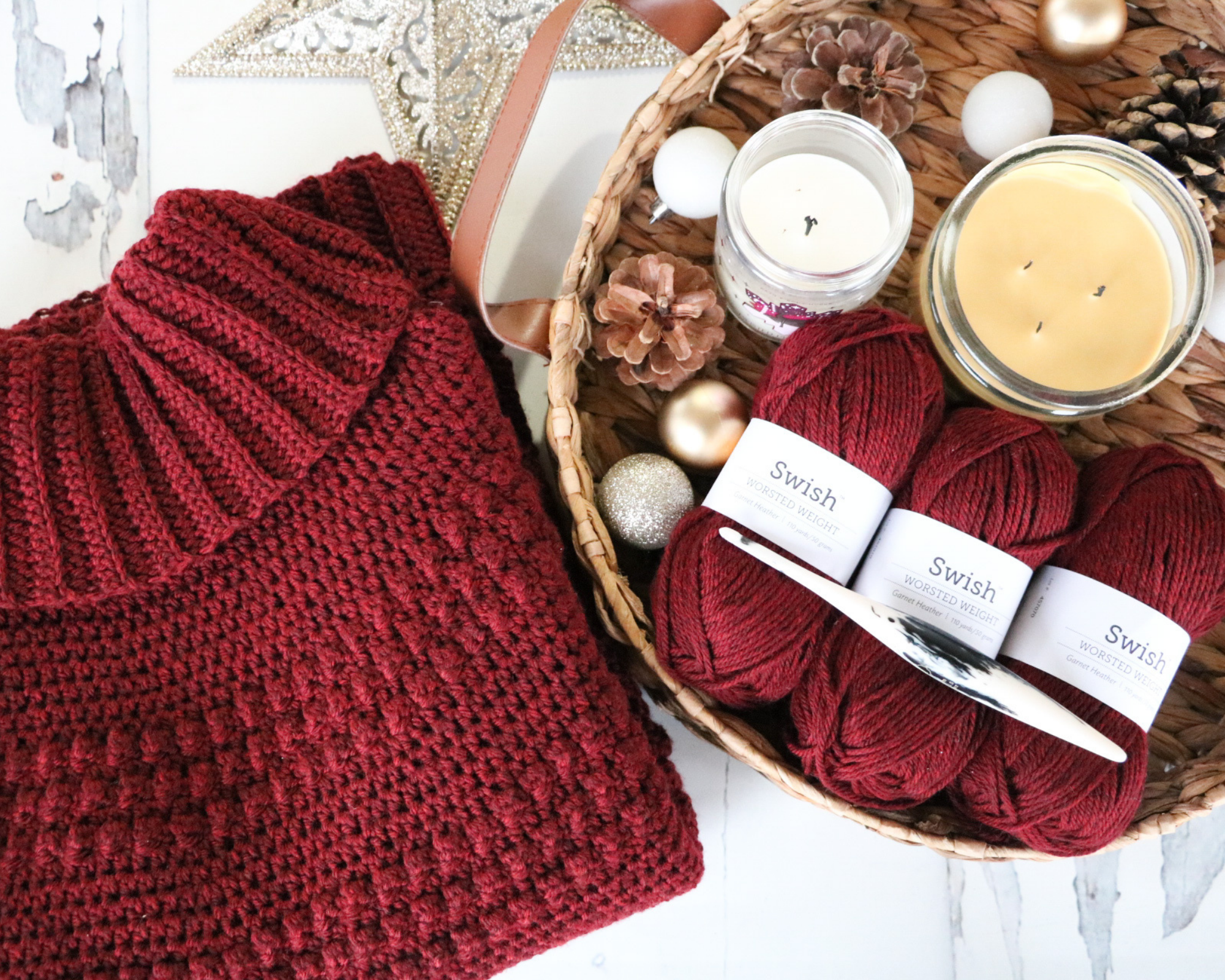 Substitute Yarns
Splurge $$$
Chroma Twist Worsted -70% Superwash Wool, 30% Nylon (198yds/100g) $11.99
Spend $$
Mighty Stitch Yarn -80% Acrylic, 20% Superwash Wool (208yds/100g) $4.99
Save $
Brava Worsted -100% Premium Acrylic (218yds/100g) $2.49 –
Sizes
XS (S, M, L, 1X) (2X, 3X, 4X, 5X)
Fits Bust: 30 (34, 38, 42, 46) (50, 54, 58, 62)"
Finished Bust: 34.25 (39, 42.25, 45.75, 49) (52.5, 55, 58.25, 62)"
Finished Length 24"
Choose your Cranberry Biscotti crochet sweater size based on the fit you'd like. I modelled both the small and medium sweater. The small is more fitted, and the medium a more cozy, relaxed fit.
Hook
H/5mm Furls Streamline Swirl Hook (or hook to obtain gauge)
Notions
Yarn Needle
Special Stitches
Modified Bobble Stitch (Mbo): *Yarn over (YO), insert hook into stitch and pull up a loop, YO, pull through two; repeat from *, one more time, YO pull through all three loops on the hook.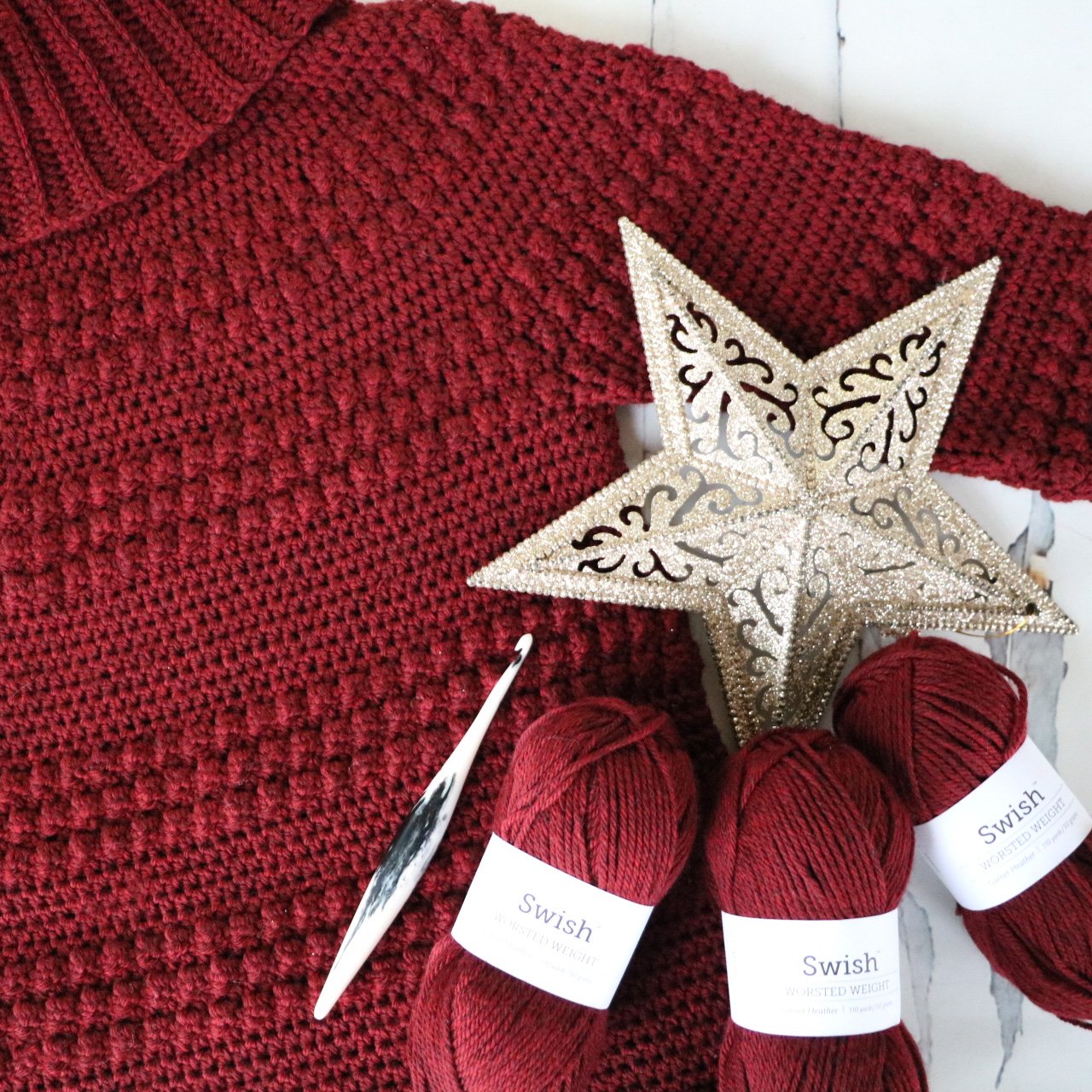 Watch the Top-Down Crochet Sweater Tutorial on YouTube
Why Purchase the Magazine?
I want to share a little about Crochet Foundhttps://bit.ly/3tdadLbry Magazine. I'm a CF magazine co-founder with three other designers; Briana K, Sincerely Pam and Cre8tion Crochet. We've put our heart and soul into making this the best eMagazine on the market. As a team, we're committed to curating a beautiful collection of patterns each season for modern women. Our designs range in size from XS-5X. We've chosen models of all sizes in our magazine to show beautiful women looking amazing in our garments.
Many of our designs include YouTube tutorials to help you through our patterns step by step. Crochet garments intimate many crocheters, but we at Crochet Foundry endeavour to change that. We offer support in our Facebook group – Crochet Foundry Makes, and strive to provide more tutorials to our customers in the future.
The Winter Issue includes our designs but starting in Spring we will have guest designers join us each season.
Little extras that we have put together to make this magazine unique. Alongside each pattern, we have included our favourite cookie or baking recipe! Some are recipes that we made as children, others are new favourites, but each one was carefully chosen by us, to pass along to you!
Designs
Our winter issue also has seven wonderfully warm and cozy creations for you to make! With the snow piling up outside, we really feel that this is the best time to crochet. There is nothing better than being inside a warm home, curled up in your favourite throw while crocheting a beautiful masterpiece that you will treasure for years to come.
We are so thankful for all the support we've received and are excited that so many of you have already decided to purchase an annual subscription to CF magazine! It means the world to us.
Another huge thank you goes out to WeCrochet and Furls for continuing to believe in our vision, and by supplying the tools and additional support to make it happen.
I have another design featured in the Winter issue that I'm so excited about! The Coconut Macaroon Sweater Dress. You can read more about this design HERE.
On behalf of the team at Crochet Foundry, we wish you a safe and happy Holiday season, and we can't wait to be back with you in the New Year!
For more designs by MJ's Off The Hook Designs see
our Ravelry, Etsy, LoveCrafts, or WeCrochet Shop. Check out our Facebook and Instagram for daily inspiration!