An easy crochet chunky blanket with a simple stitch. My Hello Harvest crochet chunky blanket is a free pattern here on the blog. Read on for my design inspiration and everything you need to crochet a chunky blanket.
I love Fall decorations, particularly cozy and homemade ones. I started my Fall decorating early this year by making succulent pumpkin cozies. As I was decorating my mudroom, I thought the perfect touch would be a thick blanket with chunky tassels.
"Fall has always been my favourite season. The time when everything bursts with its last beauty, as if nature had been saving up all year for the grand finale."

– Lauren Destefano
My family and I enjoy our snacks and coffee curled up in our chairs. A nice new crochet chunky blanket is just what we needed. In the Spirit of Fall harvest and pumpkins, a warm orange was the perfect colour choice.
"I'm always thinking about creating. My future starts when I wake up every morning. Every day I find something creative to do with my life."

– Miles Davis
Anyone else finds those creative juices are starting to flow? I'm not sure if it's the colder weather or my excitement for my Fall creations. But I find myself getting up early and staying up way too late! I hope my Fall crochet patterns have also inspired you to start crocheting.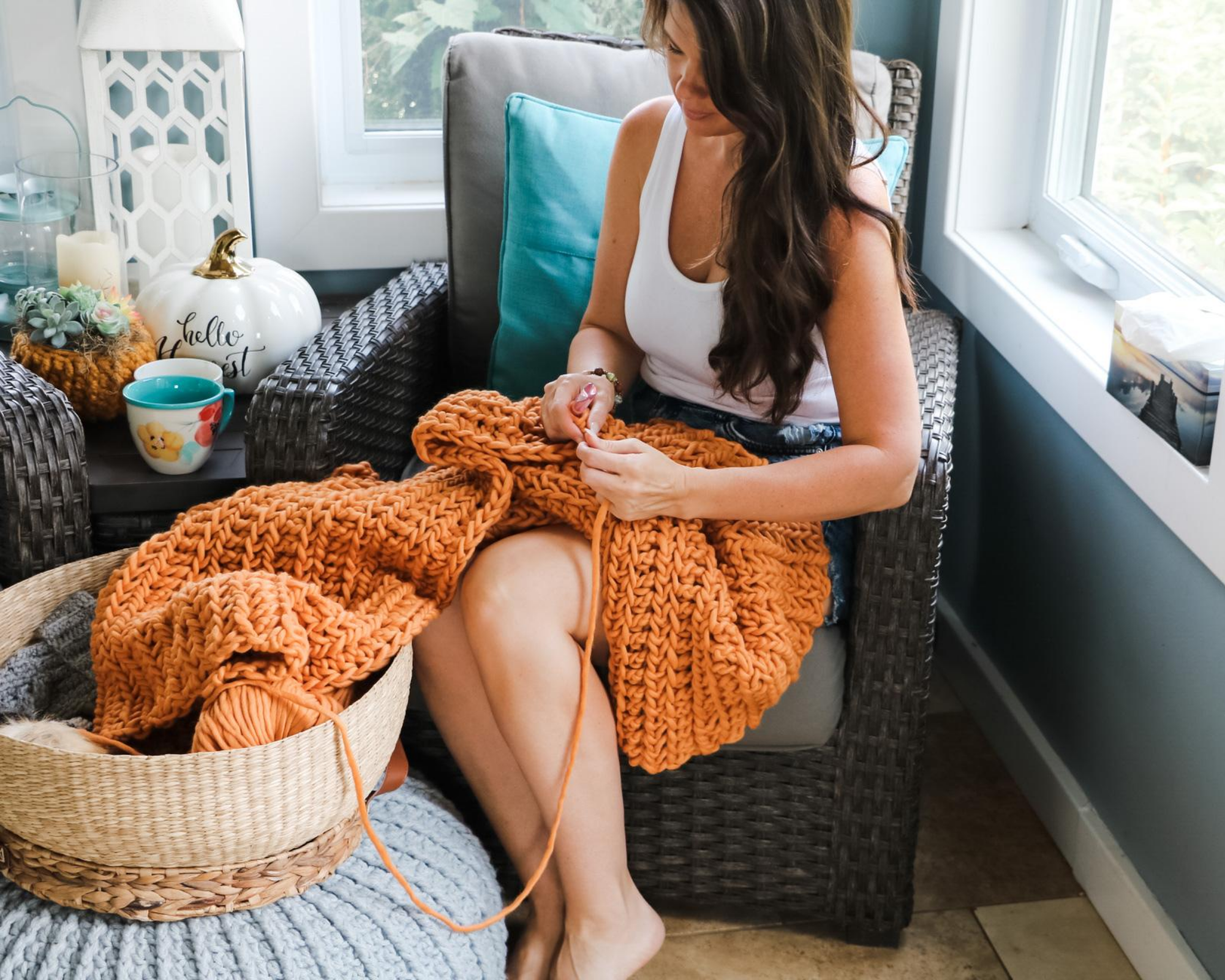 Hello Harvest Crochet Chunky Blanket
The purpose of the Hello Harvest chunky blanket is to look good and be a warm blanket large enough to cover one or two people. I made my blanket 40″ x 50″, but there's no limit on what size you make your Hello Harvest crochet chunky blanket.
To make a crochet chunky blanket in the identical size and yarn, here's what you're going to need;
Purchase the AD FREE PDF HERE
Yarn Requirements:
Sugar Bush Yarns – Chill 100% Extra Fine Merino (100g/56yds)
One Size: 40″ X 50″
Blanket: MC shown in Fire in the Sky – 10 Balls or 520 yards
Tassels: CC shown in Alabaster – 1 ball or 52 yards
Crochet Hook Requirements:
15mm or size needed to obtain gauge – Buy the Hook Nook Brand from WeCrochet HERE
Additional Supplies:
How to choose the right yarn for your blanket taking into consideration cost, fibre and washability
$$$
Sugar Bush Yarns Chill Retails for approx. $12.95 x 11 balls = $142
I used high-quality merino wool for my crochet chunky blanket. It's a splurge but so worth the look and softness. This blanket is hand wash only and lay flat to try. I don't suggest this for a blanket that will get soiled with lots of use. I've put together kits in my shop that include an MJs project bag, a yarn needle for bulky yarn, 11 balls of Chill and the PDF digital crochet pattern. Grab a kit HERE
$$
Tuff Puff Retails for approx. $4.99, 44 yards/ball. $4.99 x 13 balls = $65 – Buy HERE
If you want an affordable natural wool fibre, I suggest Tuff Puff from Wecrochet. It's 100% wool. It's not as soft as Sugar Bush Yarns Chill, but it's still a beautiful roving that will look similar. How to wash your blanket, hand wash only and lay flat to dry.
$$
Mighty Stitch Super Bulky Retails for approx. $4.99, 44 yards/ball. $4.99 x 13 balls = $65 – Buy HERE
A washable and affordable alternative is Mighty Stitch Super Bulky From WeCrochet. This yarn is 20% Superwash Wool and 80% Acrylic. When you need an easy-care yarn in a wide range of gorgeous hues, this is the perfect yarn. How to wash your blanket, machine wash gentle and tumble dry low.
$
Bernat Blanket Yarn Retails for approx. $10.99, 220yards/ball. $10.99 x 3 = $33 plus an additional ball in using CC for tassels. $33 + $10.99 = $45 – Buy HERE
A washable and an affordable yarn is Bernat Blanket Yarn. This yarn is 100% Polyester. How to wash your blanket, machine washable, tumble dry low heat.
$
Brava Worsted Retails for $2.49, 2.49 x 10 = $25 – Buy HERE
If you'd like to use acrylic worsted weight yarn, I suggest working with 3 strands at once. You will need to triple the yardage. Blanket 520 yards x 3 = 1560. Plus Tassels 52 x 3 = 156 yards. I suggest purchasing 3 Big balls (520 yards + per ball) of your preferred brand to make things simple. I love Brava Worsted. Buy 3 big balls HERE or purchase 9 Small balls for MC plus a small ball for tassels in CC HERE. How to wash a blanket, machine washable, tumble dry low heat.
How long to crochet a blanket?
I mentioned at the beginning that this is an easy crochet chunky blanket to make with simple stitches. It's a perfect beginner-friendly crochet pattern. What I love even more is that it crochets very fast. This is perfect for a crochet beginner. As a beginner, you might be very slow at crocheting. I can crochet very fast, so the blanket only took me about 30 minutes to crochet. Add on another 20 minutes for the tassels, so say a total of 1 hour to crochet this chunky blanket. So this crochet for beginner blanket might take a slow crocheter 2-3 hours.
"There's something so satisfying about creating something with my own 2 hands I can admire. It's simply addicting."

– Michelle Moore
The Hello harvest crochet chunky blanket is crocheted in Half Double Crochet stitches. There are many variations of this stitch; I only worked through the front loop for this tutorial. The third loop and back loop pop up, creating a roped look texture on each blanket's side. We have a half double crochet stitch video you can watch on our YouTube channel, and we also work through this crochet stitch slowly in our half double crochet blanket video.
How to customize a blanket
It's simple to customize the size of our crochet chunky blanket. The starting crochet stitches will determine the length of your blanket. My blanket's length is approx. 50″. Reduce or increase the number of stitches to alter the length. The width is 40″ and is determined by the number of rows you work. Crochet more or less rows to alter the width.
How much yarn do I need?
Let's break down the math to figure out how much yarn you need to make a blanket if you alter the blanket size.
Blanket 50″ x 40″ = 70 sts x 32 Rows= 2240 stitches = 520 yards
2240 / 520 yards = 4.3 stitches per yard
Example: Lets say you make your blanket 80 sts x 40 Rows
80 sts x 40 rows =3200 stitches / 4.3 sts/yard = 744 yards needed
it's as simple as that!
Now, are you ready to crochet the Hello Harvest Crochet Chunky Blanket?
Get the Ad free PDF on Ravelry or Etsy
This pattern is the sole property of MJ's Off the Hook Designs. This pattern is copyright protected and cannot be copied or reproduced in any way. You are welcome to sell your finished items from this pattern. I require a reference or link for my design. My photos are copyright protected and are not to be used to sell your items.
Abbreviations:
CC – Contrast Color
Ch – Chain
Fhdc – Foundation Half Double Crochet
Flo – Front Loop Only
Hdc – Half Double Crochet
MC – Main Color
Rep – Repeat
St(s) – Stitch(es)
Instructions:
Notes:
The blanket is worked in rows from the side across. Half double crochet stitch is worked in the front loop only. Video tutorial on YouTube.
Blanket
Notes:
If using ten yarn balls or 520 yards, it's essential to check your gauge and make sure the starting measurement is accurate. Adjust your hook size if needed.
Row 1: With MC fhdc 70, turn—70 sts. Should measure approximately 50″.
Row 2: Ch 2 (not included as a st here and throughout) work 1 hdc in the flo of each st across, turn—70 sts.
Rows 3-32: Rep Row 2. The blanket should measure 40″. Weave in ends.
How to make yarn Tassels
Make four in CC
Cut the entire ball of yarn into strands 18-20″ in length. Divide strands evenly into 4 piles (1 bundle per tassel)—separate two lengths from each bundle for tying. Tie bundle at the halfway point (use this tie to attach to the blanket). With second length tie around all pieces making a tassel ball. Weave end under the ball. Tie tassels to each corner or evenly along the bottom of the blanket. Weave ends under the tassel ball. Steam and trim ends. See the video tutorial on YouTube.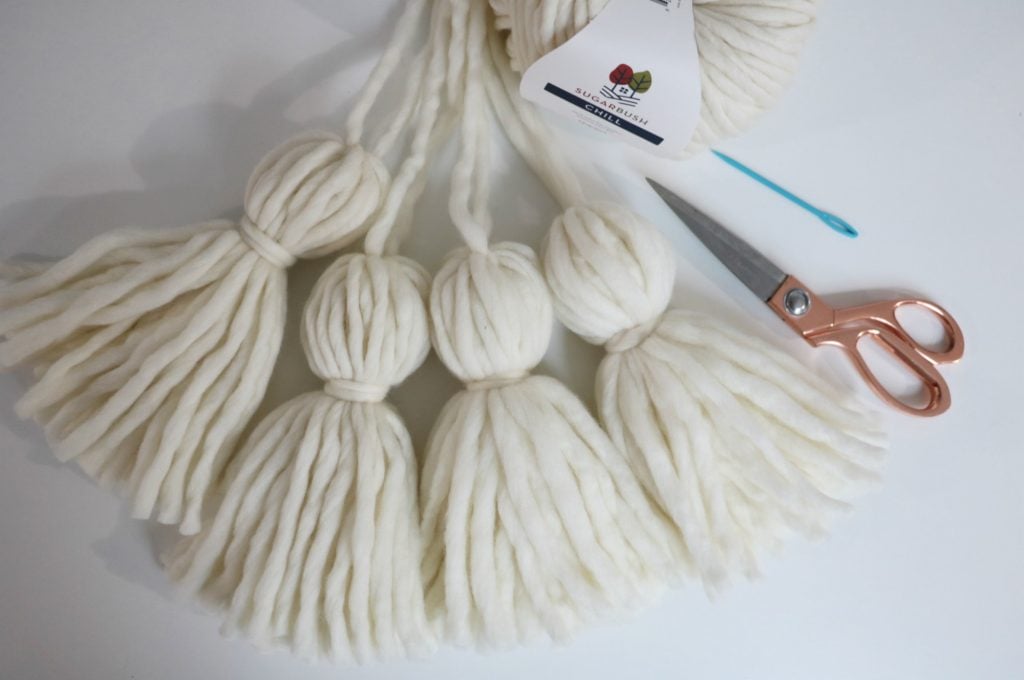 I hope you enjoy this pattern! For more designs by MJ's Off The Hook Designs see our Ravelry, Etsy, LoveCrafts, or WeCrochet Shop. Check out our Facebook and Instagram for daily inspiration!
Please share and Pin! Follow us on Pinterest HERE
Happy Hooking MJ
*This post contains affiliate links at no cost to you!
You might also love to crochet our Rustic Farmhouse Crochet Pillow pictured in grey and our Rustic Farmhouse Pumpkins.