Crochet Fall Wreath Free Pattern. Easy and quick crochet pattern and assembly to make a gorgeous fall crochet wreath for your front door. Makes a great first impression. Perfect crochet Halloween wreath as well.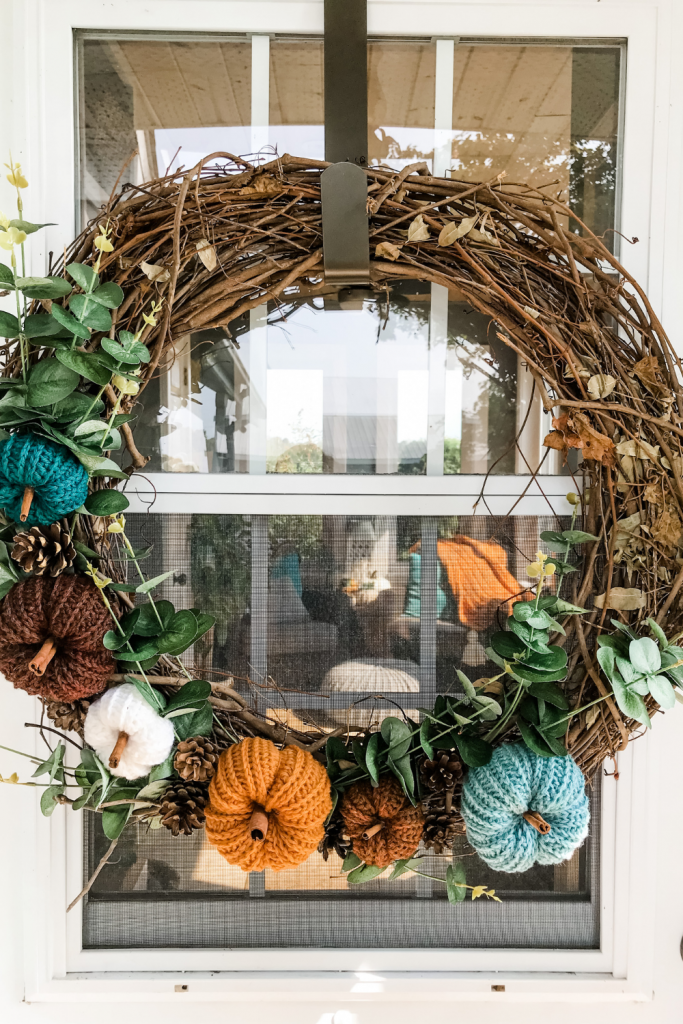 I started my Fall decorating early this year. The entire house is decked out in crochet pumpkins and cozy home decor. I have several crochet pumpkin patterns I've designed over the years but the one thing I haven't made is my own Fall wreath for the front door. It's one of those projects I've always wanted to do. Instead of designing yet another pumpkin pattern, I decided to take a spin-off of my most popular crochet pumpkin pattern and use them to crochet a wreath.
How to Crochet a Pumpkin Wreath
Firstly you'll need to crochet these adorable little rustic farmhouse pumpkins following my Bulky & Quick Pumpkin crochet pattern. You can find the free pattern on the blog HERE or you can purchase the PDF HERE. The pumpkin pattern calls for bulky weight yarn. I want you to swap out the bulky weight yarn for worsted weight and use a 5.5mm crochet hook. The small pattern will make this tiny brown pumpkin.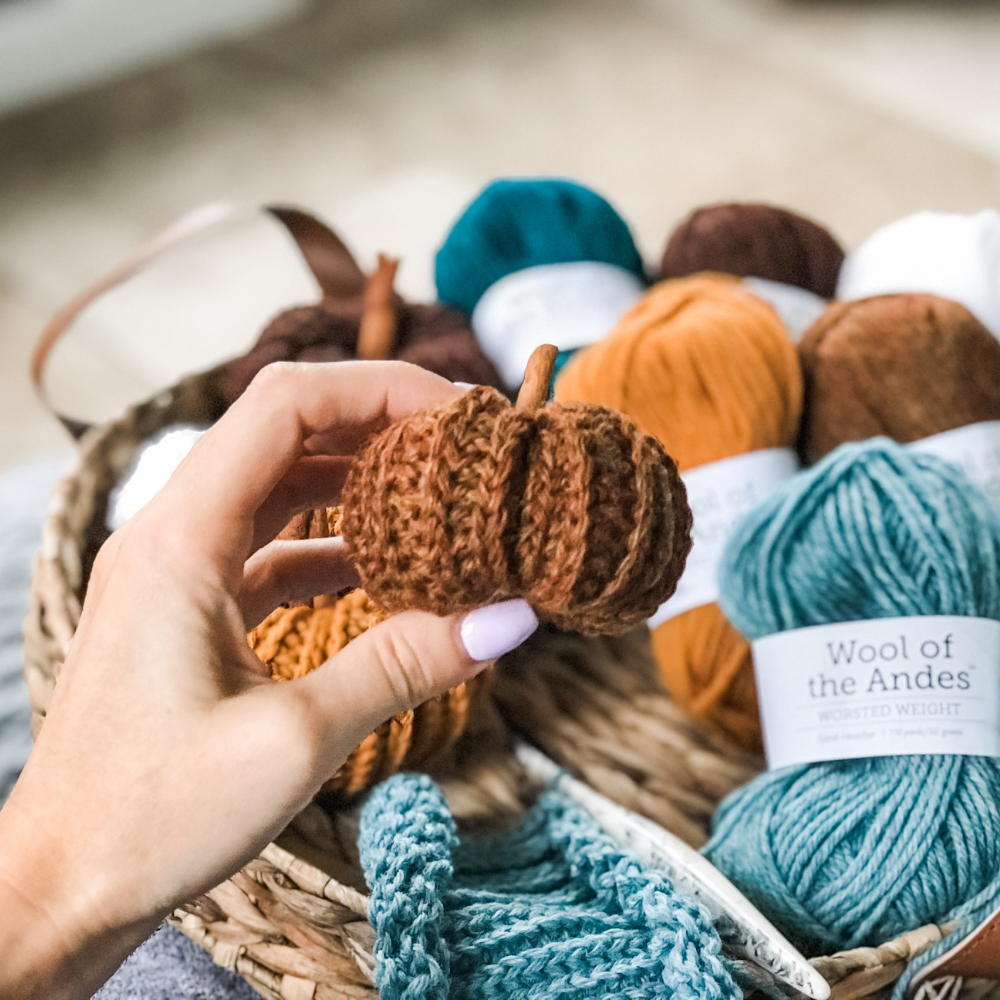 The large pattern will make the blue pumpkin pictured below. Make at least 3 small and 3 large pumpkins. Make sure to use your glue gun to secure the cinnamon sticks.
The Yarn to Crochet Fall Wreath
I settled on Wool of the Andes Worsted Weight from WeCrochet due to the gorgeous autumn colour range. I'm seriously drooling over these shades. You can purchase the yarn HERE. I used approximately 22 yards for a small pumpkin and 44 yards for a large pumpkin.

Here's the colour list for my DIY crochet pumpkin wreath.
Spruce
Fjord Heather
Merlot Heather
Amber Heather
White
Pumpkin 🎃
Crochet Hook
5.5mm crochet hook. I used my Streamline Swirl Cookie hook. Buy one from Furls HERE
Supply List
You should be able to pick up all your additional supplies from the dollar store and your local craft shop.
26″ Twine wreath Approx. $15.99 (Michael's)
20 Gauge Hardware wire $1.50 (Dollar Store)
Wire Cutters $1.50 (Dollar Store)
Glue gun and glue $3 (Dollar Store)
Cinnamon Sticks (Grocery Store)
Small Pinecones (Dollar Store or Nature)
Greenery 5 stems at $1.50 each (Dollar Store)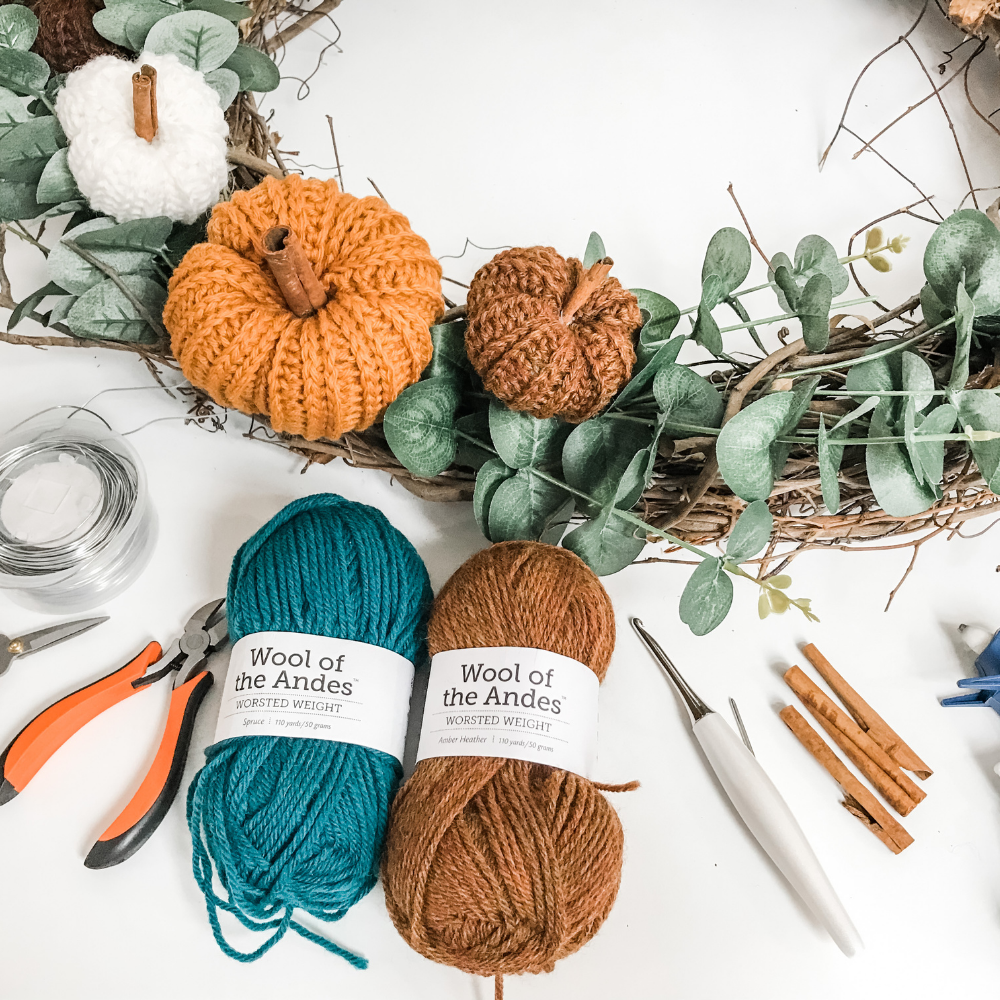 Before beginning, Find a nice large area to work. A kitchen table, island or desk. The twine wreath can get a little messy so keep a trash can nearby to brush away the debris.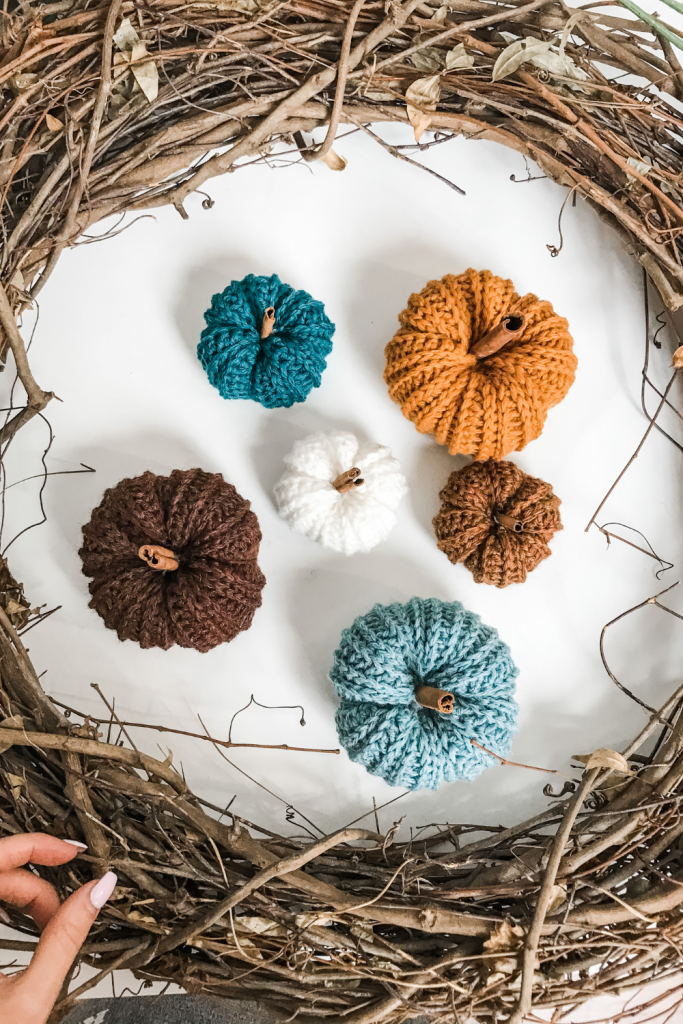 Next, use the wire cutters to cut off the stems of greenery.
Next, position greenery to the left and bottom of the wreath. I placed 3 pointing upwards to the left and two along the bottom pointing to the right.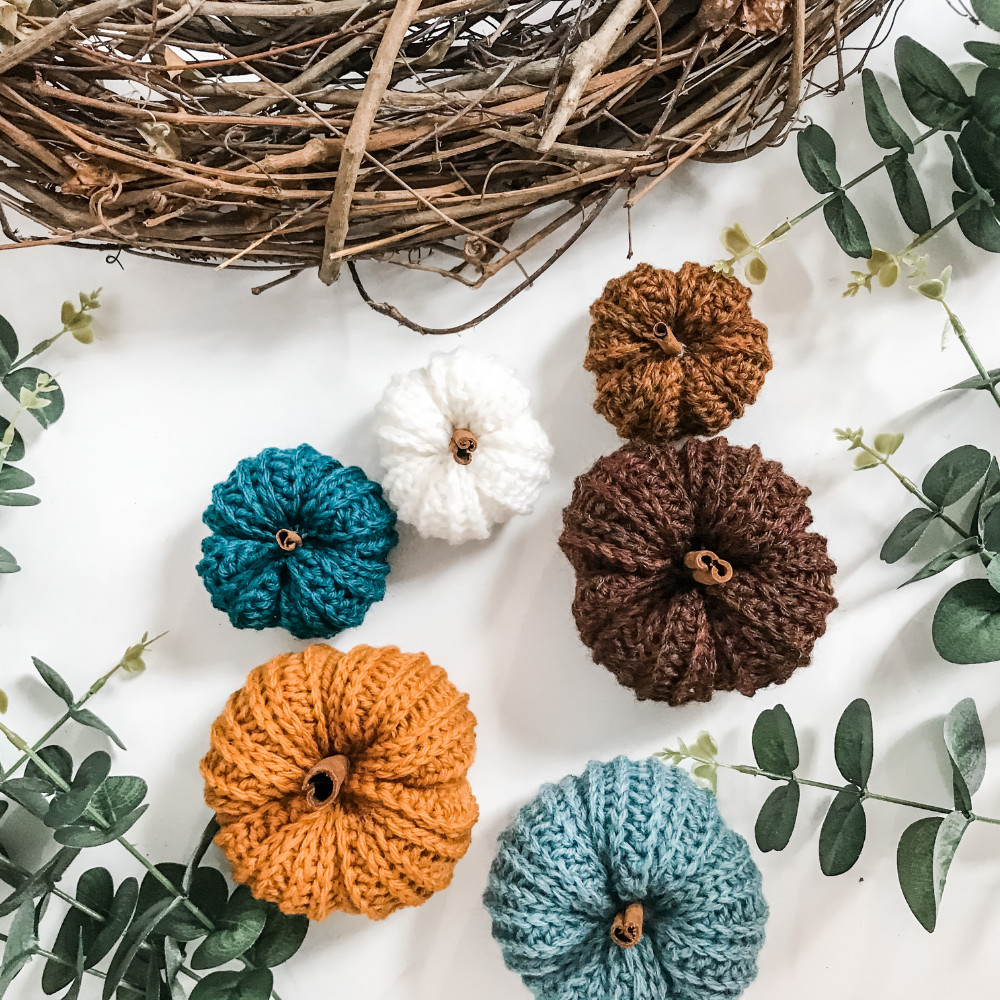 Use the glue gun to secure greenery to the Fall wreath. Push the stem down threw the twine to secure. Next, arrange pumpkins alternating small and large sizes.
Once you are happy with the position cut a piece of wire approximately 15″ in length. Stick the wire threw the bottom of the pumpkin. Then push the wire through the wreath and twist to secure.
Lastly, fill in any gaps with tiny pinecones. Use the glue gun to secure them in place.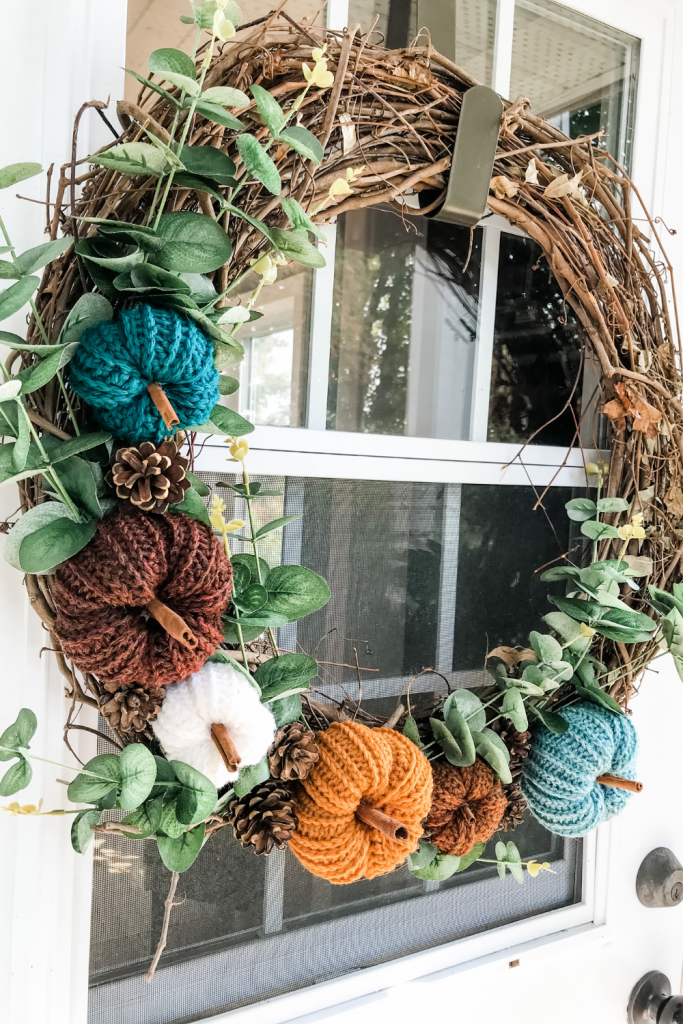 Fall wreath for your front door
Use a wreath holder for your door and your crochet Fall wreath is done. Our crochet pumpkin wreath is a quick project that makes a big impact. You can watch the full video tutorial on YouTube.
I hope you enjoy making this easy DIY crochet pumpkin wreath. Please share your photos with us by using the hashtag #mjsoffthehook or join our Facebook group HERE. I can't wait to see all your crochet pumpkin wreaths!
For more designs by MJ's Off The Hook Designs see our Ravelry, Etsy, Lovecrafts Shop. Check out our Facebook and Instagram for daily inspiration!
Please share and Pin! Follow us on Pinterest HERE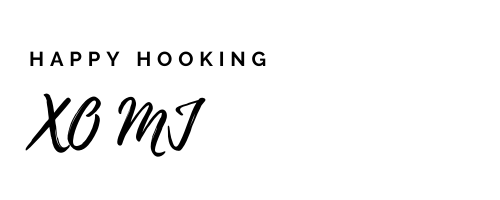 * This post contains affiliate links at no cost to you!