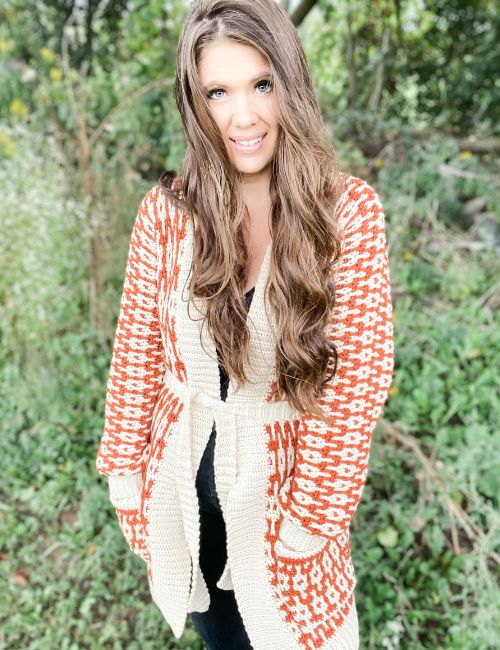 The Hello Pumpkin Mosaic Crochet Cardigan is a beautiful inset mosaic crochet pattern featuring pockets, a belt and a ribbed collar. Inset mosaic crochet is a no-tail crochet technique that is used to create intricate colourwork patterns without the hassle of tails to weave in. The crochet cardigan pattern includes sizing from XS-5X with a Youtube tutorial.
Below you will find everything you need to crochet this cozy mosaic crochet cardigan for Fall, including the yarn, hook, materials, pictures and a video tutorial. If you love this cardigan, please share!
Designer Spotlight
Happy October 1st, It's an exciting month for several reasons, including that it's my favourite Month of the year!
First off, I'm the designer of the Month over at WeCrochet. If you've been following me, you know how much I love WeCrochet and their beautiful yarns. It's such an honour to be their featured designer for October!
As the designer of the month, I have a few perks! All my patterns using WeCrochet Yarn are 30% off until October 12th! SHOP BELOW.
Also, you can enter a GIVEAWAY to win a $50 gift card for WeCrochet. ENTER BELOW
Plus, I've designed two new patterns in their featured Yarn of the month, The Hello Pumpkin Hat and Cardigan! The featured yarn is COMFY, and you can get 20% off this yarn all month!
The Peek-A-Boo Crop Cardigan is also designed in Comfy!
COMFY Yarn
The breathability and softness of natural Pima cotton allow for comfortable wearing, while the touch of acrylic microfiber adds just the right amount of elasticity. This cotton blend has superior wearability and longevity, which you will surely appreciate over the years. Excellent stitch definition too! – Wecrochet
How to Crochet the Hello Pumpkin Mosaic Crochet Cardigan
The Cardigan is worked in one piece flat, starting at the back band and finishing with the front panels. Follow the Mosaic chart for each size. The sleeve cuffs and collar ribbing is added at the end. The pattern is written for the smallest size with larger sizes in parentheses ( ). If there is only 1 number, it applies to all sizes. Step by step video tutorial is provided on our YouTube channel for size medium.
Disclaimer
This post contains affiliate links for the items I used to crochet this pattern at no cost to you. I make a small commission if you purchase through these links. This blog post also displays ads. The revenue I receive from Ads, and affiliate links, allows me to post this crochet pattern for free on my blog. I do so in good faith that you will not copy and paste this pattern or distribute it in any way.
If you prefer not to view the pattern on the blog, you may purchase an AD-FREE digital PDF pattern in one of my pattern shops for a small fee. Whether you choose to purchase this pattern or view the pattern on my blog, I greatly appreciate your support and readership.
Crochet Cardigan Sizing
I designed the Hello Pumpkin Mosaic Crochet Crochet Cardigan pattern in XS-5X with a 4-6″ positive ease. This provides a cozy oversized fit cardigan. Crochet the pattern in Comfy worsted weight yarn from WeCrochet. It's a soft Pima Cotton Acrylic blend. It won't irritate your skin, and it's soft and breathable. I also like that it's not too warm for Fall weather, so it's perfect for hiking and other outdoor autumn activities.
The matching mosaic crochet hat pattern includes 0-3 mth, 3-6 mth, 6-12 mth, 12-18 mth, Preschool (small child), child, adult and an adult large size.
Love the Crochet Pumpkins? Go to the Free Crochet tutorial HERE
The Hello Pumpkin Mosaic Crochet Cardigan Pattern is written in Standard American terms and includes 9 sizes. Purchase the beautifully designed written PDF.
The Hello Pumpkin Mosaic cardigan is the perfect crochet jacket or crochet coat for Fall. With the added belt and pockets, this crochet pattern is functional, warm and stylish.
Support me by purchasing the pattern below!
.
You might also love the Bulky & Quick Rustic Farmhouse Pumpkin Pattern Free crochet pattern, or find more crochet patterns in my Etsy Shop
Crochet Hook
The Hello Pumpkin Mosaic Crochet Cardigan pattern requires a
or size needed to obtain gauge
To prevent hand pain, I crochet with Furls Crochet Hooks. I can spend hours crocheting with these hooks. For the Hello Pumpkin Mosaic Crochet Cardigan, I used the Furls Streamline Cookie & Cafe Hook. You can purchase them HERE with code MJS15 for 15% off.
The Yarn Required
I used Comfy Worsted Weight #4– 75% Pima Cotton, 25% Acrylic (109 yds/50g)
The yarn is a light worsted similar to a DK. I will list some substitutes that I think would be suitable alternatives. Otherwise, the cardigan may come out bigger than my measurements if you are using a heavy worsted weight.
Shown in Ivory and Copper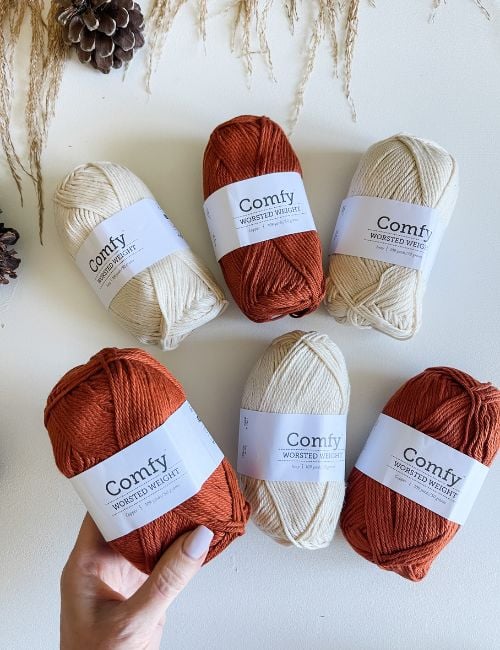 Yarn Substitutes
Hello Pumpkin Mosaic Crochet Cardigan Pattern
Get the PDF on RAVELRY, ETSY, WeCrochet or the Digital interactive pattern on Ribblr in Spanish and English.
Materials:
Woolwash (optional)
Gauge:
15 sts and 19 rows equal to 4″ blocked with 5mm crochet hook in mosaic pattern
10 sts and 7 rows equal to 2″ blocked with 4.5mm hook
Crochet Video:
Watch how to crochet Hello Pumpkin Mosaic Crochet Cardigan on YouTube
Learn how to read an inset mosaic crochet chart! Watch video HERE
Inset Mosaic Crochet – No tails technique
For every row on the chart, crochet 2 rows in the same colour, Row 1 and Row 1a (equals 2 rows). On the right-hand column, rows 1-14 are read from right to left. On the left-hand column, rows 1a-14a are read from left to right. Row 1 and row 1a are both worked in colour A as indicated in the Left column. Rows 2 and 2a are worked in colour B as indicated. By working 2 rows in each colour, you are able to carry the yarn tails up the right side of the work so that there are no ends to cut and weave.
Work the entire row in colour stated. If the box does not contain an X, you will work a sc st; when you come to a box in a contrasting colour, you will not change the colour you will ch 1 per box and sk 1 st per box. A box marked with an X indicates working a drop-down double crochet 3 rows below on the RS of the work. When working on the WS (rows marked a) a sc is worked in the stitches marked with and without an X. Highlighted rows 3-14 repeat the pattern. Highlighted columns 5-8 are the stitch repeat. Columns 1-4 and 9 (21) are how each row begins and ends.
Special Crochet Stitches
Drop-down dc – Drop-Down Double Crochet – Work a double crochet in the front loop of the stitch 2 rows below.
Sc2tog – Single Crochet Decrease two together – Insert hook in next stitch and draw up a loop [2 times], yarn over and draw through all 3loops on the hook
Abbreviations
Blo – Back Loop Only
Ch – Chain
Dc – Double Crochet
Flo – Front Loop Only
Rep – Repeat
RS – Right Side
Sc – Single Crochet
Sc2tog – Single Crochet Decrease
Sl St – Slip Stitch
Sp(s) – Space(s)
St(s) – Stitch(es)
WS – Wrong Side
( ) – Work step in parentheses in indicated stitch
[ ] – Work step in brackets number of times indicated
Copyright
The Hello Pumpkin Mosaic Crochet Cardigan pattern is the sole property of MJ's Off the Hook Designs. This pattern is copyright protected and cannot be copied or reproduced in any way. You are welcome to sell your finished items from this pattern. When posting on social media, I require a reference or link for my design. My photos are copyright protected and are not to be used to sell your items.
The PDF includes the Mosaic chart, Schematic and the written pattern in XS-5X. I hope you enjoy this cozy crochet jacket for Fall.
Product Links
Soft Moc Slippers (my favourite! I don't earn commission on these)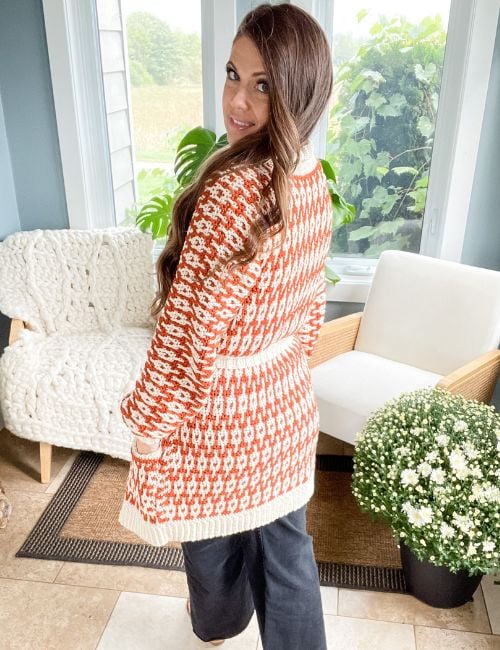 For more crochet patterns by MJ's Off The Hook Designs see our Ravelry, Etsy, LoveCrafts, WeCrochet or Ribblr Shop. Check out our Facebook and Instagram for daily inspiration!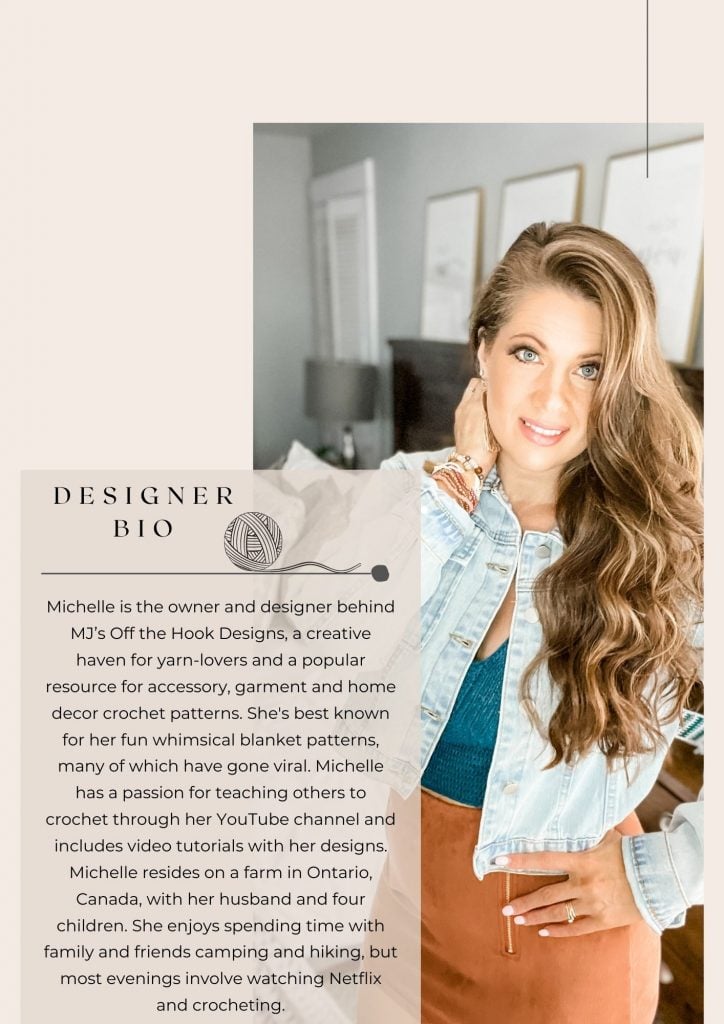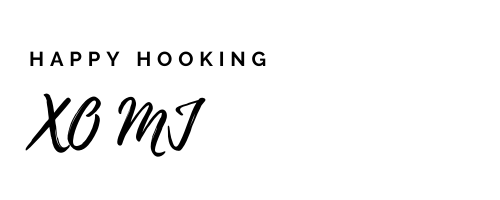 *This post contains affiliate links at no cost to you!