You are going to love making this Mini Ring Snowman Ornament!
Get the free Mini Ring Snowman Ornament Crochet Pattern! Prepare for the Holiday Season and get in the Christmas Spirit by crocheting simple and quick Crochet Christmas ornaments. Keep scrolling for the crochet snowman ornament free pattern.
The Merry Minis crochet Ornament set will become a Christmas favourite. Make sure to add the Mini Ring Snowman ornament to your crochet list this holiday season!
Below you will find everything you need to crochet the Mini Ring Snowman Pattern, including the yarn, hook, materials, free written pattern, pictures and a video tutorial. If you like this free crochet snowman ornament pattern, please share!
Disclaimer
This post contains affiliate links for the items I used to crochet this pattern and clothing articles I have modelled at no cost to you. I make a small commission if you purchase through these links. This blog post also displays ads. The revenue I receive from Ads, and affiliate links, allows me to post this crochet pattern for free on my blog. I do so in good faith that you will not copy and paste this pattern or distribute it in any way. If you prefer not to view the pattern on the blog, you may purchase an AD-FREE digital PDF pattern in one of my pattern shops for a small fee. Whether you purchase this pattern or view the pattern on my blog, I greatly appreciate your support and readership.
Get involved by joining my Community Group on Facebook; you can post pictures, ask questions and help other community members!
Find all the patterns at the Blog Post below!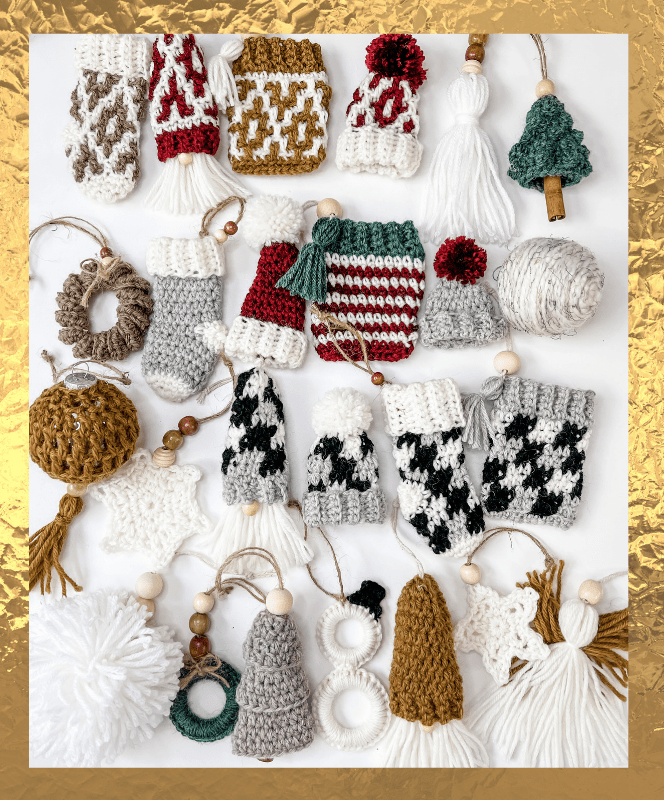 I have put together a beautiful Ebook with all 25 crochet ornaments! Each pattern includes a video tutorial on Youtube.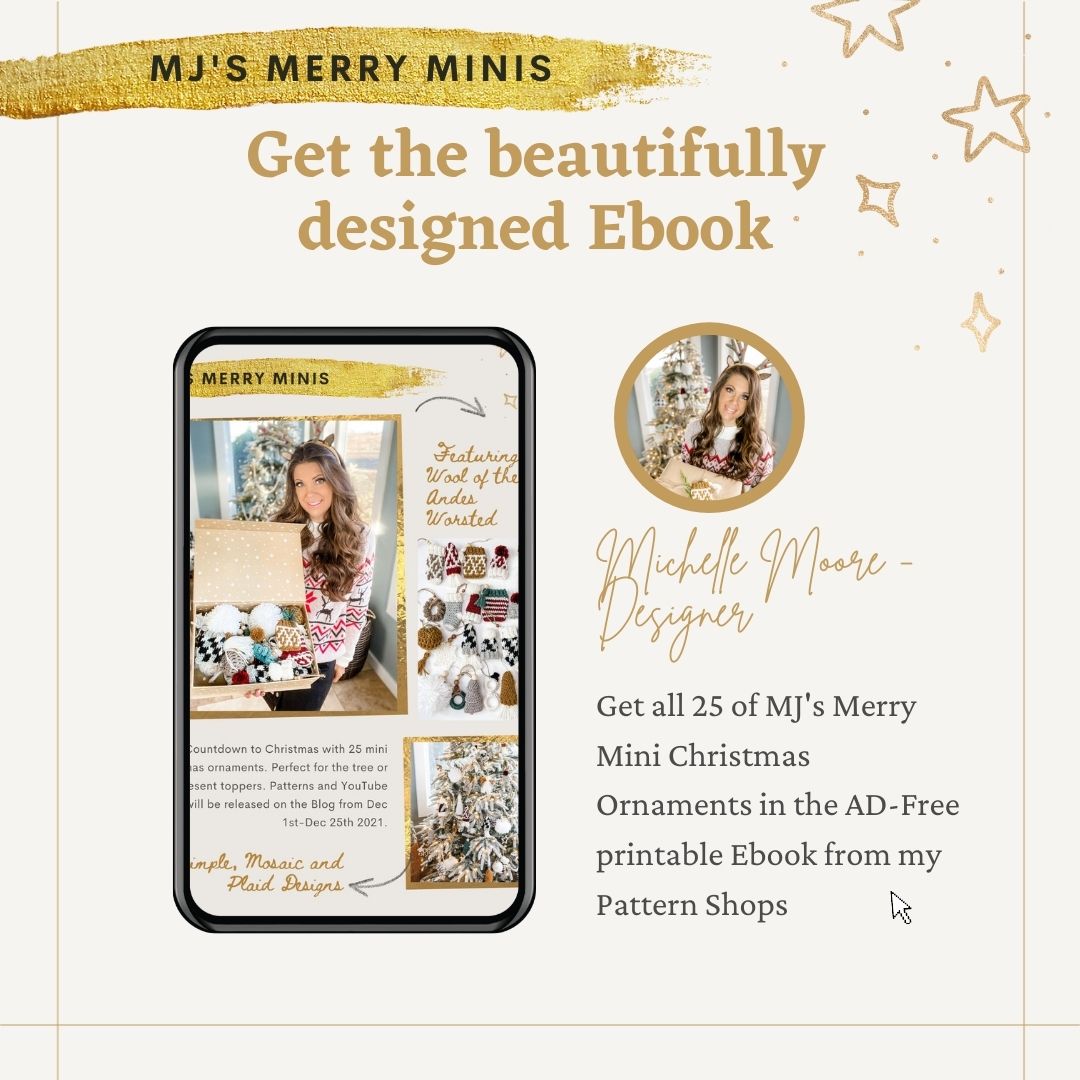 Mini Ring Snowman Ornament
While my kids were growing up one of our favourite things to do around Christmas time was making homemade ornaments! We would make things like baked gingerbread man to put on the tree, popcorn garland, foam ornaments, decorate clear Christmas balls! Im sure your family has Christmas traditions too, and would have a great time making these Crochet Christmas Ornaments! There are even some patterns for the non-crocheters, such as the Mini Tassel Angle, Mini Ring Wreath, Boho Beaded Pompom, and the Scrappy Christmas Ball!
This adorable Mini Ring Snowman Ornament is made by crocheting around wooden rings. It's a simple and elegant design. Top your snowman off with a little top hat and add some string for hanging on the Christmas Tree. Keep scrolling for a YouTube Video Tutorial!
Wool Of The Andes Worsted Weight
These Mini Ring Snowman can be made in no time! You can use any type of yarn you have around. I suggest Wool of the Andes Worsted Weight by WeCrochet. It is multi-Purpose yarn which can be used for many things! Made of 100% Peruvian Wool.
"My idea of Christmas, whether old-fashioned or modern, is very simple: loving others."
– Bob Hope
YARN
Wool of the Andes Worsted Weight by WeCrochet
100% Peruvian Highland Wool, 110yds/50g
Small amount of Yarn A/B
MATERIALS
– 4mm/G Furls crochet hook – use code MJS15 for 15% off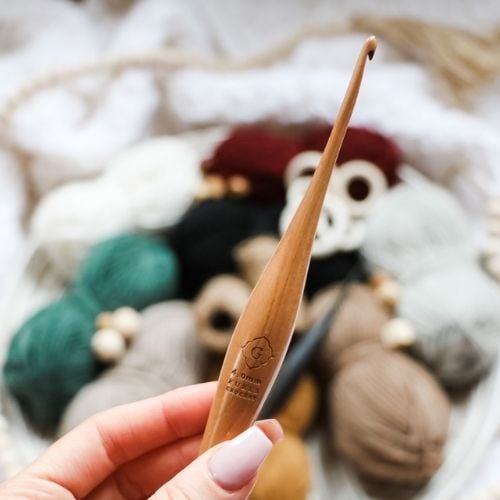 ABBREVIATIONS
ch – Chain, RS, Right Side, sc – Single Crochet, sl – Slip, sp – Space, st(s) – Stitch(es)
VIDEO
A full video tutorial for the Mini Ring Snowman ornament is available Video Link
Mini RIng Snowman – Free Crochet Pattern
Get the Ebook HERE
Snowman:
Rings (complete 2)
Make a sl knot and place it on the hook. Push the hook through the ring and pull up a loop, yarn over and complete a sc st around the ring. Continue to work sc sts around the ring filling it in so that no wood is visible. Fasten off and knot tails together. Weave in tails leaving one tail for sewing the rings together.
Place rings together RS facing. Use yarn tails to sew the rings together. Go through each st on both rings across 4-5 sts. Weave in the tail to secure.
Add a piece of twine to the centre of the smaller ring and knot at the base. Knot twine for hanging.
Hat:
Row 1 (RS):
RS facing, join colour B in the st to the left of twine. Ch 1, 1 sc in the same st and the next 4 sts, fasten off and weave in tails—5 sts.
Row 2 (RS):
Join yarn in 2nd st of row 1, ch 1, 1 sc in first st and next 2 sts, turn—3 sts.
Row 3:
Ch 1, sc in each st across, fasten off and weave in ends—3 sts.
Copyright Disclaimer
This pattern is the sole property of MJ's Off the Hook Designs. This pattern is copyright protected and cannot be copied or reproduced in any way. You are welcome to sell your finished items from this pattern. I require a reference or link for my design. My photos are copyright protected and are not to be used to sell your items.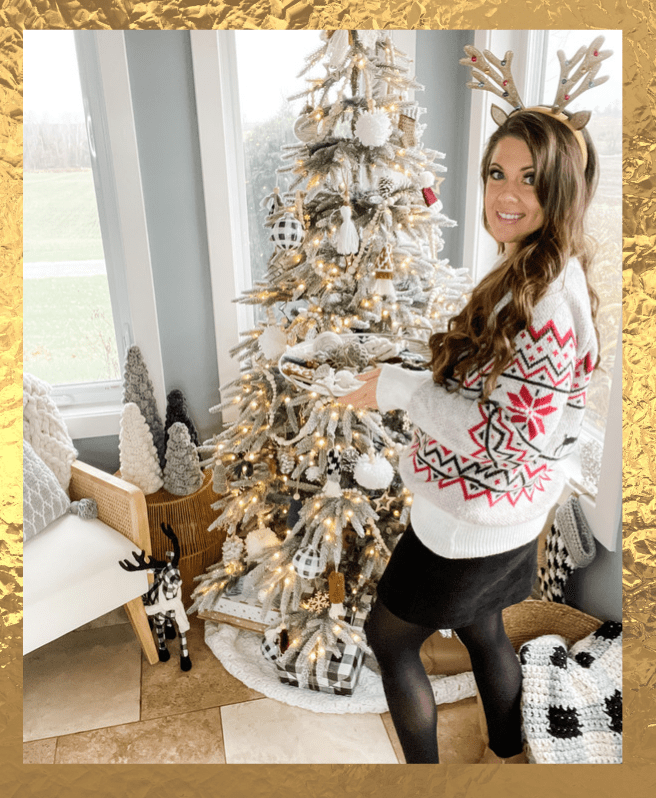 I'm so happy with how my Christmas Tree turned out. I added wooden bead garland and a few pinecone ornaments. I used my Easy C2C Blanket for my Tree Skirt and the Chunky Buffalo Plaid Crochet Throw to stay with the plaid theme. If you love my Christmas Sweater you can get it HERE and my skirt HERE. They really helped give my tree the rustic aesthetic I was going for!
Not only do these crochet ornaments look beautiful on a Christmas tree, but they make the perfect present toppers as well. The crochet decorations vary in skill level, and some can be made with no crochet experience. That way, the entire family can get involved.
For more designs by MJ's Off The Hook Designs see our Ravelry, Etsy, LoveCrafts, WeCrochet or Ribblr Shop. Check out our Facebook and Instagram for daily inspiration!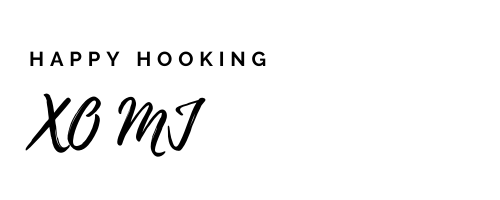 *This post contains affiliate links at no cost to you!