I'm so excited to share these Quick & Easy Velvet Ballet Slippers with you!  Do you ever just see a new yarn that you must have!  I felt that way about Bernat Velvet.  Maybe it's just flash back to my teenage years when velvet was so in that made me need it!  So I've had a ball staring at me for awhile and inspiration finally kicked in! I made these Quick & Easy Velvet Ballet Slippers.  The velvet makes them so luxurious! Plus they are so quick to make for gifts.  Who wouldn't love a pair?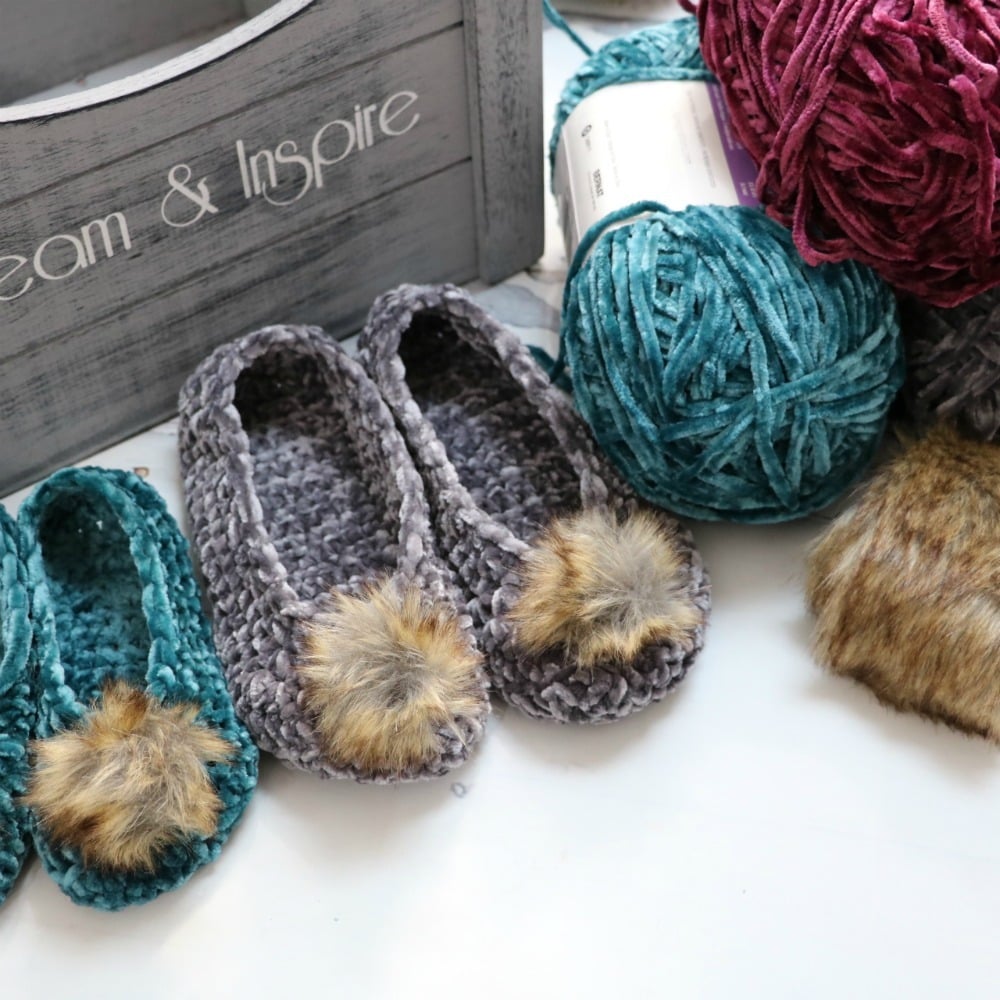 I'm just crazy for Fur pom pom's right now so I thought they'd be the perfect added touch for these slippers!  I picked up some faux fur trim, cut in a square and made my own tiny pom pom's.  These are such a quick and easy affordable gift.  I was able to make 4 adult pairs from 1 ball of yarn and I still have lots of trim left on the roll. I estimate I can make about 14-16 pom's off one roll that I purchased for $4.99.  So if you're looking for a an affordable quick pattern perfect for gifts and markets this is it!
The pattern includes child sizes 9/10 up to 4/5 and Adult sizes from 4/5 up to 12/13.  To make sure you're successful at this pattern I did a full video tutorial on YouTube showing how to make a child size 2/3.  The video also includes the pom pom Tutorial that you can watch here!
Make sure to check your gauge as it's very important for a correct fit.  They will fit snug but will stretch out so a tight fit is good. Don't worry about them being slippery.  They don't slip at all on hardwood!
I hope you enjoy this pattern!
Thanks so much for all your support this year!  Whenever you purchase a pattern it helps to keep me doing what I love! Slipper pattern HERE
For designs by MJ's Off The Hook Designs see
our Ravelry, Etsy, Loveknitting, or Craftsy Shop.  Check out our Facebook and Instagram for daily inspiration!
Please share and Pin! Follow us on Pinterest 
HERE
Happy Hooking
​Michelle
* This post contain affiliate links at no cost to you!