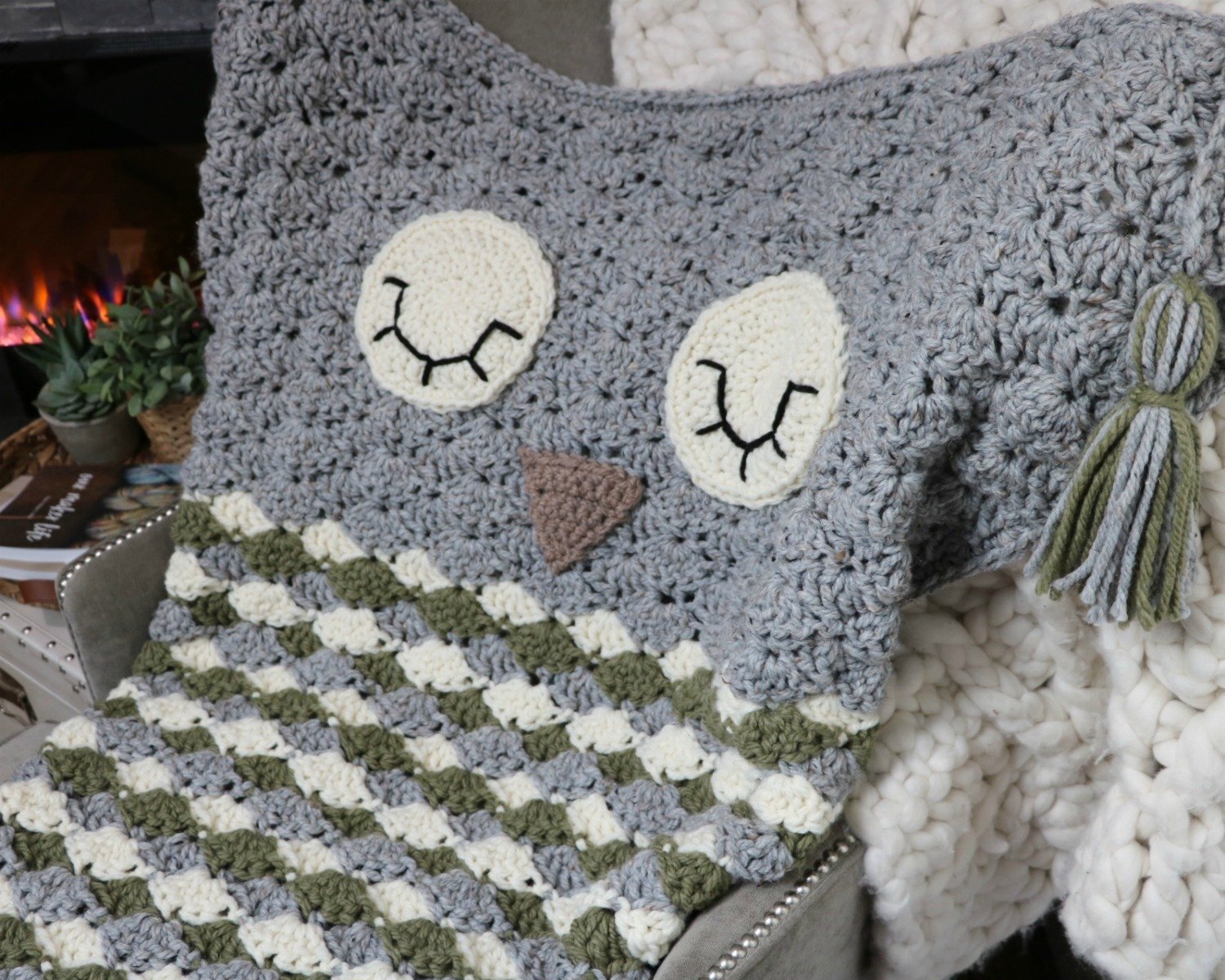 Our Newest Blanket is the Sleepy Owl Cocoon Blanket! I've been dying to make another cocoon style blanket. A couple years ago I designed an owl car seat cozy and was asked on several occasions for an Adult version. I FINALLY have designed a similar blanket and it includes a baby, child and adult size!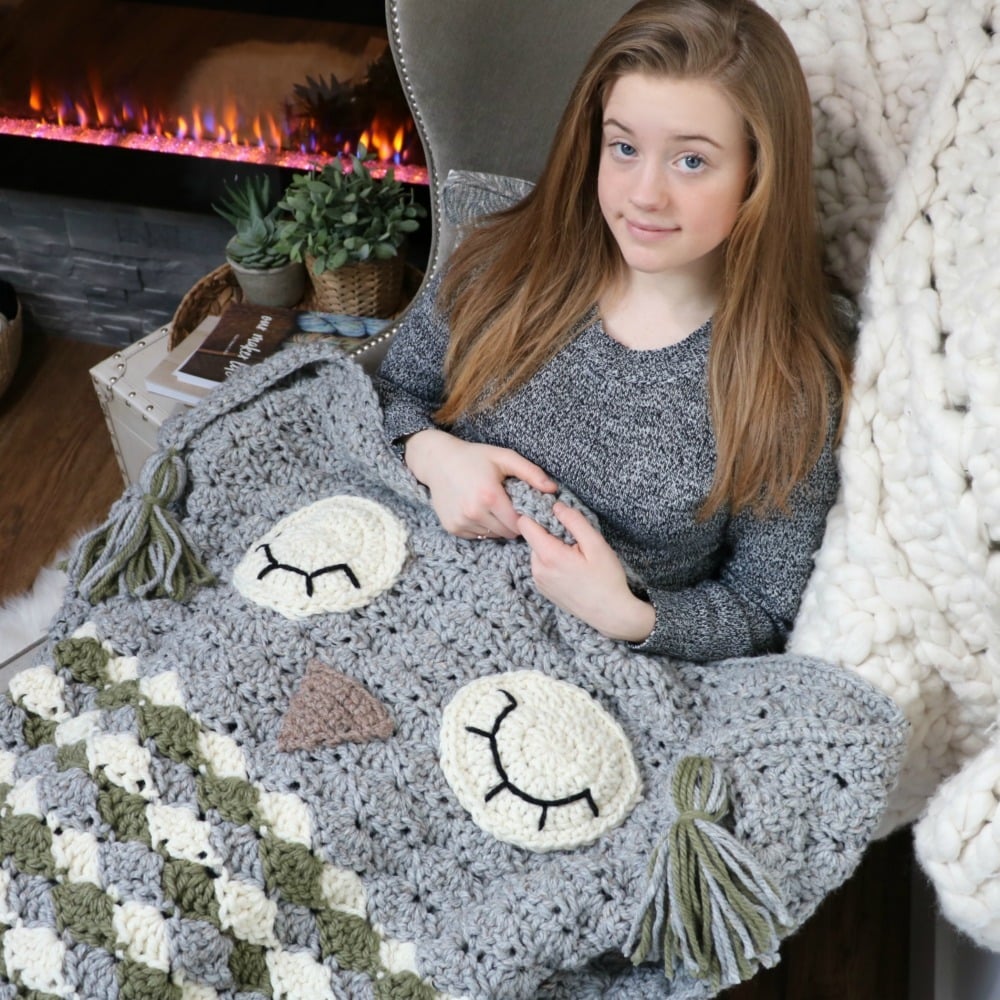 I'm so in love with the big squishy shells in this design. A combination of 3 colours really make the shells pop!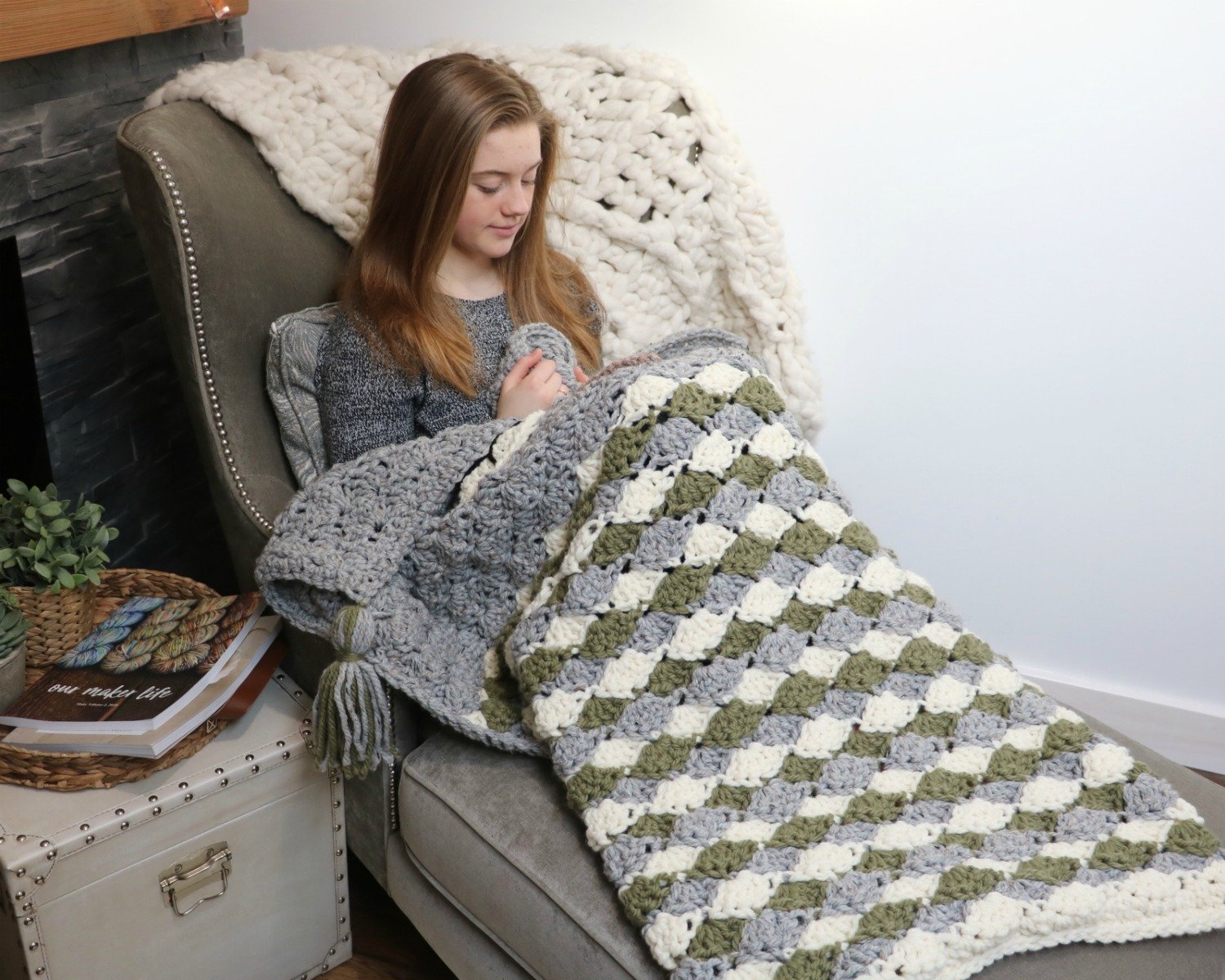 Watch how to crochet the Shell Stitch in Rows and Rounds on Youtube!
Our Owl blanket Cocoon takes into consideration how cold our feet get! I love being able to tuck my feet into this blanket so they stay warm. I might just bring it right into bed with me!
I have so many blankets I'm always looking at neat ways to store them when I create a new design. I love that my hooded blankets fold into the hood and my Beach Blankets fold into a bag. Our Sleepy Owl Cocoon Folds into a pillow to display on your bed or couch.
Seriously how cool is that! I love the pillow almost as much as the blanket! Leave tassels in or outside of the pillow. Check out how tiny and cute the baby size pillow is!
My Child and Adult Size blanket are made with Super Bulky yarn. By dropping your hook size and using only worsted weight yarn you can make a baby size blanket. This blanket would work perfectly in a car seat, swing, bouncy chair or just to snuggle up your little bundle of joy.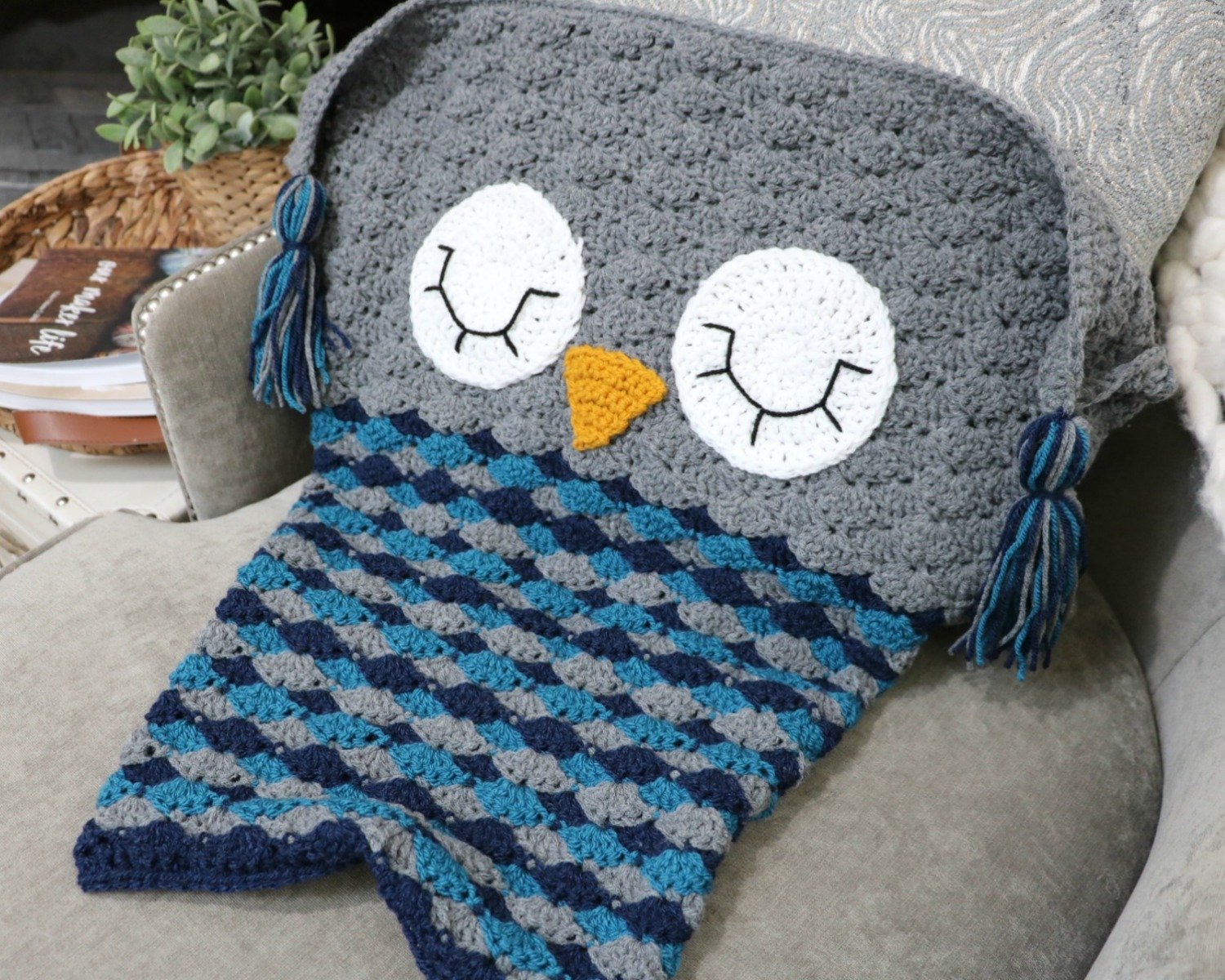 Here's what your going to need to get Started! If haven't yet learned how to crochet go checkout our Learn to Crochet Series
Purchase the PDF HERE
Yarn Requirements:
Child & Adult
Sprightly Yarns Acrylic Wool Super Bulky (80% Acrylic, 20% Wool (5.25oz/150g/98yds/89m)
Shown in (MC) Grey Owl, (A) Ecru, and (B) Misty Green
Baby
Sprightly Yarns Acrylic Worsted 100% Acrylic (3.5oz/100g/201yds/184m) Shown in (MC) Charcoal Heather, (A) Denim, (B) Teal, (C) White

Sprightly Acrylic Worsted Yarn – $3.56
from: Bluprint
Sizes: Baby (Child, Adult)
MC A B C
Balls Needed
Baby 2 1 1 1
Child 4 2 2
Adult 7 3 2
* A & B exact amounts used for Adult size
Child & Adult
US P/16 (11.5mm) or size needed to obtain gauge
US N/15 (10mm)

Lion Brand Crochet Hooks – $1.50
from: Bluprint
Baby
US J/10 (6mm)

Clover Amour Crochet Hooks Set of 10
from: Bluprint
Additional Supplies:

Clover Tapestry Needles – $5.40
from: Bluprint

– Button 25mm (35mm, 35mm)
– Scrap yarn in Black & Bark/Yellow for eyes and beak
Finished Measurement: Baby (Child, Adult)
Width 26 (40, 50)"
Length 24 (40, 50)"
The PDF Crochet Pattern includes all 3 sizes, lots of photos and the YouTube video to help you along with the shell stitch pattern. I hope you enjoy making this blanket!
Check out some of my Testers Photos! By Kelly Strohmeyer, Handmade By Val, Laurie Clout, Tabatha Lewis, Rian Tarman and Michelle Allshouse
For those of you looking to grow your Instagram and Pinterest following I highly recommend using Tailwind! My focus for Tailwind has been to grow my Pinterest and Website Traffic. The results have been amazing! Since I started using Tailwind I grew my Pinterest monthly views from 30K to over 4million and my website traffic from 70K to 350K! All in less than a year. Click on the banner below to see more and try it out for free. I started with the free trial and loved it so much I upgraded my plan. It's been so worth it for my business!

For more designs by MJ's Off The Hook Designs see
our Ravelry, Etsy, Loveknitting, or Blubrint Shop. Check out our Facebook and Instagram for daily inspiration!
Happy Hooking
​Michelle
* This post contain affiliate links at no cost to you!