I know I always get excited about new designs, BUT I think the Hooded Woodland Blanket Collection is my favorite collection of crochet animal blankets! I'm completely in love with woodland animals, so it's a big collection filled with furry crochet animal friends. The Hooded Woodland Blanket Collection includes; The Hooded Woodland crochet Raccoon, crochet Bear, crochet Fox, crochet Deer, crochet Skunk, crochet Rabbit, crochet Hedgehog, crochet Squirrel, and crochet Moose blankets. This little face just captures my excitement for this pattern release!


How to Crochet blankets
Hooded Raccoon Blanket
The Hooded crochet Raccoon was the first design to inspire this collection of crochet blankets. I was contemplating how to crochet his beautiful striped tail into the design. The lightbulb moment came, and I decided to graph his tail directly into the blanket. For many of our furry friends, tail graphing works perfectly to capture the uniqueness of each animal!
For the Raccoon blanket, I added adorable hand-shaped paws distinct to our curious furry friend. The crochet blanket tucks right up into the hood for storage and makes an adorable raccoon pillow. My crochet design inspiration really does come from many places! I came across this adorable set of mugs at Chapters.
Hooded Bear Blanket
I was hesitant to design a crochet bear blanket due to his lack of features, but the scarf on this mug gave me the inspiration I needed! Adding a crochet scarf to the bear blanket adds that special something I was looking for and allows for a nice pop of color.
This crochet bear blanket is definitely cozy and the scarf tied up in front helps to hold the blanket right in place.

Hooded Fox Blanket
Even though I already have a fox blanket pattern, the hooded woodland blanket collection really needed one! I just had to graph that beautiful tail! Sprightly yarns Super Bulky Acrylic Wool was the perfect yarn for these designs. Unfortunately, the yarn is no longer available, so I suggest using Lion Brand Wool-Ease Thick & Quick.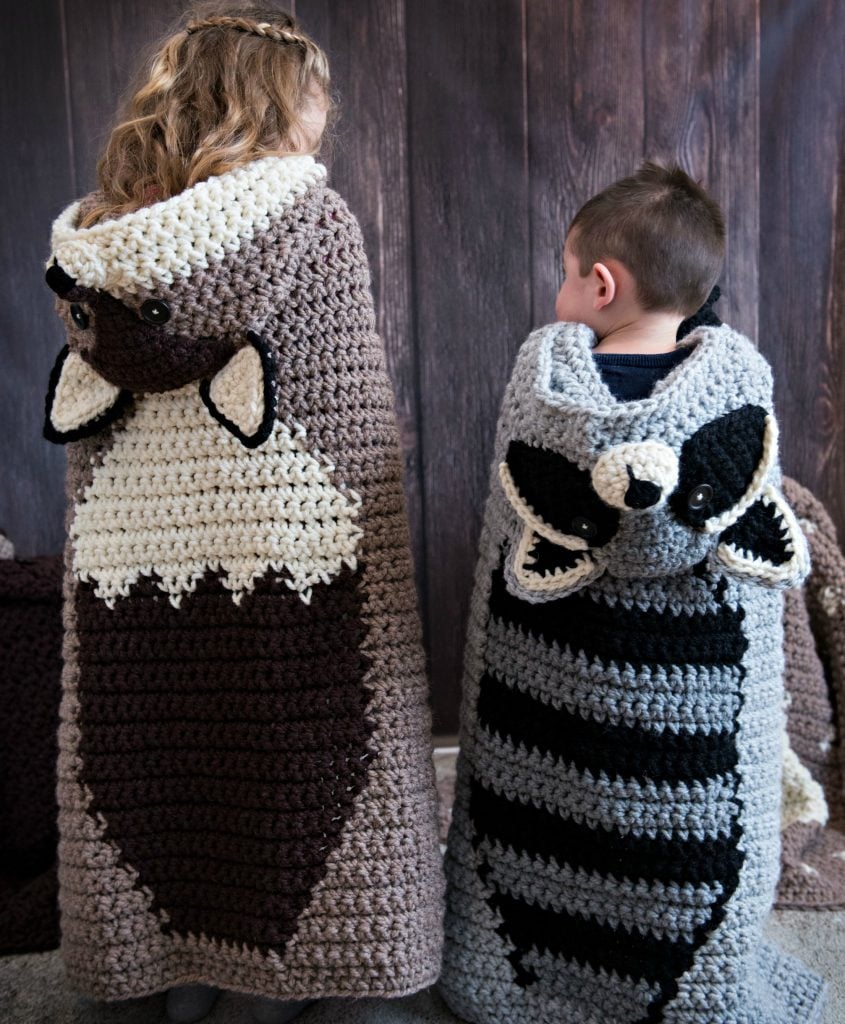 You can also substitute Bernat Softee Chunky for an acrylic yarn alternative. Because it's not as thick, I suggest using a 12mm hook and changing all single crochet (sc) stitches in the crochet pattern to extended single crochet (ESC). I've already updated the Deer, rabbit, and Moose in this yarn, and it comes out beautiful!
Hooded Deer Blanket
The crochet deer blanket is the most popular woodland crochet animal blanket. To make a hooded blanket for baby, I would use worsted weight yarn and a 5mm crochet hook. Follow the hooded blanket for kids to get an infant size and follow the hooded blanket for adults to get a baby-sized blanket.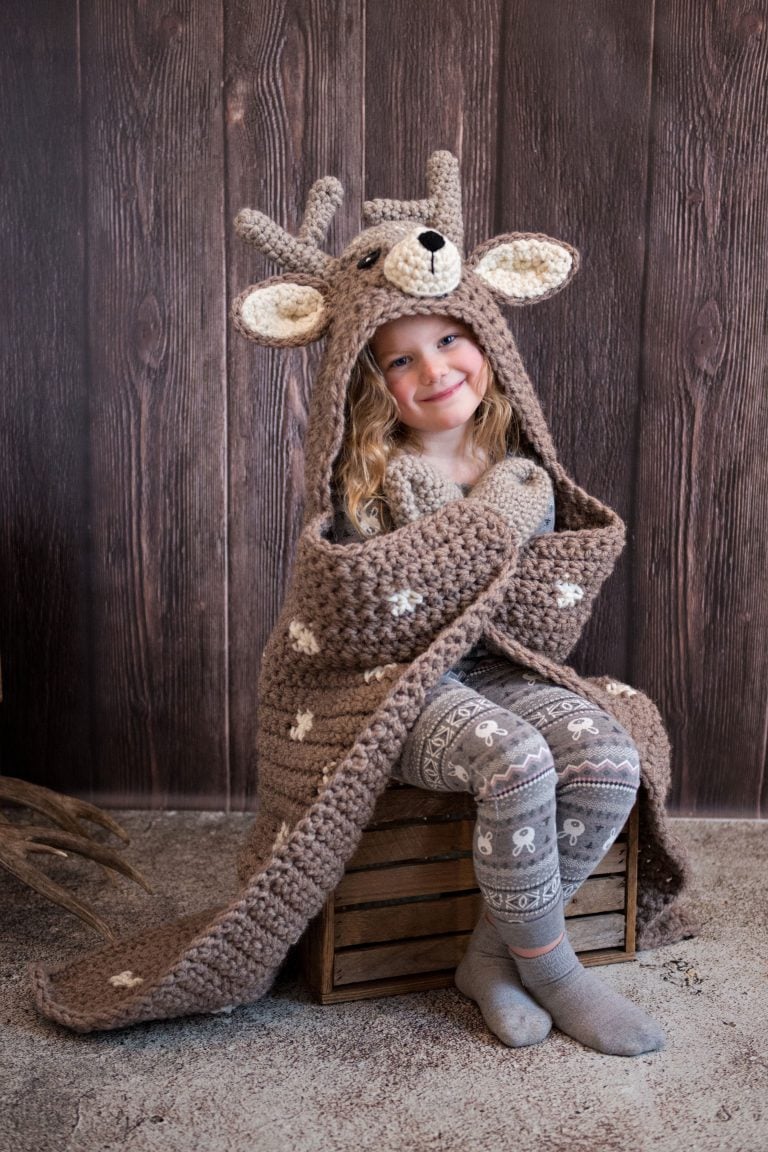 Crochet blanket with thick yarn
Unlike my other Bulky and Quick Designs, the woodland crochet collection only uses 1 strand of bulky yarn. This yarn is extra thick and full, so I still use a 16mm Q hook, which means these crochet blankets work up quickly! If you're looking for comparable yarn, I'd suggest Lion Brand Wool-Ease Thick & Quick for a similar texture and earthy feel.
Lion Brand Wool-Ease Thick & Quick.
Based on thickness, Bernat Blanket yarn would also compare.

I would not suggest using worsted weight for the designs featuring multiple color changes. All those balls of yarn might get crazy messy. You would need to use at least 3 strands of worsted weight yarn to get a similar thickness.

The Hooded Woodland Deer Blanket I think is my favourite! But it is really hard to pick. I can just see this design with a little red nose for Christmas!
More crochet animal blankets
Here are the other designs you'll find in the hooded woodland blanket collection! Click on the links to go to each blog post for more information.
You'll love our Hooded Rabbit Blanket. Crochet rabbit pattern includes crochet carrots.
Our Woodland Skunk Blanket crochet pattern includes a crochet flower pattern.
Checkout the texture on our Hooded Hedgehog Blanket! This faux style bobble is easy and quick to crochet. It has a video tutorial included with your crochet hooded blanket pattern.
Our Hooded Squirrel Blanket has a crochet loop stitch tail that looks like crochet hair! The squirrel tail curls right up the back of the hood.
Last but not least, to join the Hooded Woodland Blanket Collection is our Hooded Moose Blanket. You'll love the crochet plaid stitch used to make the crochet blanket. It's an easy crochet stitch that doesn't require you to carry the yarn throughout the blanket. You just carry the yarn up the side of the blanket as you work.
You can purchase these patterns in any of my pattern shops. Shop the patterns on Ravelry! I've provided video tutorials to accompany all my crochet hooded blanket patterns.
Woodland Collection Coupon codes ONLY on Ravelry
WOODLAND – Buy 3 get the 4th free
WOODLAND9 Buy 9 for $35.95
Ravelry, Etsy, Loveknitting, or Craftsy Shop. Check out our Facebook and Instagram for daily inspiration!
Please share and Pin! Follow us on Pinterest HERE
Happy Hooking MJ
*This post contains affiliate links at no cost to you! Read our Privacy Policy Below!