Crouchet Foundry Fall issue brings you the best 7 patterns for crochet tops from admired designers. I've had the pleasure of collaborating with a talented group of designers in this magazine. Emily from Hooked Hazel, Amber from Divine Debris, Pam from Sincerely Pam, Briana from Briana K Designs, Lorene from Cre8tion Crochet and Katy from KT and the Squid.
The fall issue came together with a lot of love and several cups of coffee! We wanted to add a little something special to this magazine and share more of us with you. On each design, a favourite coffee recipe is included from each designer. Just like you, we have our favourites. What makes us stand out is our celebration of being unique and bringing various personalities and crochet patterns into one beautiful space.
"But even a bad cup of coffee is better than no coffee at all"

David Lynch
Watch us Live!
Crochet Hooks and Yarn
This issue is full of the best crochet top patterns and is all about you and your inspiration to pick up a hook and yarn. Our goal is not only to inspire but to guide. We have added a yarn substitute guide with price options. These options will give you the right tools for your budget and style.
Crochet Foundry Fall magazine would not have come together without the help of our sponsors WeCrochet and Furls Crochet. WeCrochet provided us with the beautiful yarn used to crochet these gorgeous crochet tops, and Furls Crochet provided the gorgeous wooden crochet hooks.
Double Espresso Duster Cardigan
I designed the Double Espresso Duster Cardigan as my crochet top for women in the magazine, shown in 2X. For this magazine, we not only wanted to give you regular and crochet plus size patterns; we also wanted our patterns for crochet tops modelled on different sizes. For the Fall issue, we were lucky to have a small, large and 3X plus-size model. I love how great our crochet plus size cardigan looks on our model!
The Double Espresso Duster Cardigan is just one of 7 size-inclusive crochet top patterns you'll find in this eMagazine. I filmed my crochet plus size cardigan in a step by step how to crochet a cardigan pattern on my YouTube channel. Learn how to crochet cables and see how easy it is to crochet a cardigan. Buy the individual pattern on WeCrochet HERE, Ravelry HERE or on ETSY
I was so in love with this crochet sweater pattern's elegance. I had to make another one in small. What I love most about this long duster cardigan is how slimming it is. Not to mention how comfy, cozy and warm it is too. Styled just right, it will give the illusion of a long, lean body.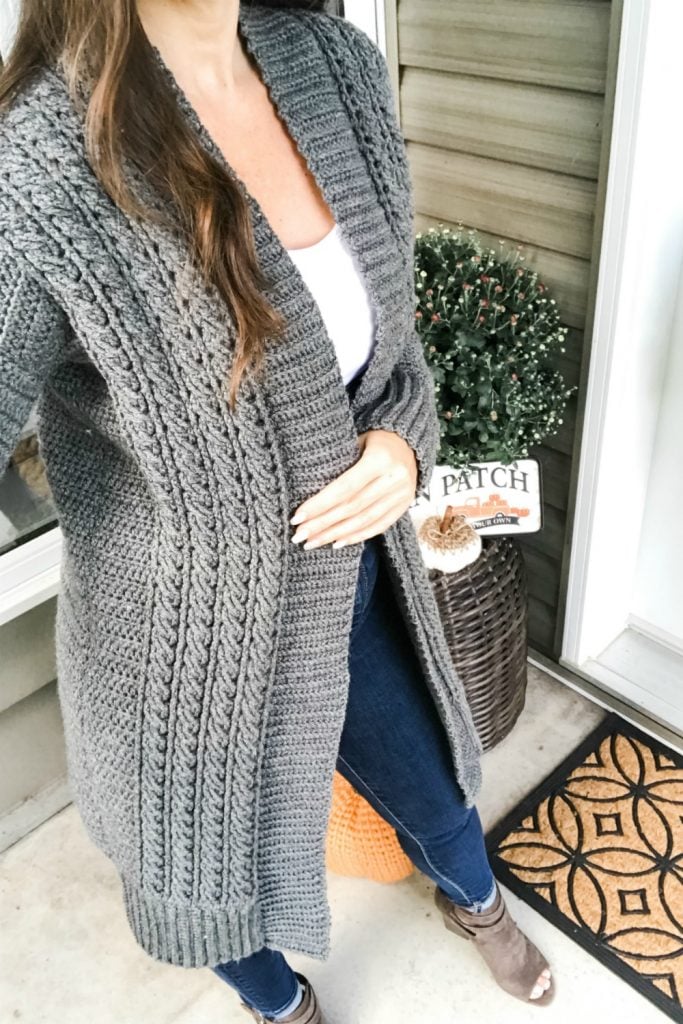 Also, I love to wear a crochet duster cardigan as a jacket substitute in the Fall. It's a powerful statement piece, and the crochet cables add class, structure and elegance to this crochet pattern for modern women.
What you'll need to crochet the Double Espresso Duster
Buy the PDF HERE
Sizes
XS (S, M, L, 1X, 2X, 3X, 4X, 5X)
Fits Bust: 30 (34, 38, 42, 46, 50, 54, 58, 62)"
Finished Bust: 36 (40, 44, 48.5, 52.5, 57, 61, 65, 69)"
Finished Length 33"
Yarn
WeCrochet Brava Sport (Sport Weight, 100% Premium Acrylic, 273 yards/ 100g): Cobblestone Heather 28373, 7 (8, 8, 9, 10, 11, 12, 12, 13) balls
Hook
G+/4.5mm Furls Hook (or hook to obtain gauge)
Yarn Substitutes
I've compiled a list of yarn substitutes below. Brava Sport is the most affordable choice at $2.49/ball.
Splurge $$$ City Tweed DK $6.99/50g (55% Merino Wool, 25% Superfine Alpaca, 20% Donegal Tweed)
Spend $$ Galileo Yarn $5.99/50g (50% Merino Wool, 50% Viscose from Bamboo)
https://shrsl.com/2fomr
Save $ Wool of the Andes Sport $3.49/50g (100% Peruvian Highland Wool)
https://shrsl.com/2fon5
Crochet Cardigan YouTube Video
Crochet tops for women
Fall gets me excited to make all the cozy crochet sweaters and tops. I find crochet Fall patterns so therapeutic. In this crochet collection, not only will you enjoy the Double Espresso Duster Cardigan but also these other patterns for crochet tops included in the magazine!
Cafe Breve Cardigan Design by Emily Davies
The Cafe Breve Cardigan is made for autumn layering. The body's delicate detailing adds visual interest to this classic piece, which will look daytime casual with your favourite jeans and boots, or you can dress up a simple date night look.
Vienna Convertible Shrug Design by Pamela Stark
Talk about a chameleon! This beginner-friendly design utilizes basic stitches to create an exciting piece to add to your wardrobe. This shrug can be worn in a variety of ways and is easily customizable to any size.
Macchiato Sweater Design by Briana Kepner
Have you ever wondered what it would be like to snuggle up with a cloud? No more wondering with this soft textured sweater; it's as cozy as it looks. The Macchiato Sweater is worked as a yoke sweater in one piece from the top down. The puff stitch rows in the yoke add a soft wreath like detail. The stitches are reminiscent of the puffy cream in coffee a barista turns into
a piece of art.
Cafe Au Lait Cozy Cowl Neck Sweater Design by Lorene Eppolite
Lazily sip your favourite warm beverage this Fall with this warm and stylish Cafe Au Lait Cozy Cowl Neck Sweater. Its fashionable split cowl neck with toggle buttons provides a trendy look perfect for the chilly weather. The Cafe Au Lait Cozy Cowl Neck Sweater embraces a
chic and modern look with the ability to cinch up its sides while using simple shaping to flatter your unique body type. This design will work up easily with its top-down construction made using the simple yet elegant HDC stitch.
Mocha Pullover Design by Katy Petersen
This Mocha Pullover has a lofty and casual fit that just invites you to sit and sip your favourite coffee on any given day. Easily customizable, the Mocha Pullover allows you to play around with length for a unique style. Its ribbed cuff, neck, and hem combined with the Linen Stitch gives this pullover a quintessentially classic look perfect for any occasion. With its no-sew
seaming, you'll have a gorgeous pullover worked up in little to no time.
London Fog Poncho Design by Amber Millard
Fall is a time of changing colours, warmer flavours, and snuggly makes with yarn, like the London Fog Poncho. The simple construction makes it great for any skill level, while the subtle textures help it stand out in your closet. This design is versatile and customizable, making it
a very sensible addition to any fall wardrobe.
I'm thrilled you're here, and I'm confident you're going to love crocheting and wearing this epic crochet top collection! These are the best 7 patterns for crochet tops you'll find to wear this Fall. So the question is, which one will you crochet first?
If you love the patterns for crochet tops seen here you might also love our Mauve-A-Lous Duster Cardigan and our Fuzzy Peach Cardigan
To show off the Double Espresso Duster Cardigan a little more, I had my daughter model the small size.
Find more on Ravelry, Etsy, Lovecrafts, or WeCrochet Shop. Check out our Facebook and Instagram for daily inspiration!
Please share and Pin! Follow us on Pinterest HERE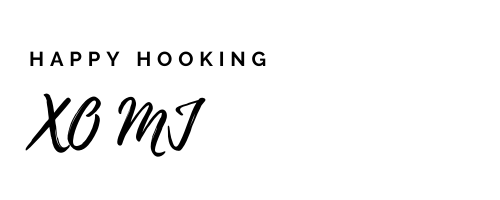 *This post contains affiliate links at no cost to you!