In today's lesson you'll learn how to crochet the Extended Single Crochet Stitch (Esc)!  If you haven't yet learned how to crochet we can get you started with the basics! Go check out our first and second lesson on YouTube.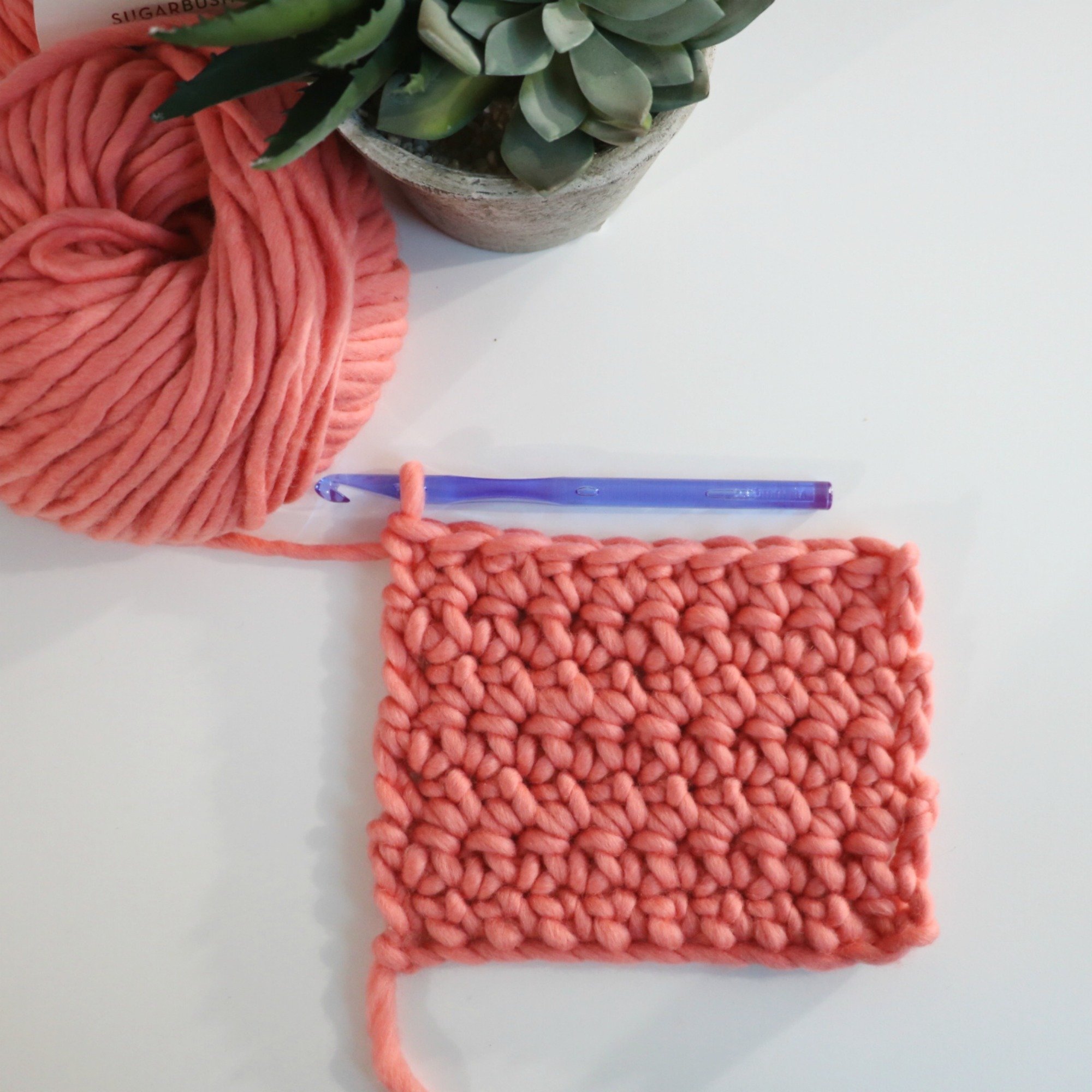 Lesson #1 will teach the ultimate basic step, HOW TO HOLD THE YARN AND CHAIN
Lesson #2 How to Single Crochet (sc)
For my learn to crochet series I will be using Super Bulky weight #6 yarn and a 9mm crochet hook.  You can use any hook and yarn weight but I feel learning with a larger hook and weight yarn is easier. In today's lesson we use the color Mountie Mango.
Yarn used in video series – Sugar Bush Yarns Chill
Watch Today's Stitch Tutorial
Written Instructions:
Abbreviations:
Chain – ch
Extended Single Crochet – esc
Stitch(es) – st (sts)
Row 1: Ch 11, work 1 esc in the 2nd ch from the hook and in each ch across, turn—10 sts.
Rows 2-10: Ch 1 (not included as a stitch), work 1 esc in each st across, turn—10 sts.

I'm so excited for this series!  Please email with any questions or any requests you have!
For those of you looking to grow your Instagram and Pinterest following I highly recommend using Tailwind!  My focus for Tailwind has been to grow my Pinterest and Website Traffic.  The results have been amazing! Since I started using Tailwind I grew my Pinterest monthly views from 30K to over 4million and my website traffic from 70K to 350K! All in less than a year. Click on the banner below to see more and try it out for free.  I started with the free trial and loved it so much I upgraded my plan.  It's been so worth it for my business!

For designs by MJ's Off The Hook Designs see
our Ravelry, Etsy, Loveknitting, or Blubrint Shop.  Check out our Facebook and Instagram for daily inspiration!
Please share and Pin! Follow us on Pinterest 
HERE
Happy Hooking
​Michelle
* This post contain affiliate links at no cost to you!