The Herringbone stitch crochet shawl is a chic and beautiful crochet pattern. The Modern Day Shawl is worked in Herringbone Double Crochet Stitches that has a knit look effect and is an easy and quick crochet pattern to work up. Make this crochet shawl in a day using worsted weight yarn. Designed in Brava Tweed from WeCrochet. Includes a video tutorial on Youtube. Keep scrolling for the free crochet pattern.
Construction
The crochet shawl is worked from the top down in rows. The sides and bottom point expand as the shawl is increased. Continue to work rows making the shawl as large as you want. The Modern Day Shawl is an easy crochet pattern and is written in standard American terms.
Back Story
A few years ago, I designed the Modern Day Shawl for my Mother as a gift. The yarn I used at that time is now discontinued so I wanted to give this pattern an update in a new yarn that would do this pattern justice. When WeCrochet released Brava Tweed I knew it was the perfect yarn for this shawl! The yarn is soft, affordable and comes in beautiful and modern colours.
The original pattern was worked in Bulky weight yarn, and the new pattern is crocheted in worsted weight. No need to worry about the difference in yarn weight because the gauge is not important for this crochet shawl pattern. All you need to do is keep working rows until the size you'd like is reached.
.
.
Hook
I used the Furls Crochet Cafe Streamline crochet hook for this pattern. My obsession with coffee has a little bit to do with my colour choice. I love them so much that I ordered the whole set! Not only are these hooks beautiful but they provide me with hours of pain-free crocheting due to the large comfortable grip. This is especially beneficial when working with smaller hook sizes.
You can purchase them HERE and make sure to use my exclusive code MJS15 for 15% off your order. I highly recommend the travel clutch for keeping your hooks safe and organized.
The herringbone crochet stitch shawl is sure to become one of your favourites for Spring and Fall wear. It makes the perfect crochet gift for a loved one or a great seller for craft markets. They work up quickly and due to the repetitive stitch pattern, they are easy to crochet while on the road, talking with friends or while watching TV.
The Yarn
Brava Tweed will quickly become one of your favourites yarns!
Create sophisticated projects in easy-care Brava Tweed! Premium acrylic is enhanced with flecks of viscose Tweed to add depth to sweaters, blankets, and more while maintaining the durability and affordability you can expect from the Brava family. The range of coordinating colours all feature cream, coffee, and charcoal tweed flecks, and for even more colour options, Brava Tweed can mix and match with Brava Worsted or Brava Speckle to create beautiful projects! Hypoallergenic, hard-wearing, and machine washable, as always, Brava Tweed is sure to please. – WECROCHET
Brava Tweed worsted weight #4 97% Premium Acrylic, 3% Viscose (218 yds/100g) Shown in Heron
3 balls needed
Substitutes
Herringbone Stitch Crochet Shawl Pattern
Get the PDF on RAVELRY, or ETSY or the Digital interactive pattern on Ribblr in Spanish and English
Yarn Requirements Modern Day Shawl:
Brava Tweed worsted weight #4 97% Premium Acrylic, 3% Viscose (218 yds/100g) Shown in Heron
3 balls needed
Size Chart
Crochet Hook Requirements:
US I/9 (5.5mm) or size needed to obtain gauge
use code MJS15 for 15% off Furls Hooks
Additional Supplies:
Gauge:
11 sts and 9 rows equal to 4″ in hbdc
Video:
Watch how to crochet a herringbone stitch crochet shawl on YouTube
Special Stitches
Magic Ring – See video Tutorial – https://youtu.be/QMZpO5-19hQ
Hbdc – (Herringbone Double Crochet) YO, insert hook in stitch, YO draw up a loop, 3 loops on the hook, sl st through 1st loop, YO draw through next loop, YO draw through 2 loops on hook finishing the stitch.
COPYRIGHT
This pattern is the sole property of MJ's Off the Hook Designs. This pattern is copyright protected and cannot be copied or reproduced in any way. You are welcome to sell your finished items from this pattern. I require a reference or link for my design. My photos are copyright protected and are not to be used to sell your items.
ABBREVIATIONS
Ch – Chain
Dc – Double Crochet
Hbdc – Herringbone Double Crochet
Rep – Repeat
RS – Right Side
Sp(s) – Space(s)
St(s) – Stitch(es)
WS – Wrong Side
( ) – Work step in parentheses in indicated stitch
Free Crochet pattern Modern Day Shawl
Row 1 (WS): Magic Ring, ch 3 (counts as 1 dc/hbdc here and throughout), work 2 dc, ch 2, 3 dc in ring, pull ring tight, turn—6 sts. (doesn't include chs).
Row 2 (RS): Ch 3, work 2 hbdc in first st, work 1 hbdc in each st across until you reach ch-2 sp, work (1 dc, ch 2, 1 dc) in ch-2 sp, work 1 hbdc in each st across until you reach the turning ch, work 3 hbdc in turning ch, turn—12 sts.
Rows 3-36: Rep Row 2 or until the desired size is reached. Fasten off and weave in all ends.
Blocking:
Wet the shawl in lukewarm water with a small amount of dish soap or woolwash. Allow soaking for around 20 min. Squeeze out as much water as possible. Wrap the shawl in a towel to press out the excess water. Lay the shawl out on blocking mats and pin it to measurements. Allow the shawl to dry thoroughly and remove pins.
Tassels: Make 3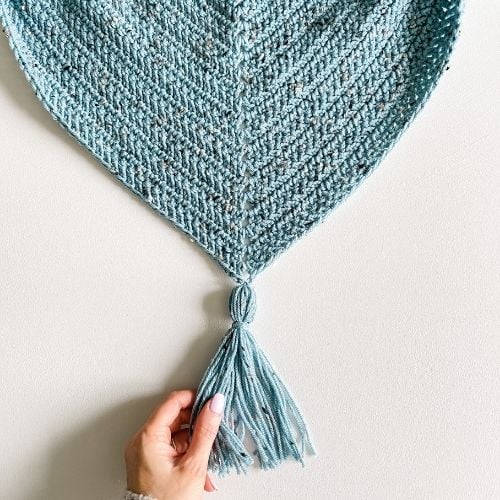 Cut 22 strands of yarn 16″ long. Cut 2 additional lengths for tying. Tie the bundle of 22 pieces at the halfway point (use this tie to attach to the shawl). With the second length tie around all pieces making a small ball. Weave end under the ball. Tie tassels to each corner. Weave ends under tassel ball. Steam and trim ends. See the video tutorial on YouTube.
For more designs by MJ's Off The Hook Designs see our Ravelry, Etsy, LoveCrafts, WeCrochet or Ribblr Shop. Check out our Facebook and Instagram for daily inspiration!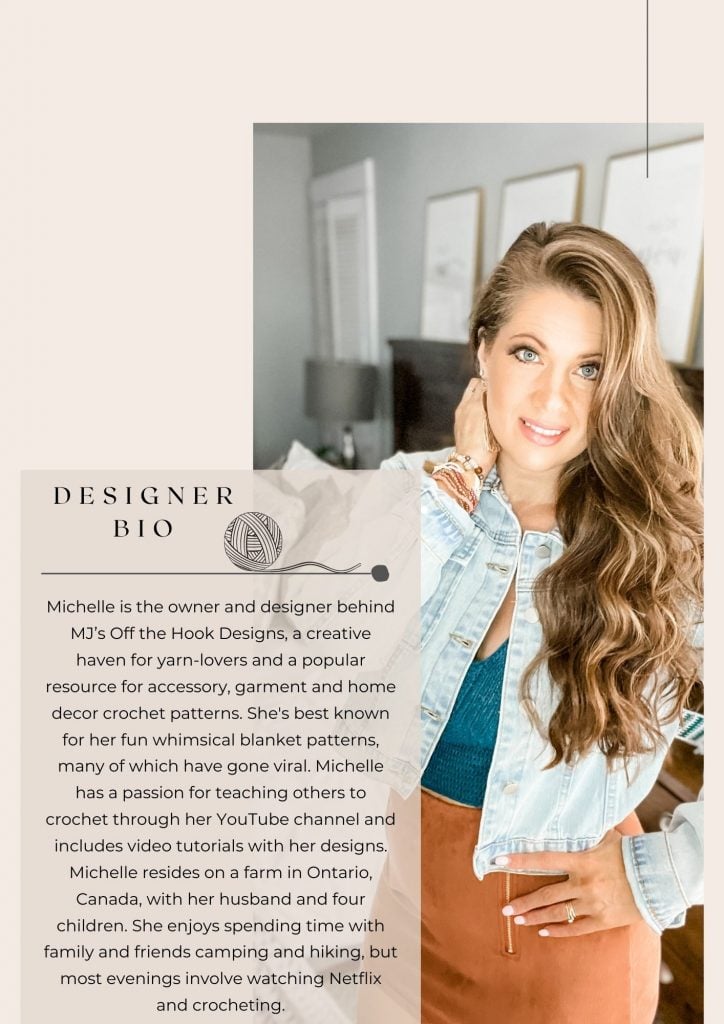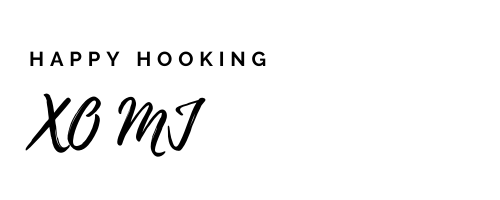 *This post contains affiliate links at no cost to you!