Welcome to MJ's Merry Mini CAL! Today get the free Elf Gift Card Cozy Ornament Crochet Pattern! Join our Countdown to Christmas with a new free ornament pattern every day! This will be an exciting event you don't want to miss. Prepare for the Holiday Season and get in the Christmas Spirit by crocheting simple and quick Crochet Christmas ornaments.
Signup to get the supply list and event details plus get a daily email with the free pattern of the day and video link.
Get involved by joining my Community Group on Facebook; you can post pictures, ask questions and help other community members!
Find the event details with all the links at the Blog Post below!
If you don't want to wait for each Christmas ornaments release day, I have put together a beautiful Ebook with all 25 crochet ornaments! Keep in mind the videos will only be available on the release day.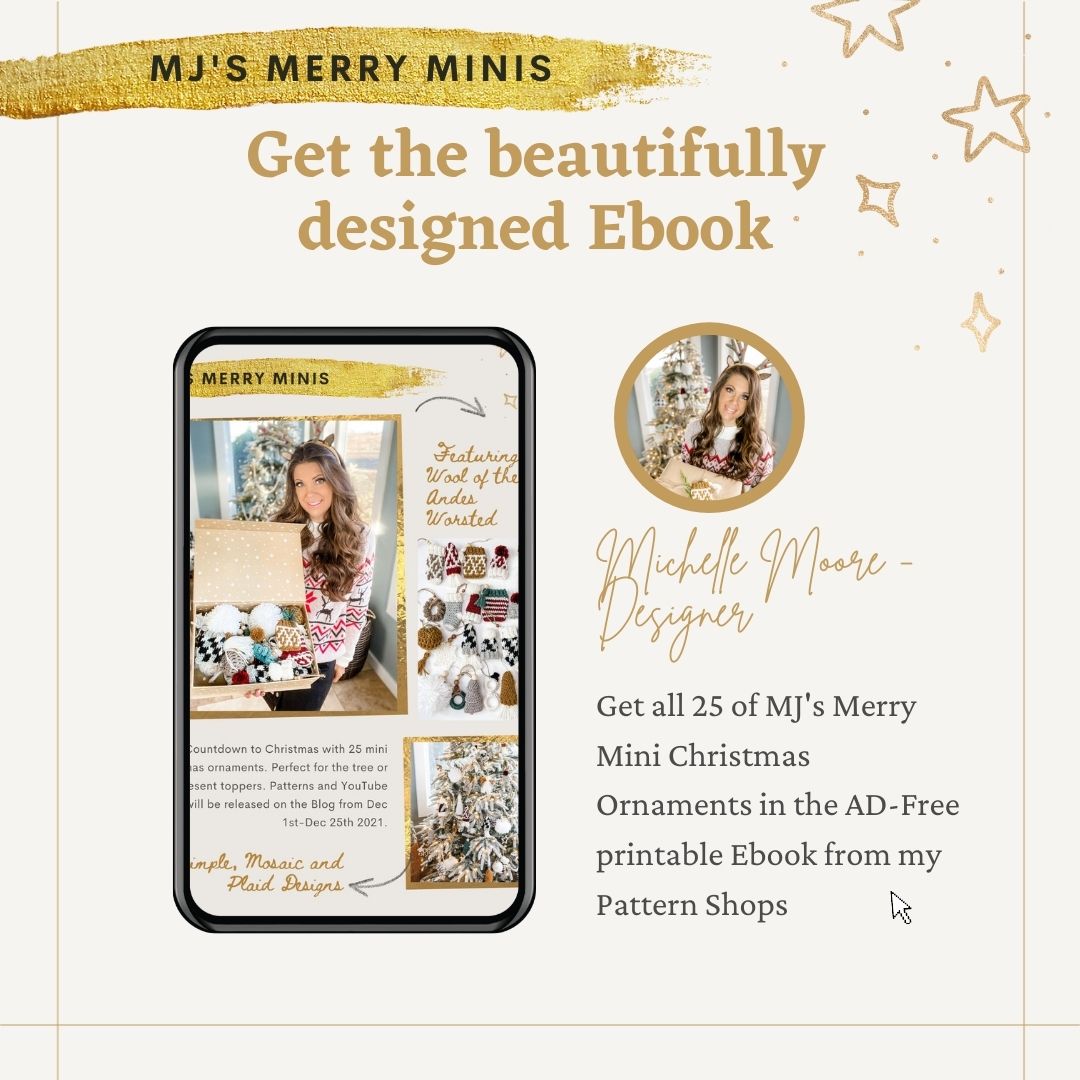 Crochet this cute and festive Elf Gift Card Cozy ornament for your Christmas Tree or present topper. The Elf crochet cozy is worked from the top-down, finishing with a mini tassel and bead.
"The best way to spread Christmas cheer is singing loud for all to hear."
– Will Ferrell, 'Elf'
YARN
Wool of the Andes Worsted Weight by WeCrochet
100% Peruvian Highland Wool, 110yds/50g
A small amount of Yarn A/B /C
MATERIALS
– 4mm/G Furls crochet hook – use code MJS15 for 15% off
ABBREVIATIONS
blo – Back Loop Only, ch – Chain, esc – Extended Single Crochet, rep – Repeat, sc – Single Crochet, sl – Slip, sp – Space, st(s) – Stitch(es)
GAUGE
Body: 8 sts and 7 rows = 2″ in esc
Band: 10 sts and 10 rows = 2″ in sc blo
VIDEO
A full video tutorial for the Elf Gift Card Cozy ornament is available HERE
Elf Gift Card Cozy – Free Crochet Pattern
Get the Ebook HERE
CONSTRUCTION
The Elf Gift Card Cozy is worked from the Top-Down. Begin working the band in rows from the side across. Join the band and work the striped pattern in rounds around the band. Sc together to seam the bottom of the cozy. Add a tassel and wooden bead on a string for hanging.
SIZING CHART
SPECIAL STITCHES
Extended Single Crochet (esc)- Insert hook into stitch and pull up a loop, YO, pull through one loop, YO pull through last two loops on the hook.
PATTERN:
Cozy:
Band
Row 1 (WS): With A, ch 5, 1 sc in the 2nd ch from the hook and in each ch across, turn—4 sts.
Row 2 (RS): Ch 1, sc in the blo of each st across, turn—4 sts.
Rows 3-24: Rep row 2. Last row ch 1. Fold the band in half with the RS facing, sl st the band together by working through the blo of the last row and starting ch of the first row. Flip seam to the inside of work.
Setup Round: Ch 1, 1 sc st per row around the band, sl st in the first sc to join—24 sts. Change to B cut A.
Stripe Pattern Begins
Notes: Don't cut yarn, when changing colours drop yarn at join and pick up the new colour on sl st, pull tails tight.
Round 1: With B, ch 1, esc in each st around, sl st in the first esc to join—24 sts. Change to C.
Round 2: With C, ch 1, esc in each st around, sl st in the first esc to join—24 sts. Change to B.
Rounds 3-10: Rep Round 1 & 2.
Fold cozy in half with the seam to the side. Sc the cozy together by working through the blo of sts across—12 sts. Fasten off and weave in ends.
Tassel:
With A cut 10 strands of yarn at 6″ long. Use a piece of string or twine to tie around the centre of strands. Use another piece of yarn to tie a small tassel ball and knot yarn. Thread the tails down through the knot and trim tails. Thread the string on a yarn needle and tie it to the side/front of cozy. Thread on a wooden bead and knot for hanging.
Copyright Disclaimer
This pattern is the sole property of MJ's Off the Hook Designs. This pattern is copyright protected and cannot be copied or reproduced in any way. You are welcome to sell your finished items from this pattern. I require a reference or link for my design. My photos are copyright protected and are not to be used to sell your items.
I'm so happy with how my Christmas Tree turned out. I added wooden bead garland and a few pinecone ornaments. Not only do these ornaments look beautiful on a Christmas tree, but they make the perfect present toppers as well. The decorations vary in skill level, and some can be made with no crochet experience. That way, the entire family can get involved. I used my Easy C2C Blanket for my Tree Skirt and the plaid blanket will be coming to my shop soon. If you love my Christmas Sweater you can get it HERE and my skirt HERE.
For more designs by MJ's Off The Hook Designs see our Ravelry, Etsy, LoveCrafts, WeCrochet or Ribblr Shop. Check out our Facebook and Instagram for daily inspiration!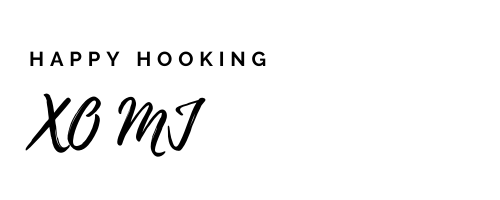 *This post contains affiliate links at no cost to you!