Get ready because Dec 1st begins our Countdown to Christmas with MJ's Merry Minis Crochet Along! This will be an exciting event you don't want to miss. Prepare for the Holiday Season and get in the Christmas Spirit by crocheting a simple and quick Christmas ornament every day.
Event
How does the event work?
Every day from Dec 1st through Dec 25th, I will release a new ornament on my blog. The pattern will be free on my blog and include a video tutorial on my YouTube Channel.
This blog post will be the main page that will host all the links for each pattern. Bookmark this page for easy reference. You will be able to click on the Countdown list, and it will take you to the ornament blog post on its release day.
Signup for my Newsletter to stay in the Loop on event details and get the links directly to your inbox.
Get involved by joining my Community Group on Facebook; you can post pictures, ask questions and help other community members!
If you don't want to wait for each ornaments release day, I have put together a beautiful Ebook with all 25 ornaments! Keep in mind the videos will only be available on the release day.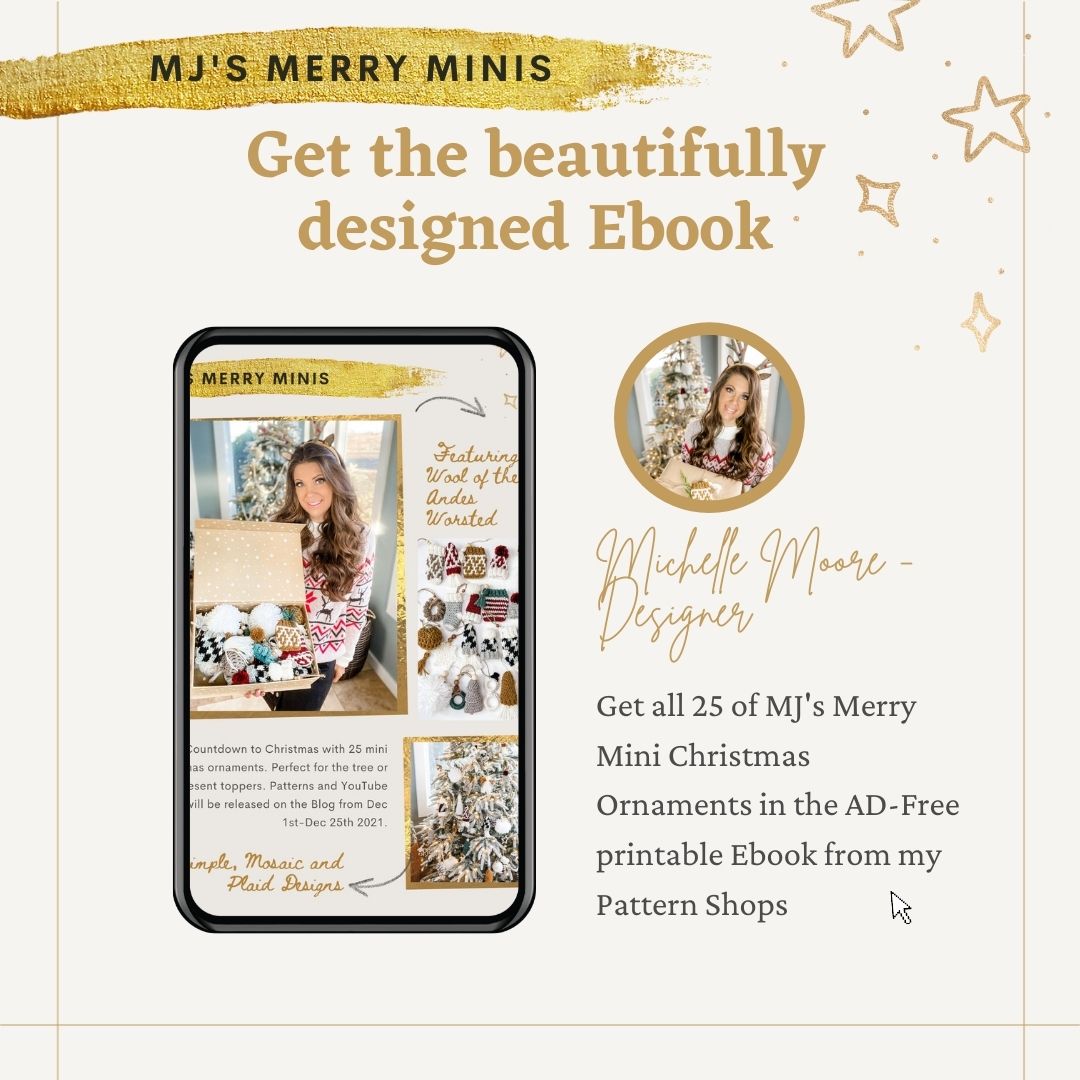 Supply List
Signup for the CAL and get the Supply List sent to your inbox
To make these handmade Christmas ornaments, I suggest purchasing 1-2 balls of each colour with a few extra in white. For my pompoms and beaded tassel, I used a value worsted weight yarn.
Wool of the Andes Worsted Weight yarn in White, Coal, Noble Heather, Brass Heather, Hollyberry Dove Heather, Mink Heather and Camel Heather.
Additional supplies include twine, string, wooden beads, wooden rings (1.5″ & 1.75″), ornament hooks, jumbo and mini pompom maker, glue gun, 2.75″ ornament balls, tapestry needle and cinnamon sticks.
I used a Beautiful Streamline Ergonomic Wooden Crochet Hook from Furls. The G (4mm) Camwood and Ebony hooks are used in the video tutorials.
Most of the miscellaneous supplies can be picked up at your local dollar store but I've also linked many of the items in my Amazon Storefront.
Countdown to Christmas CAL
MJ's Merry Mini Collection
Dec 1 – Mini Mosaic Stocking
Dec 2 – Mini Mosaic Gnome
Dec 3 – Mosaic Gift Card Cozy
Dec 4 – Mini Mosaic Hat
Dec 5 – Boho Beaded Tassel
Dec 6 – Cinnamon Bobble Tree
Dec 7 – Mini Christmas Wreath
Dec 8 – Mini Simple Stocking
Dec 9 – Mini Santa Hat
Dec 10 – Elf Gift Card Cozy
Dec 11 – Mini Simple hat
Dec 12 – Scrappy Christmas Ball
Dec 13 – Boho Christmas Ball
Dec 14 – Beaded Snowflake
Dec 15 – Mini Plaid Gnome
Dec 16 – Mini Plaid Hat
Dec 17 – Mini Plaid Stocking
Dec 18 – Plaid Gift Card Cozy
Dec 19 – Boho Beaded Pompom
Dec 20 – Mini Ring Wreath
Dec 21 – Mini Tiered Tree
Dec 22 – Mini Ring Snowman
Dec 23 – Mini Simple Gnome
Dec 24 – Mini Beaded Star
Dec 25 – Tassel Angel
I'm so happy with how my Christmas Tree turned out. I added wooden bead garland and a few pinecone ornaments. Not only do these ornaments look beautiful on a Christmas tree, but they make the perfect present toppers as well. The decorations vary in skill level, and some can be made with no crochet experience. That way, the entire family can get involved. I used my Easy C2C Blanket for my Tree Skirt and the plaid blanket will be coming to my shop soon. If you love my Christmas Sweater you can get it HERE and my skirt HERE.
You won't be disappointed with the beautiful Ebook I've designed! The perfect start to the Holiday Season. Purchase it now on ETSY or Ravelry
For more designs by MJ's Off The Hook Designs see our Ravelry, Etsy, LoveCrafts, WeCrochet or Ribblr Shop. Check out our Facebook and Instagram for daily inspiration!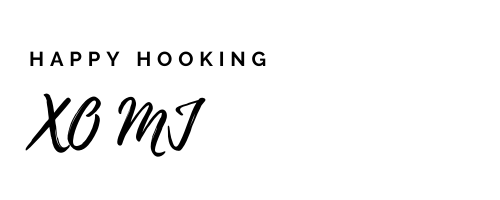 *This post contains affiliate links at no cost to you!