How to Crochet Rustic Farmhouse Pumpkins. I'm so excited to put out a new Free crochet pattern for you! Read on to learn how to crochet Rustic Farmhouse Pumpkins. I've seen so many cute little pumpkins popping up in my feed lately that I finally decided to jump in and make my own version. I wanted a rustic farmhouse pumpkin with a knit look. Definitely bulky and quick with lots of texture. Our corn is getting combined as we speak, and Fall decorating is in full swing!
My week has been consumed
With decorating the house, outdoor porch, and our Farm sign. I think I enjoy Fall decorating almost more than Christmas. I'm just so drawn to the warmth of Fall colors. I knew the decorating was heading in the right direction when my teen daughter came home from school and texted me immediately MOM YOU MADE PUMPKINS!!! If you have a teen, you know how hard they are to impress.
These pumpkins are so easy to make. Work up a rectangle, seam it, and sew your ends closed. That's pretty much it! So read on for the details.
You can decorate your dining room table for Thanksgiving with an assortment of pumpkins. Make our Succulent Pumpkin Cozies HERE. They're also a Free crochet pattern.
If you're looking for ideas for the front porch, get inspired by my display of pumpkins. There are so many ways you can use them to decorate. Tag us in your photos so we can see how you're displaying your pumpkins!
Try crocheting these pumpkins in worsted weight yarn and a 5.5mm crochet hook instead of bulky yarn to get small adorable pumpkins. I settled on Wool of the Andes Worsted Weight from WeCrochet due to the gorgeous autumn colour range. ( I picked all these colours for our family photoshoot too 👌) I'm seriously drooling over these shades 🤤 🍁🍂

If you're wondering, here's the colour list;
Spruce
Fjord Heather
Merlot Heather
Amber Heather
White
Pumpkin 🎃
If you suffer from hand pain, I highly suggest Furls Crochet Streamline swirl. I find them light with an excellent grip. I've found this hook has helped my hand from cramping. I'm working on growing my collection. I'm using my Cookies N' Cream ❤️❤️ BUY HERE from Furls Crochet.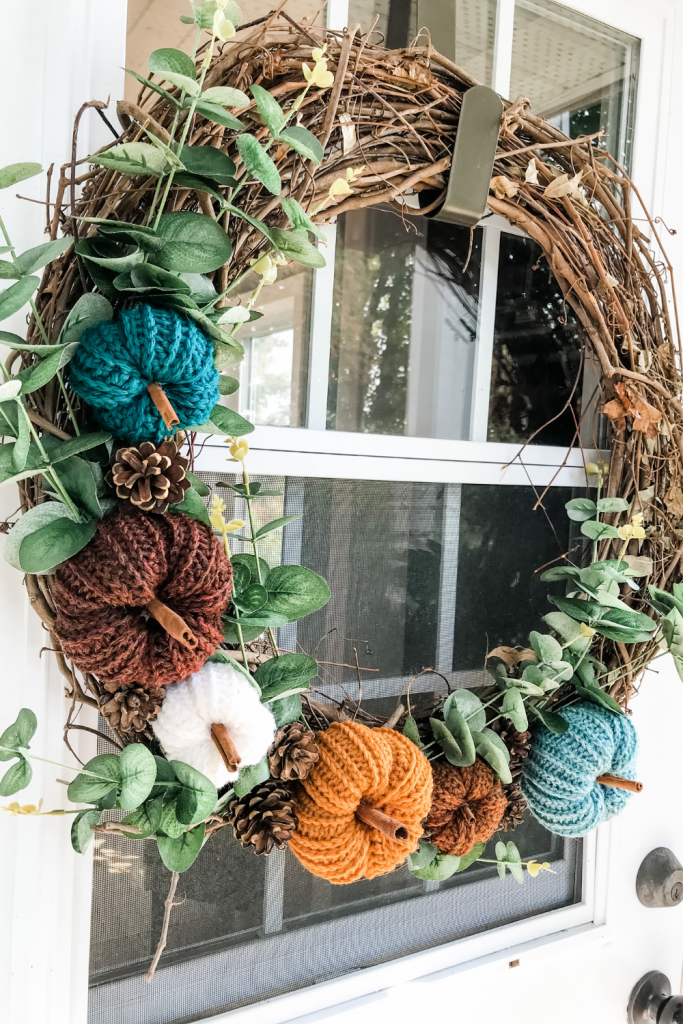 I made this gorgeous pumpkin wreath with my small pumpkins. Go to the free tutorial HERE
Rustic Farmhouse Pumpkin Pattern
Yarn Requirements:
Support my designs and purchase the Ad-free PDF on Ravelry HERE or ETSY HERE
1 Ball makes 2 small pumpkins or 1 large
*You may use any super bulky weight yarn or hold 2 strands of worsted weight yarn together
Alternatives
2 Sizes:
3×5″ (S) & 5×7″ (L)
Crochet Hook Requirements:
US L/11 (8mm) or size needed to obtain gauge
FURLS crochet hooks buy HERE
Additional Supplies:
Yarn needle
Twine
Cinnamon Sticks
Polyester Fibrefill
Gauge:
9 sts and 7.5 rows equal to 4″ with 8mm crochet hook in pattern
Abbreviations:
Ch – Chain
Hdc – Half Double Crochet
Rep – Repeat
RS – Right Side
Sk – Skip
Sl St – Slip Stitch
Sp(s) – Space(s)
St(s) – Stitch(es)
( ) – Work step in parentheses in indicated stitch
[ ] – Work step in brackets number of times indicated
Special Stitches:
To create this "knit look" you will work in the 3rd loop of the hdc stitch. The 3rd loop is located under the front and back loop of the stitch. When working in rows you alternate between working in the 3rd loop (behind) and working in front (referred to as the first loop) watch our YouTube Video for stitch demonstration.
Instructions:
Notes:
Pumpkin is worked from the side across.  A large rectangle is made as pictured below.  The piece is then seamed and the bottom closed.  The pumpkin is then filled with polyester fibrefill and seamed closed. A cinnamon stick and twine are added to finish the look. The pattern is worked for small size with the larger size in parenthesis ( ).
Pumpkin:
Small (Large)
Row 1: Ch 16 (22), work 1 hdc in the 3rd ch from the hook and in each ch across, turn—14 (20) sts.
Next Row 2 (RS): Ch 2 (not included in st count here and throughout), work 1 hdc in the 3rd loop of each st across, turn—14 (20) sts.
Row 3: Ch 2, work 1 hdc in the first loop of each st across, turn—14 (20) sts.
Rows 4 – 19 (27): Rep Row 2 & 3 [ 8 (12) times]—14 (20) sts.
After the last row fold the rectangle in half with RS facing. Sl st edges together.  Flip seam to the inside. Ch 1, work 1 sc in every other row along the edge. Sl st in the first sc to join. Fasten off leaving a long tail. With yarn needle, *weave through the front loop of next 2 sts together; rep from * around. Pull pumpkin closed. Weave end, then weave back in the opposite direction. Don't trim the end.
Finishing:
Stuff pumpkin with polyester fiberfill. Weave end up through the bottom of the pumpkin pushing through the stuffing.  Weave through every other row along the top edge of the pumpkin.  Pull tight to close, leaving a small hole open for the cinnamon stick.  Weave end, then weave back in the opposite direction. Don't trim the end. To give the pumpkin more definition and shape, weave ends down through ribbing. Push yarn needle through the pumpkin's bottom and back up through the top hole pulling to tighten (this will indent the pumpkin).  Rep 4-6 times evenly around.  Weave end and trim.  Place a cinnamon stick in the top hole of the pumpkin. Tie a piece of twine in a bow around the base of the stick. Trim ends.
This pattern is the sole property of MJs Off the Hook Designs. This pattern is copyright protected and cannot be copied or reproduced in any way. You are welcome to sell your finished items from this pattern. I require a reference or link for my design. My photos are copyright protected and are not to be used to sell your items. Written in Standard American Terms.
See our Plaid Pumpkin Pattern HERE
Watch the Video Here
You might also love our Knit look pumpkin! Find it HERE
I hope you enjoy this pattern! For more designs by MJ's Off The Hook Designs see
our Ravelry, Etsy, Lovecrafts or Ribblr Shop.  Check out our Facebook and Instagram for daily inspiration!
Hashtag #mjsoffthehook to show us your pumpkins! Please share and Pin! Follow us on Pinterest HERE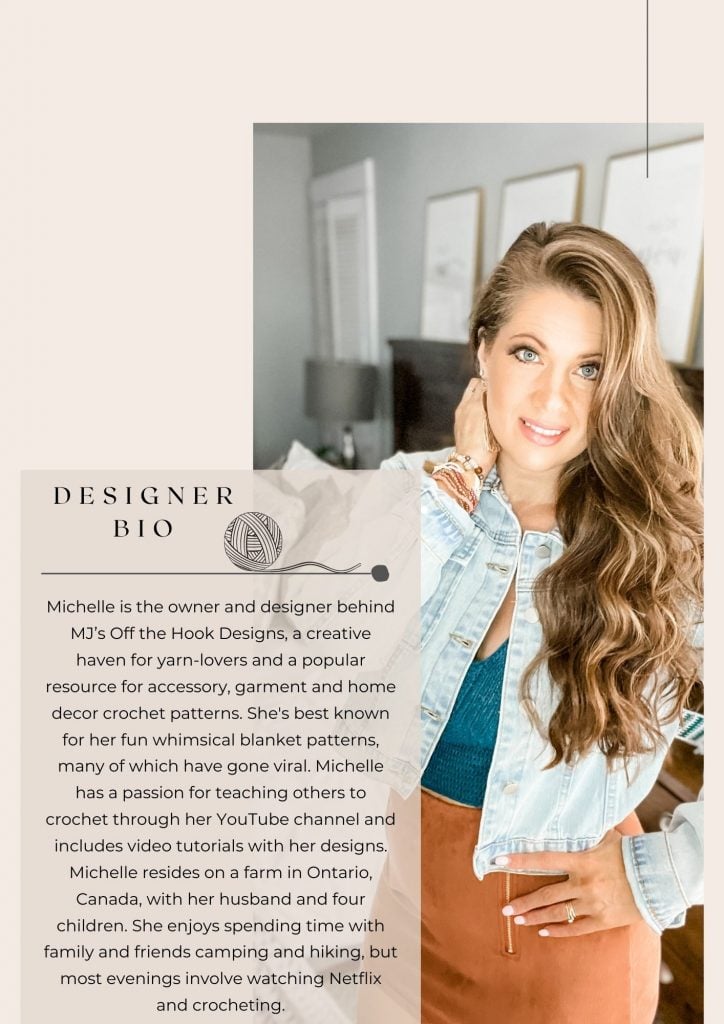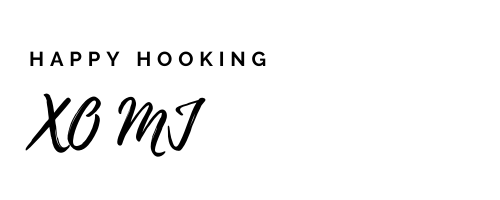 * This post contains affiliate links at no cost to you!