Todays lesson in our Learn to crochet series is Understanding yarn weights and Labels.  If you're brand new to crochet this is a super important lesson!  If you're familiar with the basics but need a little more information on substituting a yarn in a pattern read on!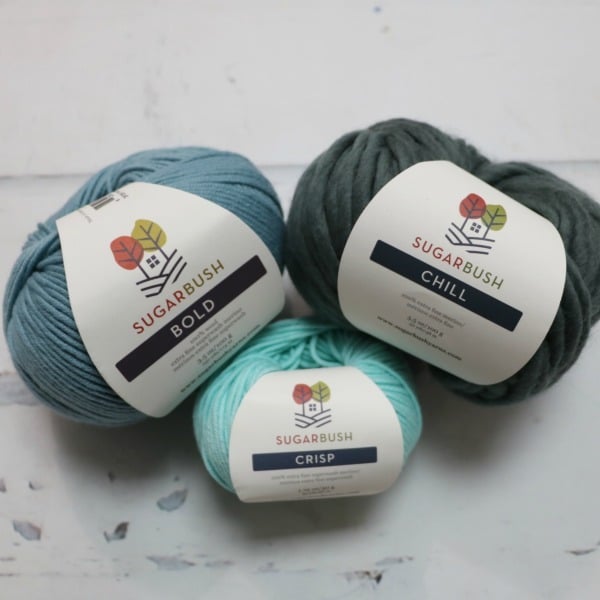 Lets start breaking down the yarn label by looking at yarn weights.  Yarn weights are classed as follows;
You can download these graphics HERE and find more info at  Crafty Yarn Council 
Lets look at a couple labels to give you a visual of how this might look on a ball of yarn.
The labels pictured are Super Bulky Weight #6 so if a pattern calls for this weight of yarn this is your first step! Next you need to know that all super bulky weights are not considered equal and can vary slightly from different brands etc… so I have a handy calculation I use to figure out equivalents.  Just divide the yards by grams and compare your brands.
Lets begin with the 2 labels above and then compare some more brands.
Bernat Softee Chunky – 108yds/100g = 1.08

Sugar Bush Chill – 52/100g = .52
As you can see we have a big difference here.  Both balls are 100g but the yardage on Chill is much less.  This means that this yarn is much thicker than Softee Chunky.  See the our YouTube Video for visual on the thickness.  If you're looking at substituting these would not be a good match.  Lets look at a few more brands.
Sprightly Super Bulky – 109yds/100g ball = 1.09 perfect match for Softee chunky!


Sprightly Acrylic Super Bulky Yarn
from: Craftsy
Sprightly Yarns Acrylic Wool Super Bulky – 98/150g = .65 close to Chill


Cozy Wool by Loops & Threads – 90yds/127g = .71 Probably a better match for chill but will still be slightly thinner
Charisma by Loops & Threads  (weight #5)-  109yds/100g ball = 1.09 perfect match for Softee chunky!
Bernat Blanket Yarn – 108yds/150g = .72  Probably a better match for chill but will still be slightly thinner

Lion Brand Wool-Ease Thick and Quick – 106yds/170g = .62 Close to Chill

Do you get how this works? This step is essential in looking at substitutions.  This simple equation will set you up for success when substituting a yarn called for in a pattern.
To recap if you calculate a number greater than 1.08 that means the yarn will be thinner than Softee chunky, if its less it will be thicker. In conclusion a Super Bulky Weight 6 has a range so do your math and dig a little deeper than just the weight symbol.  This is relevant for all yarn weights.
Lets get back to our label!  You will find the approx. stitches for a gauge swatch, hook/needle size recommended, washing instructions and dye lots.  Our Bernat Softee Chunky doesn't have a dye lot.  That means you don't have to worry about colour variances.  For Chill we do have a dye lot # as pictured below.  So if you're working on a project ensure you purchase the same dye lot so that the colour is identical.
Below you can go watch all the videos posted so far!  We've covered the basic stitches to get you started on your own crocheting adventures.  be sure to subscribe to our YouTube channel for updates on each new video in our Series!
For my learn to crochet series I will be using Super Bulky weight #6 yarn and a 9mm crochet hook.  You can use any hook and yarn weight but I feel learning with a larger hook and weight yarn is easier.
Yarn used in video series – Sugar Bush Yarns Chill
Fav amazon picks-hooks
I Recommend
CDN$ 14.24
CDN$ 4.99
CDN$ 11.52
Lesson #1 will teach the ultimate basic step, HOW TO HOLD THE YARN AND CHAIN
Lesson #2
HOW TO SINGLE CROCHET (SC) AND HOW TO FOUNDATION SINGLE CROCHET (FSC)
Lesson #3
HOW TO CROCHET THE HALF DOUBLE CROCHET (HDC) AND  FOUNDATION HALF DOUBLE CROCHET (FHDC) STITCH
Lesson #4 HOW TO CROCHET THE DOUBLE CROCHET (DC) AND FOUNDATION DOUBLE CROCHET (FDC) STITCH
Lesson #5 HOW TO CROCHET THE TREBLE CROCHET (TR) AND FOUNDATION TREBLE CROCHET (FTR) STITCH

I'm so excited for this series!  Please email with any questions or any requests you have!
For designs by MJ's Off The Hook Designs see
our Ravelry, Etsy, Loveknitting, or Craftsy Shop.  Check out our Facebook and Instagram for daily inspiration!
Please share and Pin! Follow us on Pinterest 
HERE
Happy Hooking
​Michelle
* This post contain affiliate links at no cost to you!