So do you want to LEARN HOW TO CROCHET? Well you've come to the right place! I've wanted to teach a series like this for a long time. I know so many of you want to learn but are intimidated and don't know where to start. There's so many videos out there and so many different teaching styles. If you are a beginner this is the perfect series for you!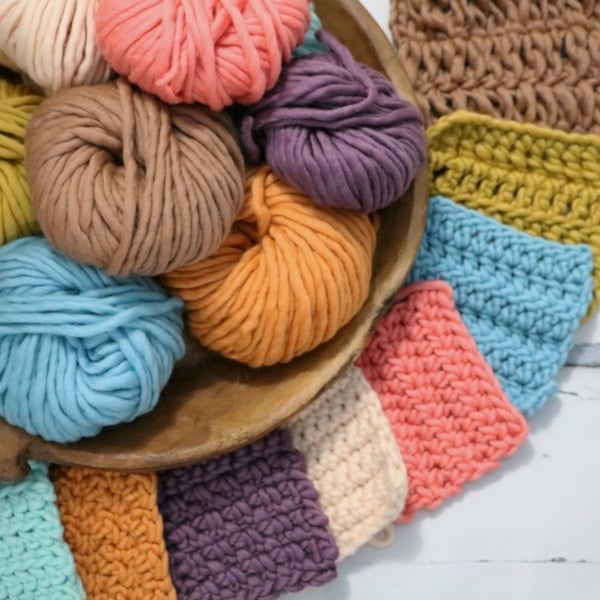 If you already know how to crochet but want to learn some new skills and how to read patterns please follow along. Use your own style and technique but learn how to build on those skills. I really believe that it's important to do things the way it feels most comfortable for you. If you love my teaching style than enjoy! If you don't that's ok too! There are so many amazing teachers out there and resources that I'm sure you'll find someone that you enjoy. Just don't give up! You can checkout Bluprint and Annie's classes below!

I want to give you a little idea of what to expect.
Lesson #1 will teach the ultimate basic step, HOW TO HOLD THE YARN AND CHAIN
Watch this video until you've mastered this step. It is essential to build on everything else. This is the hardest part of the learning process. It takes practise so keep trying until you're comfortable with your grip and yarn hold.
After this we will progress through the basic stitches. I will then work through some combinations of those stitches and working through front and back loops of the stitch. All very common stitches you will find in most patterns. We will then progress to increasing, decreasing, changing colour and more intermediate stitches. For my learn to crochet series I will be using Super Bulky weight #6 yarn and a 9mm crochet hook. You can use any hook and yarn weight but I feel learning with a larger hook and weight yarn is easier.
Yarn used in video series – Sugar Bush Yarns Chill
Lesson #2 HOW TO SINGLE CROCHET (SC) AND HOW TO FOUNDATION SINGLE CROCHET (FSC)
This video will show you how to single crochet (sc) with a starting chain and also how to crochet a foundation single crochet (fsc).
Written Instructions:
Abbreviations:
Chain – ch
Single Crochet – sc
Foundation Single Crochet – fsc
Repeat – Rep
Stitch(es) – st (sts)
[ ] – Work step in brackets number of times indicated
Single Crochet with starting chain
Row 1: Ch 11, work 1 sc in the 2nd ch from the hook and in each ch across, turn—10 sts.
Rows 2-10: Ch 1 (not included as a stitch), work 1 sc in each st across, turn—10 sts.
or pattern may read
Row 2: Ch 1 (not included as a stitch), work 1 sc in each st across, turn—10 sts.
Rep Row 2 [ 8 more times].
Foundation Single Crochet
Row 1: Fsc 10, turn—10 sts.
Rows 2-10: Ch 1 (not included as a stitch), work 1 sc in each st across, turn—10 sts.

I'm so excited for this series! Please email with any questions or any requests you have!
For designs by MJ's Off The Hook Designs see
our Ravelry, Etsy, Loveknitting, or Craftsy Shop. Check out our Facebook and Instagram for daily inspiration!
Please share and Pin! Follow us on Pinterest
HERE
Happy Hooking
​Michelle
* This post contain affiliate links at no cost to you!