You will love crocheting this adorable Bulky & Quick Messy Bun Beanie!
Bundle up and stay cozy in the Bulky & Quick Messy Bun Beanie. Perfect for snow sports and no-fuss hair days. The easy beginner-friendly pattern is worked in half double crochet stitches. Designed in 100% Merino Wool to keep you cozy through the winter season. Pattern includes baby to large adult sizing with a Step-by-Step video tutorial on YouTube.
Below you will find everything you need to crochet the Bulky & Quick Messy Bun Beanie, including the yarn, hook, materials, free written pattern for blog subscribers, pictures and a video tutorial. If you like this Crochet Hat Pattern, please share!
Disclaimer
This post contains affiliate links for the items I used to crochet this pattern and clothing articles I have modelled at no cost to you. I make a small commission if you purchase through these links. This blog post also displays ads. The revenue I receive from Ads, and affiliate links, allows me to post this crochet pattern for free on my blog. I do so in good faith that you will not copy and paste this pattern or distribute it in any way. If you prefer not to view the pattern on the blog, you may purchase an AD-FREE digital PDF pattern in one of my pattern shops for a small fee. Whether you purchase this pattern or view the pattern on my blog, I greatly appreciate your support and readership.
Who doesn't love an adorable messy bun hat? I love Messy Bun hats, especially for those bad hair days when you want your hair up and away!
This Bulky & Quick Messy Bun Beanie is a great beginner-friendly pattern. All you need to be familiar with is Half Double Crochets and Back Loop only, and you will be on your way to crocheting this free Messy Bun hat crochet pattern.
These gorgeous Messy Bun hats are sure to look great with any outfit.
WeCrochet Alla Prima is so bulky and fun, coming in 11 gorgeous and unique colours. Bulky weight #6 made in 100% Merino Wool (52yds/120g). Perfect for crocheting super quick hats, headbands, cowls and scarves. WeCrochet Alla Prima is sure to keep you warm and cozy.
Shown in Licorice & Ocean Breeze
1-2 hanks needed per hat
32 (44, 58, 72) yds
Yarn Substitutes
Lion Brand Wool-Ease Thick & Quick
Brava Worsted 3 Strands
Starlette Worsted (USA) (CDN) 3 Strands
Hanks must be turned into cakes before working with them. Watch the video tutorial here!
Purchase a ball winder and swift kit for an amazing deal HERE.
Yarn Inspiration
The Bulky & Quick Messy Bun Beanie is designed in WeCrochet Alla Prima 100% Merino Wool. Tuff Puff is a great option if you are looking for an affordable wool alternative, or combine Tuff Puff with Alla Prima for a two-tone look. Lion Brand Wool-Ease Thick & Quick is a great substitute if you prefer a wool/acrylic blend of yarn. It comes in a beautiful selection of colours to choose from. Starlette Chunky is a good 100% acrylic alternative.
You can also use 2-3 strands of worsted weight yarn #4 held together. If you decide to use 2 strands, all you need to do is double the required yardage; for 3 strands, triple the yardage. A couple of my favourites are Brava and Starlette Worsted. Make sure to meet the pattern gauge if substituting yarn or adding additional stitches and rows to meet the pattern dimensions.
Crochet Hooks Needed
or size needed to obtain gauge
You can purchase them HERE with code MJS15. Hook case available HERE
Additional Supplies Needed for Crochet Hat:
Yarn Needle
Scissors
Measuring Tape
Garment Tags 1.5″ x1 .5″ or .75″ x 2.25″
Leather Rivets
Embroidery Thread + Sewing Needle
Gauge:
You may need to adjust the hook size to obtain the correct gauge
7.5 sts and 3.25 rows equal to 4″ with 9mm crochet hook in hdc blo
Video
Watch the Video Tutorial
Step-by-step video tutorial on how to crochet the Bulky and Quick Messy Bun Toque.
Sizing
Baby (Toddler, Child/Adult, Large Adult)
Sizing Chart Down Below
Construction
The Bulky & Quick Messy Bun Beanie is worked from the side across in half double crochet stitches in the back loop only. Rows are worked to fit around the head. Single crochet stitches are worked in every other row to gather the top of the hat, leaving an opening for a bun or ponytail. Finish with a single crochet in the blo band. YouTube link https://youtu.be/mh27UdtWyZc
Bulky & Quick Messy Bun Toque
Purchase the Beautifully Designed AD-FREE PDF
Bulky & Quick Messy Bun Beanie
To Unlock Exclusive Subscriber content click the Box below! The Grow.me App will pop up so you can subscribe. Enter your email and create a password. Every time you see Exclusive Content on my blog, log in to your Grow account. Make sure to switch to the login screen. If you've forgotten your password, click the forgot password link. I am not able to assist in resetting Grow passwords or accessing your Grow account. I have created a video for mobile and desktop to offer assistance. Find under FAQs HERE or watch the video below.
COPYRIGHT
This pattern is the sole property of MJ's Off the Hook Designs. This pattern is copyright protected and cannot be copied or reproduced in any way. You are welcome to sell your finished items from this pattern. I require a reference or link for my design. My photos are copyright protected and are not to be used to sell your items.
Sizing Chart
PATTERN
Baby (Toddler, Child/Adult, Large Adult)
Notes: If substituting with worsted weight yarn, hold together 3 strands for the equivalent thickness.
Body
Row 1 (WS):
Ch 9 (11, 13, 13) 1 hdc in the back bump of the 2nd ch from hook and in each ch across, turn—8 (10, 12, 12) sts.
Row 2 (RS):
Ch 1, 1 hdc in the blo of each st across, turn—8 (10, 12, 12) sts.
Rows 3-16 (18, 20, 22):
Rep Row 2—8 (10, 12, 12) sts.
Rectangle should measure 4.5 x 13 (5.5 x 14.5, 6.5 x 16.25, 6.5 x 17.75)" without stretching.
Once you complete the final row for the desired size, ch 1 and with RS facing slip stitch ends together by going through the blo of the last row and under the st of the first row. Flip the hat inside out so that the slip stitched edge is on the inside of hat.
Top of Hat
Round 1:
Ch 1, sc around the top of the hat working through every other row, ending with one st in the last sp, sl st in the first sc to join—9 (10, 11, 12) sts. Fasten off and weave in ends. The top of the hat is left open for a messy bun or ponytail.
Hat Closure (Optional)
Fasten off with a long tail. Weave yarn tail through the front loop only of each st around. Pull hat closed and weave in end.
Band
Round 1:
Join yarn in the same colour as hat at the join with a sl st, 1 sc in same st and evenly around the edge of rows working 3 sts/2 rows, sl st in the first sc to join—24 (27, 30, 33) sts. Change colour if desired
Round 2:
Ch 1, 1 sc in the blo of each st around, fasten off and finish with a seamless join, weave in tails. Crochet additional rounds if needed for a taller hat.
Finishing:
Hats are shown with a .75″ x 2.25″ garment tag. Use a sewing needle and embroidery thread or Leather rivets to attach.
For more crochet patterns by MJ's Off The Hook Designs see our Ravelry, Etsy, LoveCrafts, WeCrochet or Ribblr Shop. Check out our Facebook and Instagram for daily inspiration!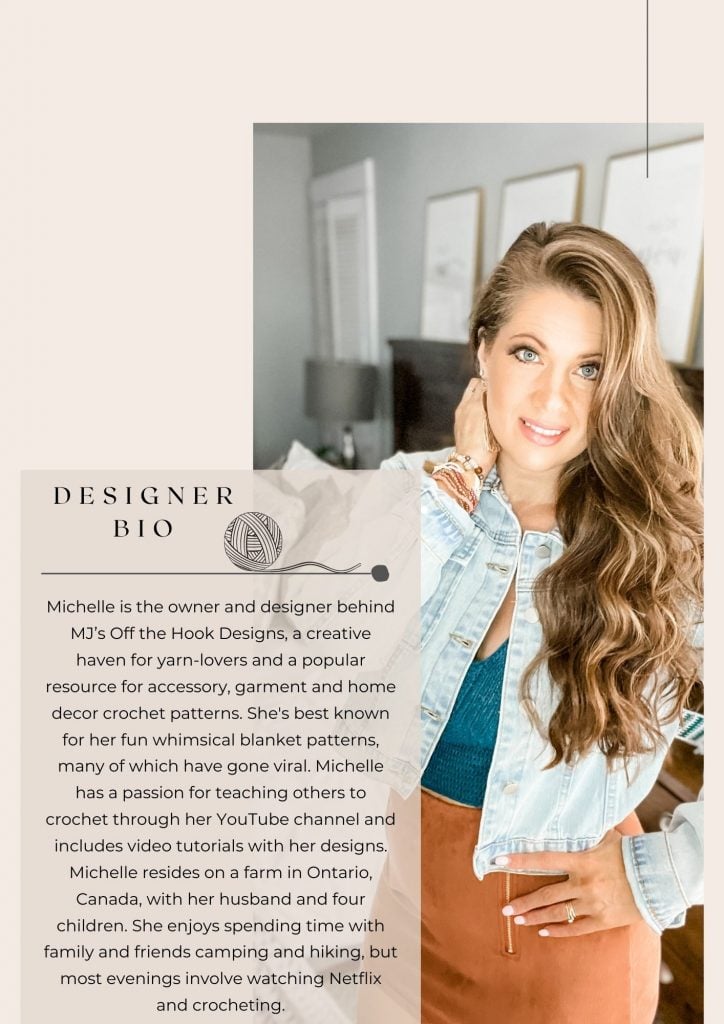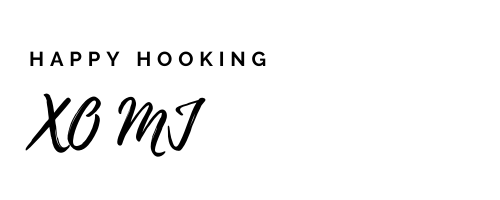 *This post contains affiliate links at no cost to you!