The Stroll In The Park Halter Top crochet pattern makes the perfect addition to your summer wardrobe. The halter top has an open back with straps to tie around your neck. The halter top is crop length but can easily be altered to any length. Bra size from 30-46 and includes a YouTube tutorial for size 34. Style guide included featuring different outfits for every season.
Use code HALTER15 to save 15% off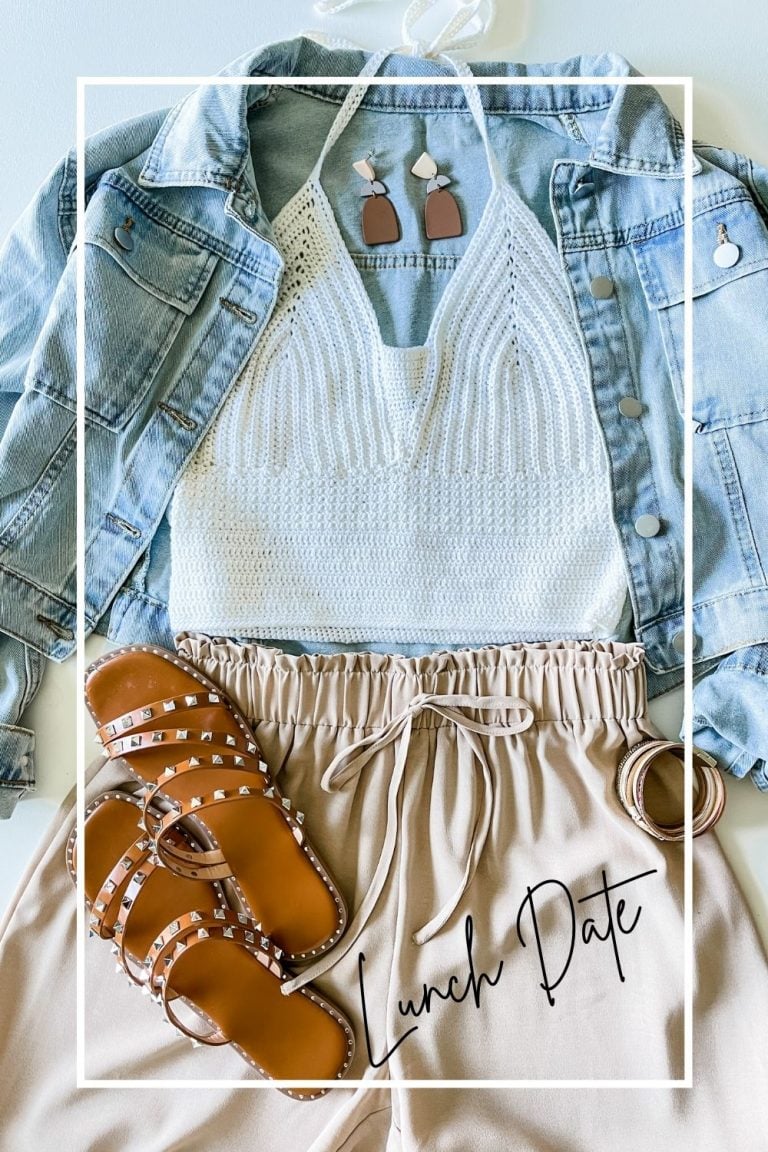 The Yarn
The Stroll in the Park Halter top crochet pattern is designed in Knit Picks/WeCrochet Stroll fingering weight yarn. It's a beautiful blend of Fine Superwash Merino Wool and nylon, making it lightweight and breathable. Better yet, this yarn has easy care instructions so you can wash on a gentle cycle and tumble dry on low. Stroll has an extensive colour selection, so you're sure to find a favourite.
Working with fingering weight yarn can be hard on the hands, so I suggest a 3.25mm D Furls odyssey for this crochet pattern. The hook glides effortlessly, and the ergonomic handle helps prevent hand cramping. Use code MJS15 for 15% off Furls products.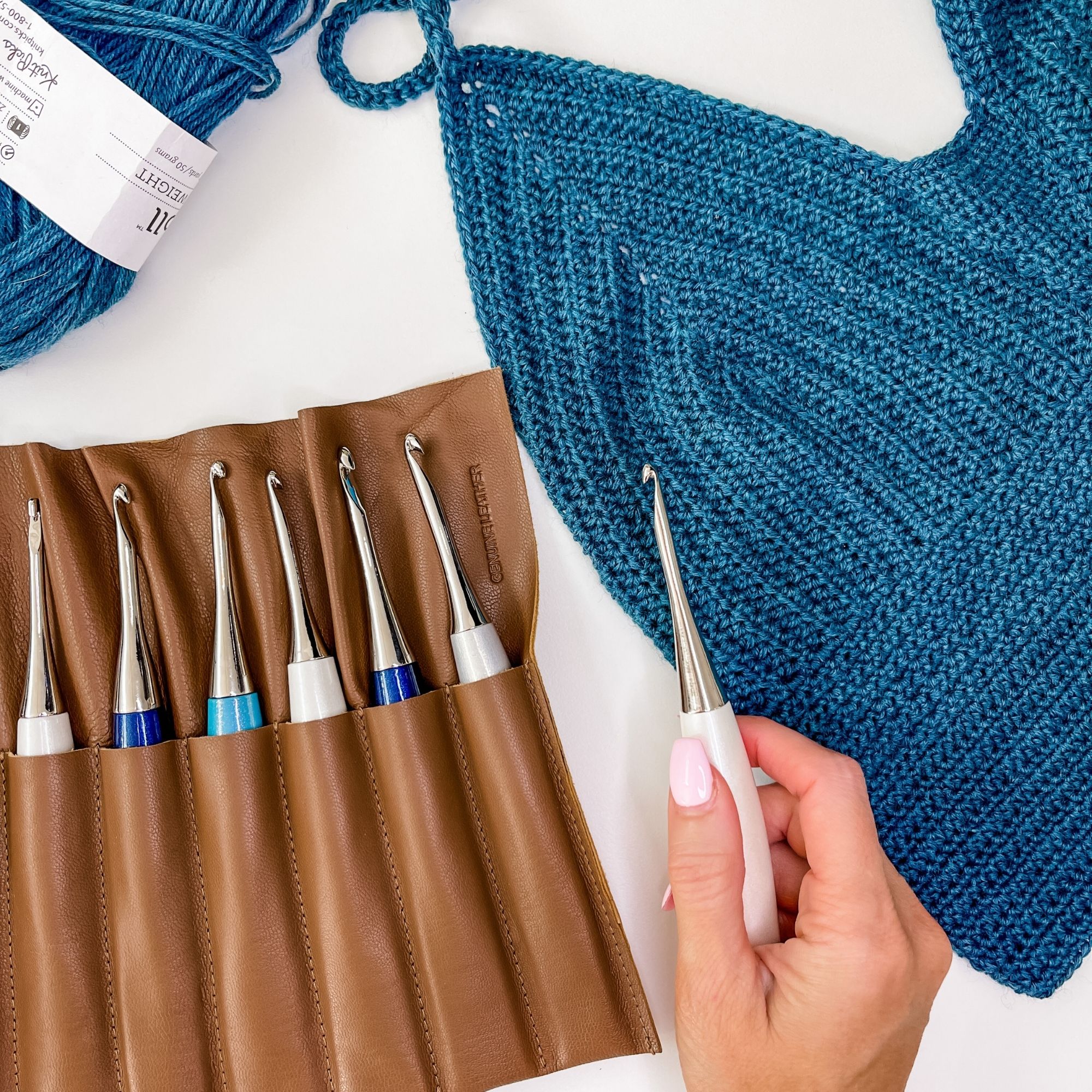 The Style
I see so many cute bralette crochet top patterns, but most are too short and revealing for my taste. I've designed this top so that it can be short, but also so that you can lengthen it. I wanted it to sit just above my high-waisted jeans so I could wear it under cardigans or jackets and not show too much of my stomach.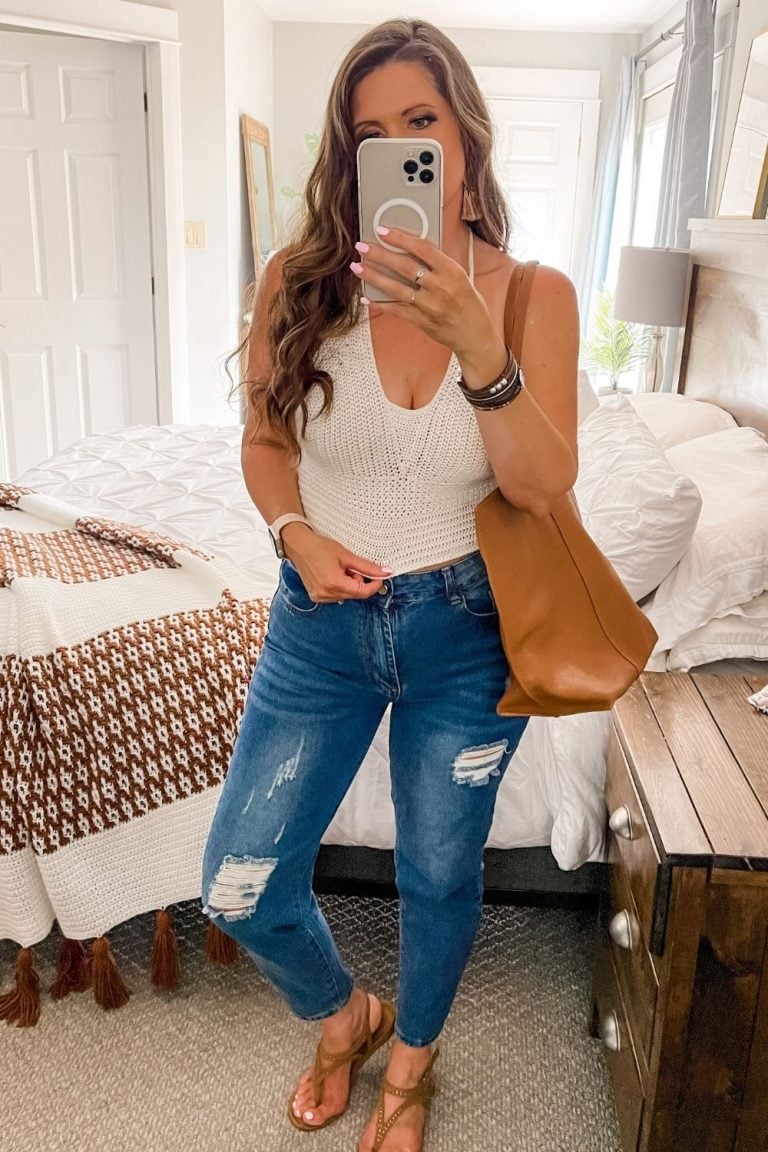 I've stepped out of my comfort zone and modelled this top for you! It is still revealing but worn with the right pieces; you can feel not too exposed. My teenage daughters loved the top and were actually shocked that I made it. Hurt my feeling a little bit, but I was also happy they loved it so much!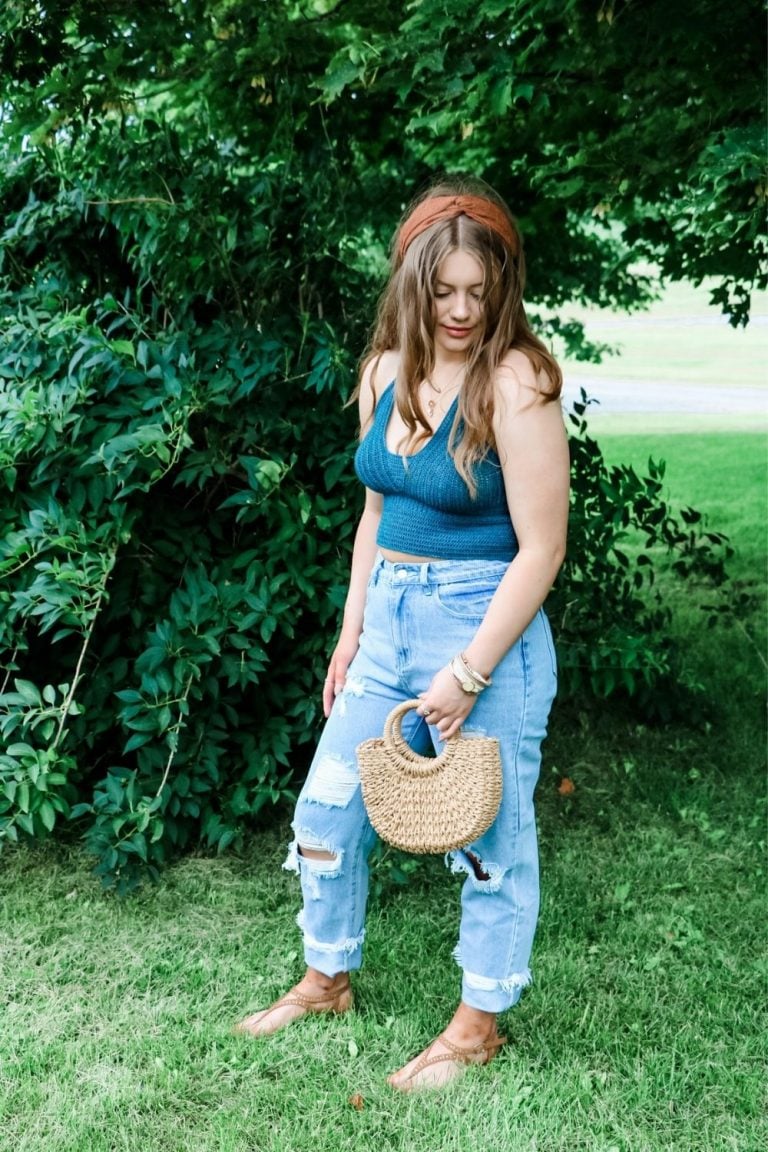 Size Chart
I went with a Bra sizing chart for this halter top crochet pattern. It will work regardless of cup size. A larger chest will stretch out the top more. The size is based on your underbust measurement. For example, my underbust measurement is 30″, so I made the size 34, which is my bra size. The actual finished measurement of this size is 26″, so it has a negative 4″ ease.
Buy the pattern on Ravelry, Etsy or digital interactive pattern on Ribblr
Bra Size: 30 32 34 36 38 40 42 44 46
Under Bust Measurement:
inches 26 28 30 32 34 36 38 40 42
Finished Under Bust (negative 4″ ease):
inches 22 24 26 28 30 32 34 36 38
Yarn Requirements:
WeCrochet Stroll– 75% Fine Superwash Merino Wool, 25% Nylon (231 yds/50g) Shown in White & Rainstorm Heather
Yards 340 370 400 450 480 520 570 620 700
# Balls 2 2 2 2 3 3 3 3 4
Crochet Hook Requirements:
US D/3 (3.25mm) or size needed to obtain gauge
Additional Supplies: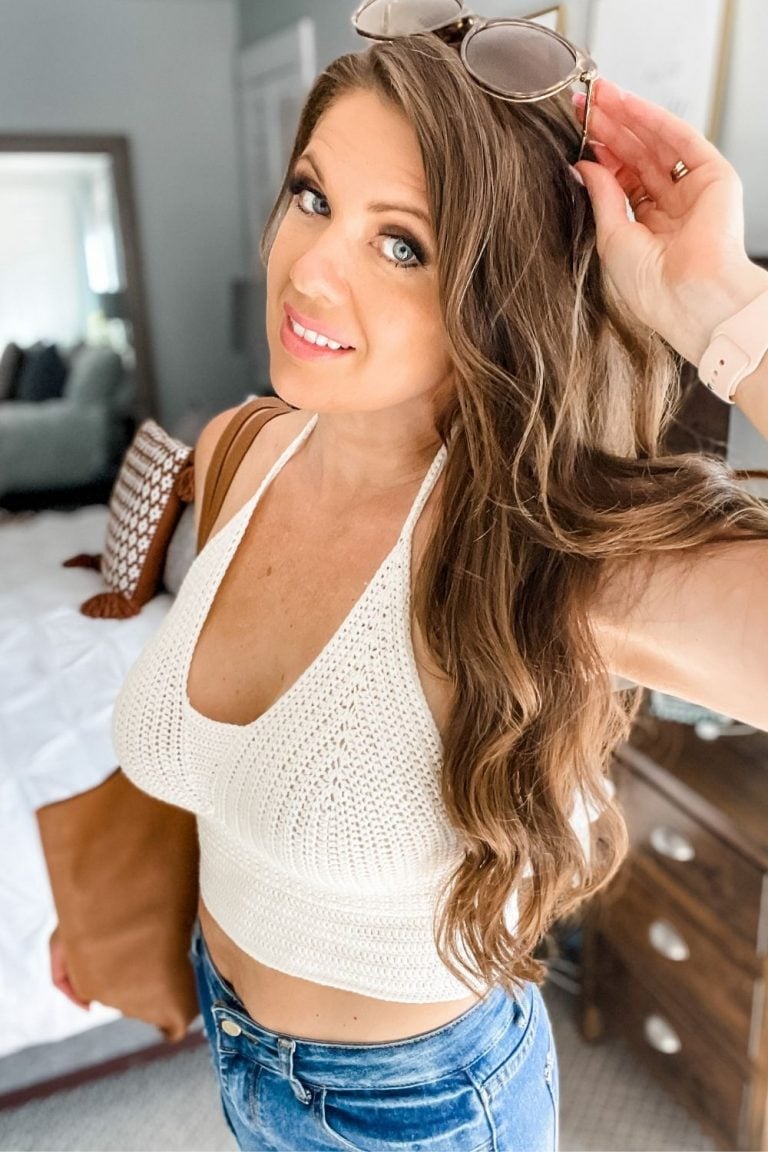 Abbreviations:
Ch – Chain
Fsc – Foundation Single Crochet
Hdc – Half Double Crochet
Pm – Place Marker
Rep – Repeat
RS – Right Side
Sc – Single Crochet
Sk – Skip
Skd – Skipped
Sp(s) – Space(s)
St(s) – Stitch(es)
WS – Wrong Side
( ) – Work step in parentheses in indicated stitch
[ ] – Work step in brackets number of times indicated
Gauge:
Cup – 11 sts and 9 rows equal to 2″ in hdc
Body – 13 sts and 16 rows equal to 2″ in sc clusters / 13 sts and 10 rows equal to 2″ in sc/hdc repeat
Video Link:
Styling Tips/Suggestions
Follow me on the LiketoKNOW.it app
Have fun styling your Halter Top crochet pattern. This basic tank is a wardrobe staple and can be styled with several outfits. Easily transition to Fall and Winter. Find links to coordinating wardrobe pieces underlined in blue!
Summer Fun
On hot summer days, all you need is a pair of cut-off shorts or a soft frill trim skirt to stay cool and look great. Accessorize with a wrap bracelet, necklace, round handle straw bag and comfy sandals. Picture #2 is shown with white jean shorts, Fringe earrings and studded sandals. Picture #3 is shown with floral kimono, gold earrings and an apple watch bracelet.
If you're heading out on the town for coffee, errands or a lunch date, pair with a crochet cardigan. Adding a lace cardigan provides a bit more coverage and style. The cardigan will also keep you warm while you're in air-conditioned buildings.
Green cardigan, Pink cardigan and Linen Cardigan with Gucci handbag, gold hoop earrings, and wrap bracelet.
Date Night
Going out on a date or out with your girlfriends, pair with a skirt and wedge heels. Add a jean jacket or crochet cardigan. Accessorize the look with tassel earrings, an apple watch bracelet and a clutch bag.
Spring Fling
A wide-leg pant, sandals, and jean jacket is the perfect look for Spring or cool summer evenings. It looks great paired with wedge heels or studded sandals, a tote bag, a ruched baguette handbag, geo drop earrings and a beaded bracelet. I wore this on a road trip with my husband, but it would be perfect for a lunch date.
Falling for You
As temperatures start to cool and we head into Fall, pull out some cozy crochet cardigans, jeans and boots. Mom jeans with Brown Cardigan and low heel ankle boots. Skinny Jeans with a Cabled Sweater and ankle boots. Mom Jeans with Striped Cardigan and leather tote bag.
For those warm yet cool days, pair your halter top with jeans and add a light cardigan.
Ripped Raw hem light wash mom jeans with headband and wrap bracelet. Medium wash high-waisted mom jeans.
Go check out these blog posts for coordinating cardigans.
For more designs by MJ's Off The Hook Designs see our Ravelry, Etsy, LoveCrafts, WeCrochet or Ribblr Shop. Check out our Facebook and Instagram for daily inspiration!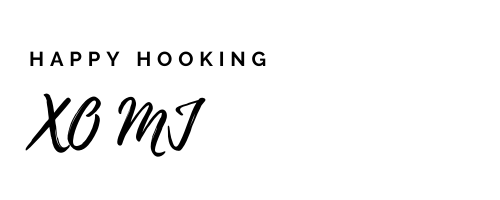 *This post contains affiliate links at no cost to you!