Crocheted Hooded Moose Blanket Pattern. Crocheting is an easy way to create beautiful blankets. In this tutorial, we'll show you how to crochet a cute crocheted Moose blanket. This cozy crochet hooded blanket pattern is perfect for cuddling, play and display. Crochet Pattern includes step by step video tutorial. Our Woodland Moose Blanket features an easy plaid stitch pattern with hoof mittens and a detailed hood. Video tutorial for toddler size included on YouTube.
The Hooded Moose Blanket crochet pattern is a fun crochet blanket for all ages. The crochet pattern includes toddler, child and adult sizes. The blanket folds into a crochet pillow when not in use to display on a bed or couch.
PURCHASE THE FARM COLLECTION EBOOK ON ETSY!
Woodland Collection Coming Soon!
Crochet is an easy way to create beautiful items that last a lifetime. In this tutorial, learn how to crochet a simple hooded moose blanket using yarn and a hook.
Materials Needed to Crochet a Hooded Moose Blanket
A crocheted blanket is a great gift idea for anyone who loves to knit or crochet. It's also a wonderful project for beginners. The yarn used to make the Crochet Hooded Moose Blanket is Bernat Softee Chunky Super Bulky Weight yarn from Mary Maxim. Bernat Softee Chunky is 100% Acrylic and a lighter Super Bulky yarn. You can find a large selection of colours at an affordable price below.
Substitutes
If you're looking for a yarn substitute, I've listed a few that I think will work well. Make sure to meet the pattern gauge of
8 sts and 7 rows equal to 4″ in plaid pattern with 10mm hook
6 sts and 6 rows equal to 4″ in esc with 10mm hook
It's hard to find a Super Bulky Weight substitute for this yarn because most are thicker and bulkier than Bernat Softee chunky. The easiest substitute for super bulky yarn is to use 2 strands of worsted weight yarn. Here are a few of my favourites.
Similar Bulky Weight Yarns
The Hook
I love crocheting with my Streamline Hooks from Furls. They are light and easy to work with. I especially love the large crochet hooks. They are so nice to work with, and I can crochet for hours without hand pain. I used the Aries 10mm and 6.5mm crochet hooks for the Crochet Hooded Moose Blanket. Use code MJS15 for 15% off.
You can purchase the crochet pattern on RAVELRY OR ETSY. Or purchase the Digital and interactive pattern on RIBBLR that can be translated to Spanish with the Auto-Translator feature.
Yarn Requirements
Bernat Softee Chunky #6 – 100% Acrylic (3.5oz/100g/108yds/99m)
Black (MC) – 2 (3, 6)
Wine/ or Redwood (A) – 2 (3, 4)
Berry Red (B) – 2 (3, 4)
Taupe Grey/ or Clay (C) – 2 (2, 3)
Dark Taupe (D) 1 (1, 1)
Materials
or size need to obtain gauge
Polyester fiberfill for muzzle and antlers
Sizing
Toddler (Child, Adult)
Gauge
8 sts and 7 rows equal to 4″ in plaid pattern with 10mm hook
6 sts and 6 rows equal to 4″ in esc with 10mm hook
Abbreviations
Ch – Chain
Dc – Double Crochet
Esc – Extended Single Crochet
Hdc – Half Double Crochet
MC – Main Color
Rep – Repeat
RS – Right Side
Sc – Single Crochet
Sc2tog – Single Crochet Decrease
Sk(d) – Skip(ped)
Sl St – Slip Stitch
Sp(s) – Space(s)
St(s) – Stitch(es)
WS – Wrong Side
( ) – Work step in parentheses in indicated stitch
[ ] – Work step in brackets number of times indicated
Video
With this crochet tutorial, you'll be able to create a beautiful and warm blanket. It's easy to do and fun to make! Tutorial How to crochet Hooded Moose Blanket on YouTube HERE
Construction
The blanket and hood are worked using a 10mm crochet hook and 1 strand of super bulky yarn; you may substitute with worsted weight yarn by holding 2 strands together, double the yardage required. The hood pieces are made using a 6.5mm crochet hook. The blanket is worked from the bottom up, and the hood is worked separately, then centred and sewn to the top of the blanket. Video tutorial is included in toddler size on YouTube.
Techniques
Magic Ring – See video Tutorial – https://youtu.be/QMZpO5-19hQ
Working on the opposite side of chain tutorial – https://youtu.be/zGQ6KB2nVvA
Reverse Sl St: Go through the stitch back to front, Keep working yarn to the front, YU (Yarn Under) pulling through the loop on the hook.
Finished Measurements
The finished measurements were approximately
Crocheting is one of the most popular crafts around the world. In fact, crocheting has been used as a form of self-expression since ancient times. So what are you waiting for? Start crocheting this beautiful and warm blanket. Make him in traditional red/black plaid or pick any colour combo you love. Check out my tester's Hooded Moose Blankets below!
Alicia Krotz (Blue Eye Designs), Kelly Strohmeyer, (kellz Bellz Creations), Michelle Allshouse (Crochet Centre), Kristen Moore (Them Indie Raes), Katie Carlson, and Arhely Bandenebro (Living the hook life)
I hope you enjoy this fun Crocheted Hooded Moose Blanket. Please share your hooded blanket pictures with us and use the hashtag #mjsoffthehook on social.
For more Crochet Patterns by MJ's Off The Hook Designs see our Ravelry, Etsy, LoveCrafts, WeCrochet or Ribblr Shop. Check out our Facebook and Instagram for daily inspiration!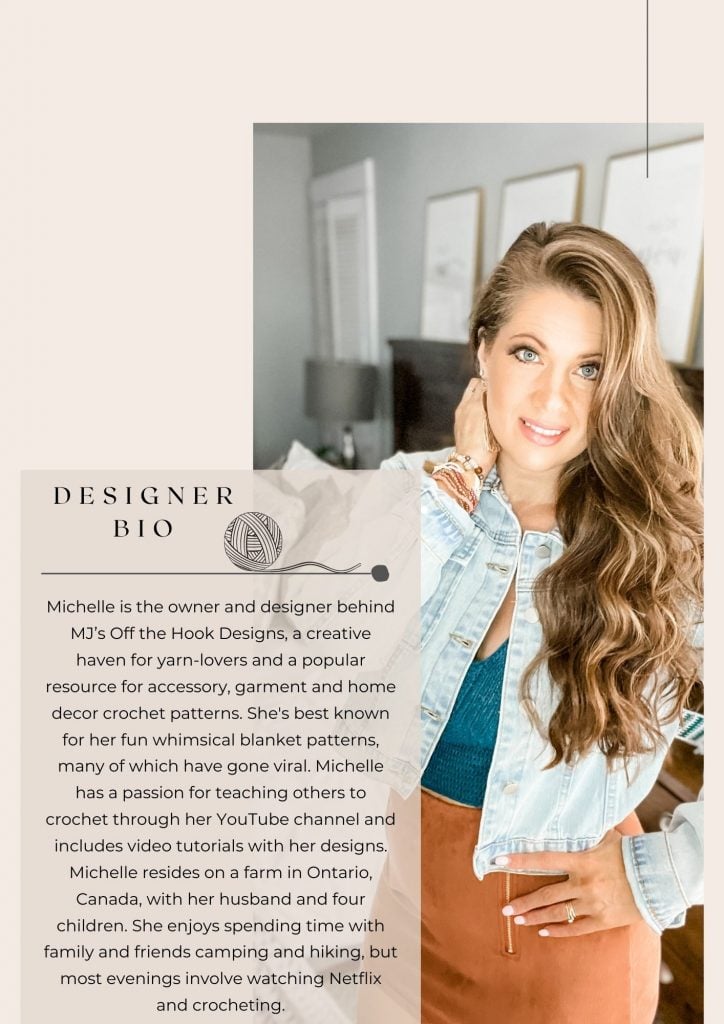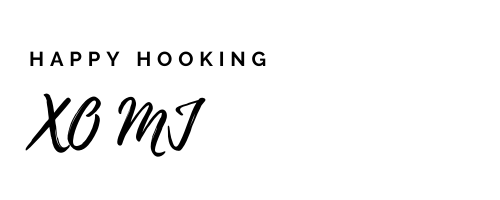 *This post contains affiliate links at no cost to you! Read our Privacy Policy Below!