The Piece of Cake Cardi is a Piece of Cake to Make! It's a fun project that comes in not only kid size but adult too! It's my first Caron Cakes project and I have to admit I really loved working with this yarn. I get a little excited over pretty colours so just looking at these cakes put me in a good mood.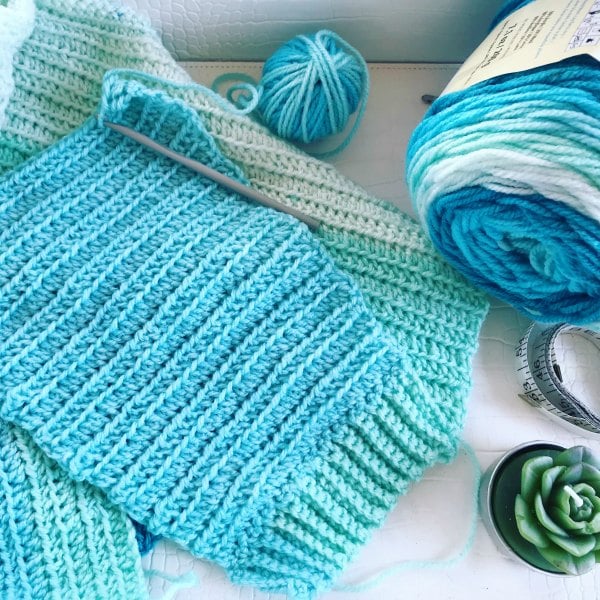 For my Adult sizes I used Caron Big Cakes. The yardage adds up quick for adult sizes so the big cakes seemed more cost effective. I preferred working with the big cakes over the regular size Caron Cakes so here's my little Caron Cakes Review!
Caron Cakes Big is 100% acrylic with a tight weave. The tight weave allows for faster crochet speed. Not as soft as regular cakes but once it's washed I'm sure it will soften up. Better bang for your buck in comparison to regular size cakes. Gauge is slightly different (works up larger).
The regular size cakes have 20% wool 80 & acrylic (downside for those allergic to wool). They have a nice amount of sheen and are very soft. Weave is loose so I would occasionally split the yarn and that slowed my speed a bit. Great colour selection (Faerie Blue above is our Favourite).
To get a really great shoulder fit the sleeves have a rounded shoulder cap that is set in. Some of you might be intimidated but it really is easy peasy!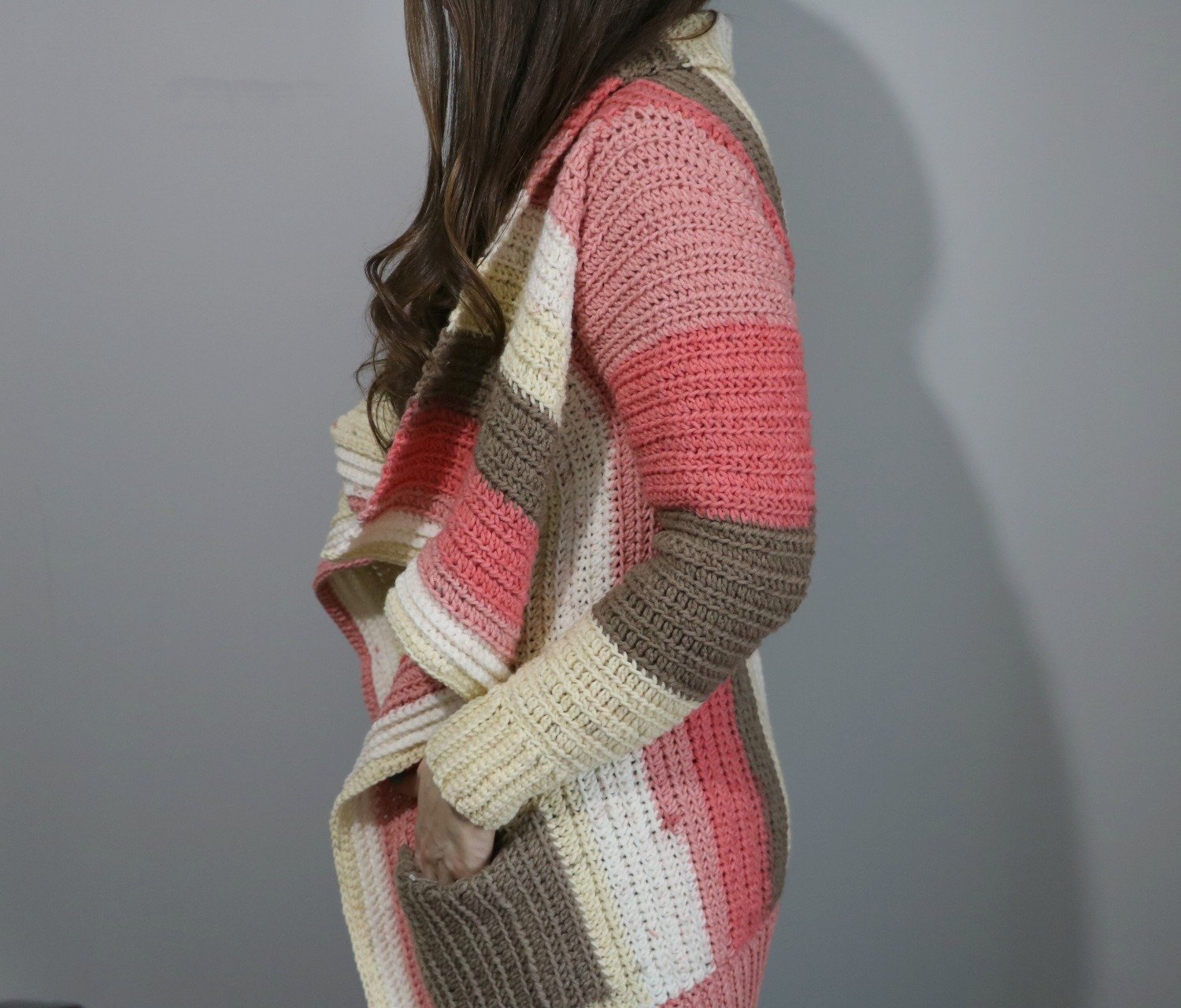 I filmed a full video tutorial for the size 4 cardi. I walk you right through the entire process. My testers found the video extremely helpful and couldn't believe how easy setting in sleeves can be with my helpful tips!
You can watch the full video HERE
The Piece of Cake Cardi buttons on the inside and the outside for a fun crossover design.
You can also use a fun shawl pin if you'd rather not have a button. I love this one from Brickbubble. She also designed my Garment tags which add the perfect personal touch to handmade items.
I'm so glad I decided to add the adult sizes to this pattern. I really love how cozy and fun it is to wear. The pockets are the best! 🙂
If you're looking for a fun project for Caron Cakes give this pattern a Go! Purchase HERE
Checkout our very fun and yummy Photo shoot below!
Thanks for stopping by. I hope you enjoy this fun and cozy design.
Please share and Pin! Follow us on Pinterest HERE
Happy Hooking MJ
*This post contains affiliate links at no cost to you! Read our Privacy Policy Below!