WOW what a crazy week!  The Hooded Owl Blanket has taken over the internet with a crazy 35 million views on FB in just 3 days!!  In 2015 my shark and mermaid design went viral but the OWL seems to be an even bigger hit!  Shares are almost double the shark with 424K shares and counting. I'm blown away and humbled by the love for my designs.  I can honestly say everyday I'm excited to wake up and do what I love.  I put care and detail into all my work and I'm constantly looking for ways to grow and improve my design skill and knowledge.
My girls fell in Love with the hooded owl blanket immediately and I have to say I could snuggle up in this blanket all day!
It makes an adorable throw or tuck it into a super cute pillow!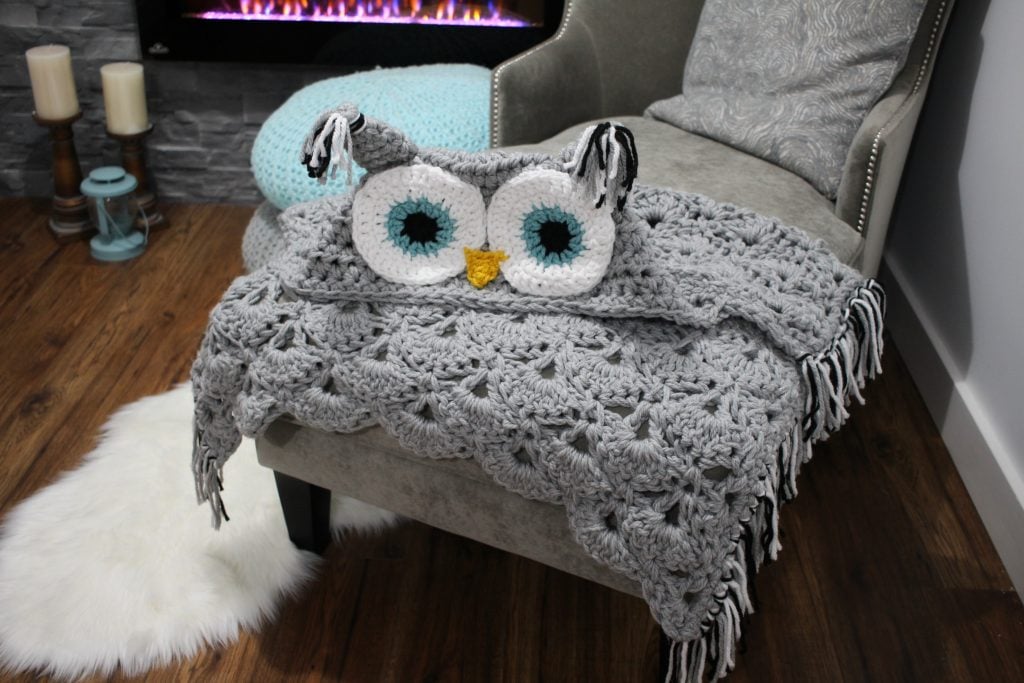 If you're interested in the PATTERN you can purchase it HERE
Intimidated by that beautiful stitch check out my YOUTUBE video HERE
Video is now available HERE
*Get on the hook quicker by shopping online!  This post contains affiliate links at no cost to you!
Supplies needed
Hooded Owl Blanket
Bernat Softee Chunky Solids – 100% Acrylic (108yds/99m /3.5oz/100g)
Bernat Softee Chunky Ombres – 100% Acrylic (77yds/70m /2.8oz/80g)
Sizes: Child (Adult, Plus). Adult size shown in Shadow Ombre (MC), Dark Mauve (A), White (B), Seagreen (C), Black (D), Glowing Gold (E).
*only a small amount used for D and E
Child Adult Plus
MC (80g ball) 12 20 25
A (100g ball) 2 3 3
B (100g ball) 1 1 1
C (100g ball) 1 1 1
D (100g ball) 1 1 1
E (100g ball) 1 1 1
Total Yards 1572 2296 2681

Bernat Softee Chunky Yarn – $3.49
from: Bluprint
Crochet Hook Requirements:
US M/13 (9mm)

US Q (16mm) or size needed to obtain gauge
I've been flooded with email requests as everyone wants to get their hands on one of these Cozy blankets!   My passion is design and my life is so jam packed I no longer have the time to create these beautiful pieces to sell.
I have a list below of a few Maker's that have contacted me that are interested in making blankets.  If you're a buyer I suggest you look at the Makers FB or webpages and determine for yourself the quality of their work checking out pics of their finished products and reading customer reviews.  You'll find a lot of sellers out there using my photos but this gives you no indication of what they can do!  Beware of mass producing companies selling these blankets for $25 or ridiculously low prices.  The yarn required to make these blankets is costly so finished products will likely range from $125 and up if they're handmade.  You get what you pay for so if you're looking for an identical blanket to the ones I've made they will be costly.  These blankets work up fairly quickly so many sellers should be posting pictures of Owl Blankets soon!  Etsy is also a great place to look but here are a few pages you can check out!
USA
Shirley Atherley, Seattle, Washington,   FB PAGE
Jennifer Noble, California, FB PAGE, WEBPAGE
Erika Santos, Laredo Texas, FB PAGE
Jennifer Paradis, Massachusetts, ETSY
Laura Blake, Ohio, ETSY
Stephanie Gulliver, Grand Rapids, Michigan,  FB PAGE
Melissa Carter, Paducah Kentucky, FB PAGE
Amanda Givens, Dover, Delaware, ETSY
Kylie Brown, Central Illinois near Champaign (U of I),
ETSY
CANADA
Staff Walker, Alberta Canada, FB PAGE
Jen Lewis, Warkworth Ontario, FB PAGE
Leanne Lewis, BC FB PAGE
Christa Thompson, London, Ontario, FB PAGE
Katie Durand, Halifax Nova Scotia, ETSY